When Massachusetts coach Don "Toot" Cahoon was earning his stripes behind the Norwich bench two decades ago, he needed a defenseman who had the puck skills and ice vision to break forechecks, trigger the breakout, and serve as the overall quarterback from the blue line. He thought he saw the requisite skills in Gary Connors, a fourth-line center who wasn't having any great success at the position. A year later, Connors was an All-America candidate as a newborn blueliner.
The next five times Cahoon tried the experiment, however, it failed.
Then came Thomas Pöck. In his first two years at UMass, Pöck totaled a mere 24 points. He wasn't a bad player; he certainly belonged in Hockey East and was making a contribution. He was, after all, a former Olympian and competitor in the World Junior Tournament for his native Austrian National Team. He wasn't, however, an impact player for UMass.
At that same time, Cahoon needed an offensive presence on the blue line. The same eye that had spotted the seeds of greatness in Gary Connors turned to Pöck.
"He wasn't particularly offensive-minded in that he didn't get many more chances in most games than some of the other forwards," Cahoon says. "His real attributes were in just supporting his linemates and making good reads off his linemates.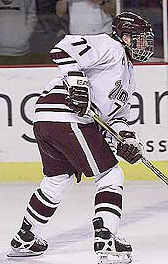 "He also did a real good job defensively down low covering and he did a particularly good job in initiating breakouts as a centerman, picking up low outlets and picking up loose pucks and then generating some type of breakout. He always had real good puck skills, so when he had the puck you were confident that he was going to make a good decision with it."
So despite the five failed experiments since Connors, Cahoon thought that Pöck could be another instance of adding two plus two and getting a hundred.
"It wasn't like you were taking a 20-goal scorer as a forward and looking to displace him," Cahoon says. "You were just looking at a real good, solid two-way player and you were saying, 'Gee, he really likes having the puck, he's got real good vision and he's unselfish with the puck. Maybe we can just be a lot more effective in clearing our zone and breaking the puck out of the zone and we'll have him on the ice more minutes as a defenseman than we would as a center.'"
It didn't take long for the experiment to pay dividends.
"Our hopes were confirmed," Cahoon says. "He made great breakout passes and found the open man at every turn and just opened the rink up to us. It gave us an extra offensive dimension.
"[Opponents] backed off a little bit because they didn't want to get [beat] by his good outlet passes. Then that created some room for him to start carrying the puck. The next thing you know, he's making more plays, he's getting more shots on net and he's becoming a more offensive force."
The result in Pöck's first year as a blueliner was a 17-20–37 stat line and a Second Team All-Hockey East selection.
"Obviously, this turned out to be a dramatic success," Cahoon says. "It worked out great for Tommy because it really accentuated his abilities and it really worked out great for our program because it gave us a guy back there that was as good as anybody. It was a win-win."
Although Cahoon certainly deserves a bow for his stroke of genius, he deflects the accolades to Pöck.
"It wasn't this great scheme that we had that we knew was going to work out this way," Cahoon says. "It took shape as a result of his skill level and that he's got great maturity and a lot of confidence because of the levels that he's played at, the world championships and Olympics."
"It was refreshing to me to see a kid say, 'No, I can wait. I can get to that later on. I'm really enjoying this experience and I want to stay with it and finish it.'"
— UMass coach Don Cahoon
All of which has left opposing coaches with a major problem when facing UMass. Prior to the Hockey East quarterfinals in which the Minutemen swept Massachusetts-Lowell — with Pöck supplying a power-play goal and three even-strength assists — UML coach Blaise MacDonald weighed in on the Pöck factor.
"He's such a difference-maker," MacDonald said. "It's hard to cast a definition of how do you cover this guy. He's a rover. He has such incredible instincts. You get perplexed because you really can become unbalanced defensively by [focusing on] covering him. It can expose some weaknesses."
This becomes true not only during breakouts and offensive rushes while even strength, but also on the power play where Pöck leads all defensemen nationally with 10 man-advantage goals along with his other tops-in-the-country numbers: 15 goals, 23 assists and 38 points.
"A lot of [our power-play strategy] is predicated on whoever has the puck on the half-wall being able to bring the defense lower so that we can free Thomas at the top end so that he can get the shot off," Cahoon says.
"He's got an absolute bomb. There are guys that shoot the puck hard and then there are guys that shoot the puck real hard. He's one of those guys that shoots it real hard. Any of the goaltenders and any of the defenders out there that have had the misfortune of trying to block his shots will tell you that. He's got an absolute rocket.
"So, setting up the screen and setting up the plays where the guy on the half-wall can free him so that [Pöck] can get his shot off has lead to the scoring."
Which, of course, has led to a lot more individual attention from shorthanded defenders.
"People are just overplaying him, sending a man on him to try to neutralize him," Cahoon says. "That opens other opportunities for us on the power play, but it certainly takes our greatest weapon and neutralizes it. So obviously we try to do things here and there that free him and move him around a little bit and we'll continue to do that."
If some European team officials had their way, however, Pöck would have been a one-year Hockey East wonder, a flash in the pan as a junior never to be seen again.
"It speaks volumes that he turned down big money to return to Europe and play there this year," Cahoon says. "He chose to come back and finish his college career because he enjoyed his teammates, he enjoyed UMass, he enjoyed the college experience and he didn't want to be cheated out of it with the hopes of being able to play in North America as well on the professional level at some point.
"It was refreshing to me to see a kid say, 'No, I can wait. I can get to that later on. I'm really enjoying this experience and I want to stay with it and finish it.'"
That finish, at least the on-ice component, could come this weekend during the Hockey East championships. UMass almost certainly has to win the title to earn a berth in the NCAA Tournament. If the Minutemen fall short, however, Pöck may still be sticking around for one last collegiate moment.
It would have been fitting had Pöck topped that by earning Hockey East Player of the Year honors, but in the end he fell short. Even so, he has been named a finalist for the top individual honor given to a collegiate player, the Hobey Baker Award.
"We enthusiastically nominated him for both awards," Cahoon says. "I think his play speaks for itself. When people come to play our team, the first agenda of them on the defensive side is to take Thomas Pöck out of the game. That speaks volumes about his ability and speaks volumes about the importance of Thomas to our team.
"There's not a defenseman, [at least] in our league, that compares with him with the puck. There are other real good defenseman out there and I would not take anything away from them, but he's the premiere player with the puck on his stick and the scoring speaks for itself.
"The Hobey Baker Award usually goes to a player on a team that's in the mix on the national level, generally speaking, and that remains to be seen if we can get to that point so that maybe more people will take a closer look. I don't think our program has the glitter that maybe a North Dakota has or maybe a UNH or a Maine or, in the past, BU, when they had Hobey Baker Award winners.
"So I don't know how that's going to affect him, but he's certainly a terrific candidate. He's a great student, he's a great ambassador of the game, he's very humble and he'd be a great representative of that award if he did win it."
Yea and amen to that.