As the championship game got underway, people in the arena were still buzzing about the epic double overtime semifinal contest from the night before. As the championship game wound down, everyone became aware that this entire championship weekend was becoming one for the ages.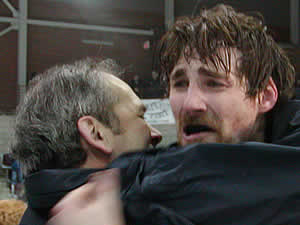 In NCAA Division III playoff history, there have been a handful of overtime games, but only two championship finals needed extra time to decide a winner. Now, make that three.
The first two were in 1993 when Wisconsin-Stevens Point defeated Wisconsin-River Falls, 4-3, at 3:51 of overtime and 2001 when Wisconsin-Superior beat Norwich after just 23 seconds of extra play, 3-2.
Kevin Cooper's goal 2:58 into this year's overtime made Middlebury the third team to win an NCAA title in overtime. The first to do so in a scoreless battle through regulation time.
A championship weekend that fans will remember for years to come.
From Backup To Champion
Middlebury's senior goaltender Marc Scheuer had a long road to the championship final. He played understudy his entire collegiate career, until the end, when he got his chance in the limelight and made the best of it.
For Scheuer's first two years at Middlebury, there was a certain All-American who had the starting job–Christian Carlsson.
One would have expected his junior year to be his time, but freshman Yen-I Chen came in and won the job. However, Chen struggled early this year.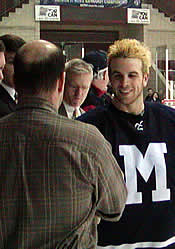 "I backed up some really good goalies for three of my four years here," Scheuer said. "The way I got my chance, we got some unlucky bounces. Coach decided to give me a chance against Williams after we lost to Colby. We pulled off a nice victory. He decided to roll me as things went well and things went well all the way through."
They went extremely well, as Middlebury only lost one game the rest of the season with Scheuer in net.
Captain John Dawson knew Scheuer was going to be the team's guy. "He made a quote about it right after that and I knew he was the guy," Dawson said. "He said in the paper, ëAll I needed was somebody to believe in me, give me a chance and I could do it.' He's our kind of guy. He symbolizes our whole team. He didn't expect to play here at all this year. He just stuck in there and next thing you know he is the ëMVP' of the final four."
At the start of this season, Scheuer admitted he needed to smarten up and change his attitude. "It's not all about me; it's about the team," he said. "I learned what it truly means to have my role on the team. I started this year not expecting to play. Things worked out even better than I expected, and I'm very happy about it."
Was the wait worth it? "Absolutely," Scheuer said. "Every hockey player, every athlete, dreams of moments like these. It was worth it."
It's also interesting how Scheuer's time at Middlebury came full circle. Four years ago, Middlebury played St. Norbert in December at Green Bay. Middlebury won that game by the same 1-0 score. The goalie in net that night? Marc Scheuer.
Can't Be In Two Places At Once
How do you choose between two of your children? That was the dilemma the Velez parents faced all weekend, especially on this night.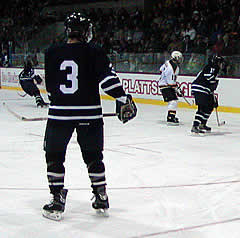 Their son, senior defenseman Mike Velez, plays for Middlebury. Their daughter also plays for the Panthers–sophomore forward/defenseman Gloria Velez. Both started their respective semifinal games.
Both have been solid players for their respective teams. Mike plays the classic defensive role, stopping the opposition and feeding the forwards. He scored one goal but accumulated 16 assists this season.
Gloria picked up four goals and six assists this season.
Most importantly for the parents is the fact their children were playing to fulfill a dream–winning a national championship. At the exact same time, but 30 miles apart as the crow flies, 60 miles by car.
Just what are parents to do? As it turns out, the entire family chose Mike's game.
"It was hard," admitted Liz Velez, the mom.
Dad Tony said, "We went with the senior. We figured she has a lot more hockey that we could see."
During the season, they tried to keep their support as close to 50/50 as they could. They were hoping the same could occur this weekend.
"We were hoping that the NCAA would let them [Middlebury] host both the men and the women," Liz said. "If they allowed that to happen, it would have been a great thing for women's hockey."
How did Gloria take the news that the family decided on traveling from South Windsor, CT to Norwich instead of Middlebury? "She fully understands what's going on," Tony said. "She's aware Mike has a limited number of games left."
A friend who works in the Zamboni room at Middlebury called in updates on their cell phone to keep them up to date on the women's game.
Whether in person or on the phone, the news was joyous, as Middlebury pulled off the first double in college hockey history on any level–national championships in both genders in the same year.
They may have all been at the men's game, but at the next family reunion planned for later tonight after they all travel to Middlebury, there will be a Velez celebration that will last a very, very long time.
It Still Required A Puck
On the wall of Kreitzberg Arena are team photos of every hockey team Norwich ever fielded. The first one dates back to 1909-10. They were called the Norwich Red Socks that first year.
Seven players appear in the picture, with one of them in a different "uniform" (i.e., a different type of sweater). There appears to be no one wearing goalie pads, unless he is standing behind the seated players in the photo.
Though they are all identified as cadets, they have quite a bit of hair compared to the expected crew cut look of today's military. No matter how old the equipment and look was, the game was the same–played with sticks, skates, and a puck.
My favorite photo on that wall is of the 1913-14 team, consisting of nine members. The team stood on concrete steps with their skates on. And no skate guards.