Add Greg Mauldin to the ranks of early departures, and to the suddenly exploding list of Massachusetts players in the NHL.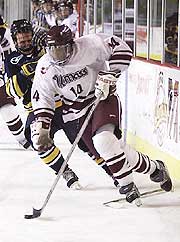 Before today, the only UMass player ever in the NHL was Brad Norton, who saw action for three teams. Next thing you know, three different UMass players all signed with NHL teams on the same day.
First, senior defensemen Thomas Pock and Nick Kuiper signed with the New York Rangers and Chicago Blackhawks, respectively. Next was Mauldin, who is giving up his final year of eligibility to sign with the Columbus Blue Jackets, the team that drafted him in the seventh round in 2002.
Mauldin was second on the team in scoring to Pock with 15-14–29. He scored the team's only goal in last Saturday's 2-1 loss in triple overtime to Maine in the Hockey East championship game.
The Minutemen were hoping to reunite their dynamic WAM Line of Mauldin, Stephen Werner and Mike Anderson, the center who sat out with this season with a medical redshirt for a shoulder injury. Alas, the emerging success of the Minutemen program turns out to be a double-edged sword for coach Don Cahoon, who has built UMass up from perennial also-rans into a borderline NCAA team in four seasons.
Mauldin, a 5-foot-11, 188-pound junior from Holliston, Mass., features a hard-nosed work ethic and a blistering shot. He had 21 goals last season for the Minutemen, and wound up with 48 goals and 94 points in three seasons. He was injured earlier this year and missed eight games after being hit into the boards in a game against Massachusetts-Lowell.
It is possible Mauldin could make his NHL debut for the Blue Jackets as early as Friday.