Q: What do an NCAA first-timer on the rise, a traditional powerhouse returning after an off year, the biggest surprise of the season in the WCHA, and the two-time defending national champion have in common?
A: They'll all be on the ice this Friday and Saturday in Grand Rapids, Mich., at the Midwest Regional.
Top-seeded Minnesota storms into the national tournament in a now-familiar fashion. The Gophers, who just three weeks ago were in danger of going on the road for the WCHA first round, have won six straight games, including a scintillating victory over North Dakota for the WCHA tournament championship.
The Gophers, looking every bit the reigning national champion, face Notre Dame, which fulfilled a measure of its promise as a program this year with the school's first-ever NCAA bid. The Fighting Irish had to sweat it out, though, after an early departure from the CCHA Super Six left them scoreboard-watching the rest of the weekend. Only after Maine beat Massachusetts for the Hockey East championship was Notre Dame's spot secure.
Second-seeded in the Midwest is Minnesota-Duluth, which reached the national limelight in WCHA Coach of the Year Scott Sandelin's fourth season. The Bulldogs, should they beat Michigan State in the first round, will be hoping to rematch Minnesota in the regional final. The Gophers stole the No. 1 seed from the Bulldogs with a victory in the WCHA semifinals last weekend.
And speaking of the Spartans, they return to the NCAAs after a one-year hiatus, coach Rick Comley's first behind the MSU bench. Michigan State will be looking to its big guns to return to form after a disappointing, if familiar, loss to Northern Michigan in the CCHA tournament.
Minnesota vs. Notre Dame
Saturday, noon Eastern, Van Andel Arena, Grand Rapids, Mich.
Minnesota Golden Gophers
Record: 26-13-3, 15-12-1 WCHA (T-fourth)
Seed: No. 4 overall, No. 1 Midwest
How in: WCHA tournament champion
2003 NCAA tournament: national champion
It's like clockwork. The calendar reads March and Minnesota clicks into gear.
The Gophers, the two-time defending national champions, didn't look like they had much of a chance at a third straight title in November, when they were 2-7-1.
But now it's March, which in the last two years and the last two weeks has meant it's Minnesota's time.
The Gophers are unbeaten in their last 20 games in March and April, a stretch that goes back to a loss to Denver in the 2002 WCHA championship game.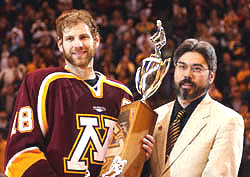 "It's tough to win at this time of year," Gophers coach Don Lucia said, "and that's a tremendous accomplishment for this group of players."
It's like clockwork. The calendar reads March and Grant Potulny is at his best.
The Minnesota senior captain had the overtime goal in the national championship game in 2002, scored 14 points in 11 games in March and April last season after overcoming a broken leg and has two national championship rings to show for it.
He made his first big mark of the 2004 postseason in the WCHA championship game last weekend, scoring the winning goal late in the third period to beat North Dakota.
"We get prepared so well by our coaching staff that I think they instill in our minds that this is the most important time of the season," Potulny said. "That we don't peak too early, I think, is the most important thing about our team. But we're a team that once we get going, once we get on a roll I think we play so much better. … I think if we can continue to jump on teams and play with that emotion, once we get going we can be pretty scary."
Lucia asked his big players to play big in the playoffs, and they have done so. Troy Riddle had nine points in the first-round sweep of St. Cloud State and had two goals in last weekend's Final Five. Thomas Vanek has at least one point in each playoff game this season, running his streak to 11 games.
It helps that most of the team is healthy. The only absence is winger Garrett Smaagaard, who is out for the rest of the season after knee surgery. But at about the same time they lost Smaagaard, the Gophers got back Ryan Potulny from an early-season injury that was thought to be season-ending.
Ryan Potulny, Grant's brother, scored at least one goal in each of his first four games back before being held scoreless last Saturday. He was something of an inspiration for his older brother.
"It was almost like a little jumpstart for me," Grant Potulny said. "Watching him out there is so fun. He's just such a fantastic player. He does so many good things. For me, personally, that was the big thing this year, that I got to play with Ryan. We'd been looking forward to it for two years, ever since he signed. It's just been such a dream to get out there with him."
The road is a little tougher for Minnesota this season, because there's no home ice to look forward to. In 2002, the Frozen Four was in St. Paul, just a short drive from their campus. Last season, they hosted the West Regional at Mariucci Arena.
But just when they thought they weren't going to get any breaks, Alaska-Anchorage, coached by former Minnesota assistant John Hill, came through for them. Because UAA knocked off third-seed Wisconsin in the first round and Colorado College — coached by another former Lucia assistant, Scott Owens — beat fourth-seeded Denver, fifth-seeded Minnesota didn't have to play in the Thursday night play-in game last weekend.
No team has ever won the Final Five after playing in that Thursday game.
Now, after a run to erase the memories of that awful start, the Gophers are back in position.
"We're happy to be in there, especially when we started 2-7-1," Lucia said. "That seems like a long time ago."
Notre Dame Fighting Irish
Record: 20-14-4, 14-11-3 CCHA (fourth)
Seed: No. 13 overall, No. 4 Midwest
How in: At-large 2003
NCAA tournament: none
The Notre Dame Fighting Irish are making their first-ever NCAA appearance, something that head coach Dave Poulin considers an accomplishment in itself.
"I'd be crazy to say it isn't. At the same time, having achieved goals along the way, I can say it's just one more step."
Poulin began taking those steps nine years ago when he returned to his alma mater to attempt to bring the Notre Dame hockey program to prominence, Poulin said he had many goals to meet, and has always been a proponent of the "small step" theory.
When the Irish the Irish made their first trip to The Joe in 1998-1999, that was a small step; when Notre Dame made its third consecutive trip to the CCHA Super Six this past weekend, that was another small step.
"The hard part is that there's no script to it," said Poulin. "You might look at other schools and how they've done it, but every school is unique in its own way. You kind of have to find your own way a little bit. Even from a coaching standpoint, finding what works is a learning process. Everybody wants to accelerate it, but it doesn't work that way."
Last week the Irish lost a spirited quarterfinal game to this year's CCHA titleholders, the Ohio State Buckeyes, in a 6-5 overtime heartbreaker. Notre Dame went up by two goals in the first, OSU answered, and then senior captain Aaron Gill stepped it up and scored the go-ahead goal to make it 3-2 — after just the first period. The Buckeyes got the equalizer in the second, and Gill again put the Irish ahead, with Mike Walsh making it a 5-3 game with 10 to go in the second.
Then Matt Beaudoin scored two to pull the Buckeyes within one late in the second and tie the game late in the third, and OSU won on Tyson Strachan's goal at 9:39 in OT, stopping Notre Dame's Super Six run before it started.
With that loss came doubts, too, about Notre Dame's NCAA chances. "From our guys' standpoint, it's kind of strange how the silver lining comes out of it. We had a great skate on Saturday when we didn't even know we were in the tournament. There's no greater appreciation for something than when you thought you'd lost it in the first place."
Notre Dame, a bubble team, was helped by nonconference wins against several high-profile teams. In October, an unknown rookie goaltender named David Brown (2.32 GAA, .925 SV%) shut out Boston College, 1-0, in Boston. In December, in his first game back since his second go-round with knee surgery, Morgan Cey (2.29 GAA, .925 SV%) blanked Maine, 1-0, in the Everblades College Hockey Classic.
In mid-January, the Irish visited the then-very-hot Wisconsin Badgers and came away with a win and a tie.
"Our nonconference schedule was really staggered, which helped," said Poulin. "And some of those games were situational games — Morgan's first game back was against Maine and he was phenomenal."
It's not just two goaltenders who exhibit flashes of the greatness that has carried the Irish through the season; Notre Dame is led — in every sense of the word — by its senior class. Gill (16-20–36) had a hat trick and a helper in that losing effort against Ohio State, and is second on the team in scoring. Rob Globke (19-20–39) leads the Irish offense, and big bad Neil Komadoski (5-1-5–20) is one of the most fearsome defensemen in the league.
This trip to Grand Rapids is "the next step," said Poulin. "It really is. We've had some good battles at Joe Louis, and it took four or five times getting there to get here.
"I know this was a goal of the senior class. To get there and do this is significant."
Minnesota-Duluth vs. Michigan State
Saturday, 3:30 p.m. Eastern, Van Andel Arena, Grand Rapids, Mich.
Minnesota-Duluth Bulldogs
Record: 26-12-4, 19-7-2 WCHA (second)
Seed: No. 5 overall, No. 2 Midwest
How in: At-large 2003
NCAA tournament: none
Minnesota-Duluth went to the WCHA Final Five last season hoping to play its way into a spot in the NCAA tournament. The Bulldogs had finished fifth in the conference, but didn't have a strong nonconference record to stand on.
Even though they played well in St. Paul, Minn., going 2-1, the Bulldogs left with a pretty good idea they wouldn't get the chance to play again.
What a difference a season makes.
The Bulldogs left the Final Five this year knowing they'd hear their names called on Selection Sunday.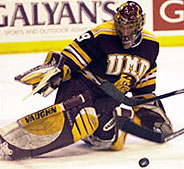 "It's another step for this program," said Scott Sandelin, who is in his fourth year coaching the Bulldogs. "Last year we were so close, and I think we left here last year with some glimmer of hope, even though I think realistically most of us knew it probably wasn't going to happen.
"And this year I think we've known, even coming into the tournament, that it is going to be a reality.
"So it's a goal they set for themselves, it's a goal they've achieved and now, again, they're four games away from winning a championship. I think they know that and they know it's going to be a real tough road, but I'm very proud of that group of guys — certainly the guys that were a part of being so close last year."
The Bulldogs' progression under Sandelin has been upward. His team won seven games his first year, then 13, then 22 last season before this season's breakthrough to the NCAAs. UMD is 26-12-4 and finished second in the WCHA, good enough for Sandelin to be named the league's Coach of the Year.
But a few stumbles down the stretch cost the Bulldogs the WCHA regular-season title and then a No. 1 seed in the national tournament.
The Bulldogs entered a home series with North Dakota in the penultimate weekend of the regular season two points ahead of the Sioux for first place. But North Dakota swept the series, sticking the Bulldogs with second.
Last weekend, UMD played Minnesota in the WCHA semifinals. The only way the Gophers could get past the Bulldogs for a No. 1 seed was to beat them, and they did, 7-4.
"We've had some breakdowns, but we know what we have in the locker room," senior forward Jesse Unklesbay said. "Things are going to happen, but our ultimate goal is still there."
The Bulldogs have been a balanced team, but their unquestioned leader on offense is senior Junior Lessard, a Hobey Baker Award finalist. He registered goal No. 28 and point No. 59 last Saturday in the third-place game of the Final Five, but soon after limped off the ice with a twisted left knee.
Sandelin said seeing that gave him a sour feeling in his stomach, but he said he was confident Lessard would be ready to play when the Bulldogs open the tournament against Michigan State on Saturday.
Lessard joined the Bulldogs' list of walking wounded. Defenseman Tim Hambly and forwards Tim Stapleton and Tyler Brosz missed some or all of the Final Five. All three were out for the third-place game, meaning 101 points were on the sidelines.
Still, the Bulldogs got a victory over Alaska-Anchorage to help them forget about the loss to the Gophers.
"We just had to rebound and get our game back on track for going into the tournament," forward Marco Peluso said.
Michigan State Spartans
Record: 24-15-2, 17-9-2 CCHA (third)
Seed: No. 12 overall, No. 3 Midwest
How in: At-large
2003 NCAA tournament: none
The Michigan State Spartans are returning to the NCAA tournament after a one-year absence — their 10th appearance in 11 years — but Super Six action ended for MSU exactly as it did a year ago, with an upset to Northern Michigan in the semifinal round.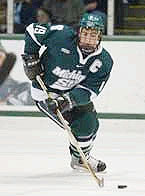 The Spartans lost 2-1, an effort for which head coach Rick Comley had few words. "We had some people that needed to play that didn't."
Absent from the scoring chart was the line of Hobey Baker finalist Jim Slater (19-29–48), Mike Lalonde (22-18–40), and Tommy Goebel (15-17–32).
"All year long when Jim Slater's line has gotten shut down, we've had trouble," said Comley. The trio is responsible for well more than a third of MSU's 136 goals.
The Spartans seemed to be peaking at the right time after a wobbly, inconsistent season. Unable to put together solid back-to-back nights since early November, MSU looked unstoppable in a road sweep of Ohio State in late January, but turned around and lost two at home to Miami the following weekend.
Both the Buckeyes and the RedHawks were part of the CCHA "supercluster" that also included MSU and Michigan. Teams in the same cluster play each other four times per season, but play non-cluster opponents just twice. The teams in that cluster finished in the top four spots in the league, and all are in the NCAA tournament.
After the back-to-back weekends against Ohio opponents, MSU went 6-1-1 to end the regular season, with a win and a tie against Michigan during the last weekend of play.
Three of those wins, though, were against bottom-half CCHA teams, and the Spartans allowed five goals by Lake Superior State — an offensively-challenged team — in one 8-5 contest.
"When we fall behind, we struggle," said Comley. "Our last 10 losses have been one goal."
Part of the problem, said Comley, is that the team thinks too much about what they are or are not doing on the ice.
"I think they worry so much about what they haven't accomplished this season that it affects how they're playing," he said.
Sometimes brilliant in net, sometimes less so, Dominic Vicari (2.20 GAA, .920 SV%) has been the Spartan goaltender of record for most of the season. "He kind of peaked against Michigan and has been struggling," said Comley. "It's not that he's been playing badly, not badly enough to get pulled, but he's been struggling."
Comley said that the competition in Grand Rapids will be tough, in spite of having to what amounts to a home-ice advantage.
"It's another opportunity. Sometimes second chances were more fun than first chances. I can only hope we play up to our capabilities, which we certainly didn't do in Detroit."