There's a little bit of everything at this year's Northeast Regional, starting with the No. 1 seed, Boston College.
The Eagles, viewed at midseason as co-favorites to win it all along with North Dakota, cruised to the Hockey East regular-season title, then saw the well go dry in a shocking first-round upset at the hands of Boston University. With a week off to study film, BC comes in as a prohibitive favorite against its first-round opponent, Niagara, which sneaked up on Bemidji State to win the CHA autobid.
But the Purple Eagles know a thing or two about upsets, having engineered one of the most memorable NCAA tournament wins of all time, back in 2000 against none other than New Hampshire, the Northeast Regional's host. The Wildcats lost to Niagara earlier this season as well, lending a hint of anything-can-happen to Manchester, N.H., this weekend.
And that brings up Michigan, which enters the national tournament stinging from a loss to Ohio State in the CCHA championship game, a performance head coach Red Berenson called "an embarrassment." The Wolverines take on the Wildcats in the regional's second game on Saturday afternoon.
Boston College vs. Niagara
Saturday, noon Eastern, Verizon Wireless Arena, Manchester, N.H.
Boston College Eagles
Record: 27-8-4, 17-4-3 Hockey East (first)
Seed: No. 2 overall, No. 1 Northeast
How in: At-large
2003 NCAA tournament: quarterfinals
For Boston College, A Not So Funny Thing Happened On The Way To The Hockey East Playoffs. A win on Feb. 27 gave the Eagles the regular-season title and a 26-3-4 record with only a single loss dating all the way back to October. Ben Eaves, who many consider the premier player in college hockey when healthy, was poised to rejoin the juggernaut after a lengthy absence due to a fractured kneecap. Can you say "Frozen Four in the FleetCenter?"
Then came the banana peel and, oh, what a header BC took. Three straight road losses, albeit to New Hampshire and Maine, closed out the regular season. Next came an upset at the hands of archrival Boston University in the Hockey East quarterfinals and 26-3-4 had been transmogrified into 1-5-0.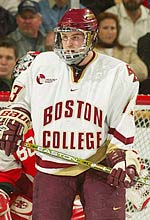 Goaltender Matti Kaltiainen, a second-team All-Hockey East selection, looked off his game against BU after missing two games with a groin injury. Eaves had suffered a setback with his knee and was playing only on the power play.
Other than that, Mrs. Lincoln, how'd you like the play?
"Even during the year when we were winning a lot, there still was a very small margin between winning and losing," coach Jerry York says. "It's a very difficult league. If you couple that with finishing with our last three league games being at UNH, at Maine and at Maine, that was the most difficult part of our schedule.
"Matti getting hurt at UNH kept him out of the Maine series and that was a factor. We also had been reaching and reaching for the regular-season championship and no matter how hard we tried, our mindset might have been a little different — not to take anything away from UNH and Maine for those wins — after we clinched.
"Against BU, Matti still wasn't the same. A small, athletic goalie can miss practices and games and jump back better than a bigger kid like Matti, who is 215-220 pounds. Against BU, he really wasn't 100 percent. His groin was better, but he had missed all those daily practices that big kids need. Then throw in a vintage Sean Fields performance and it all put us out of the playoffs."
Not that BC didn't have some company. Of the regular-season title winners in the six conferences, only Holy Cross also won its conference tournament. Minnesota and Ohio State both finished fourth before winning the WCHA and CCHA tourneys, respectively, and Harvard finished sixth in the ECAC.
"When Maine won the national championship [in 1999], they didn't win either the Hockey East regular-season championship or the tournament," York recalls. "Even though they won neither, they still achieved a national championship. Nobody says that you have to win one before you can win the other."
York responded to the disappointing series loss to BU by canceling practices for six days.
"You can analyze and analyze, but the bottom line is that we lost, but during the last week we got refocused and reenergized," he says. "Given that there was so much time that we'd have off, we thought on Sunday [after the loss to BU] that we'd just have a meeting on Monday, review the reasons why we didn't get to the FleetCenter, get that out in the open and rehash it and then we'd get away from the rink until Friday.
"That gave us eight days to prepare. So then on Friday we went over our game plan and said, 'Let's take advantage of this second opportunity.' We feel we're back on track."
Presumably, not only the injuries have mended but also the team's confidence.
"It's always nice to come off a good stretch of wins when you're going into the NCAA tournament, but we've addressed that," York says. "We've shown clips of what we were doing when we were [winning all those games], Matti making big saves, us moving the puck around so well on the power play. We've stressed, 'Hey, it's one-and-done, guys.'
"Ben has had [several] practices and feels really good. He's finally back at as close to 100 percent as he can be at this point. He'll take a regular shift. Boy, it's been a long time without him in the lineup.
"Matti feels really good. We've been having extra goalie sessions beyond just the practices to get him thinking 'fluid and athletic' and get him back in the groove."
BC would appear to be the prohibitive favorite in its first-round matchup with Niagara, but York is taking nothing for granted.
"Niagara has our attention for a lot of reasons," he says. "They beat New Hampshire early this season and we also were waiting to take the ice [in the 2000 Regional at Minneapolis] and saw them celebrating after they had upset UNH. So we see this as a very good bracket."
And if the Eagles take care of business against Niagara, it'll then either be UNH in front of a hostile crowd or the Michigan Wolverines.
"Those are two of the brand-name teams in college hockey," York says. "[Last weekend] I saw Wisconsin lose to Pittsburgh in the basketball tournament in front of 18,000 Badger fans and New Hampshire will certainly have what Wisconsin had at the Bradley [Center].
"But I don't think Michigan was upset at having to play in Manchester. If they play better than the Wildcats, then they'll advance."
The same holds true for Boston College.
Niagara Purple Eagles
Record: 21-14-3, 14-6-0 CHA (second)
Seed: No. 15 overall, No. 4 Northeast
How in: CHA tournament champion
2003 NCAA tournament: none
Usually when a team brings the fourth-leading scorer in the nation to the first round of the NCAA tournament, people don't write off their chances of scoring an upset.
But then again, usually when a player is the fourth-leading scorer in the nation, like Niagara's Barrett Ehgoetz is with 25 goals and 26 assists, he's also a finalist for the Hobey Baker Award. Yet, that's exactly the predicament the Purple Eagles and their brilliant junior captain find themselves in, staring at a first-round match against Boston College in the Northeast Regional Saturday afternoon.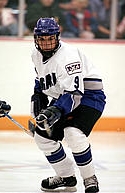 "On paper, we are playing the most skilled team in the country," said Niagara coach Dave Burkholder. "We are going to score goals against them, however. It's just going to be a matter of keeping their skilled forwards off the board."
The Purple Eagles are soaring into the NCAA championship with the CHA's autobid. They finished in second place in the regular season, faltering down the stretch with a chance to overtake Bemidji State. However, second was good enough to earn a bye into the tournament semifinals.
Niagara edged Wayne State, 2-0, in the semifinals and then played a classic contest against the Beavers in the finals, giving up the lead late in the third period before Joe Tallari, on an assist from Ehgoetz, scored in sudden death to hand the Purple Eagles the crown.
Since earning the Bruce McLeod Trophy, Niagara has had a full two weeks to rest on its laurels, and now faces a more notable species of Eagle from Boston College.
"The weekend at Kearney was a pretty big win," Ehgoetz said. "It's been pretty long the last two weeks. We just want to get out and start playing again."
If the Purple Eagles are to keep playing Saturday, Ehgoetz will have to lead the way. He is the co-CHA Player of the Year. Alongside him is last year's CHA Player of the Year, Tallari. After scoring 26 goals and adding 29 assists a year ago, Tallari struggled out of the gates and cooled off to a more modest 32 points in this, his final year of college hockey.
But the overtime winner showed that he and Ehgoetz can still click.
"We started playing together again in the middle of January," Ehgoetz said. "Joe's started to get back the confidence that he had last year. As a line we've been drawing a lot of attention. We know that we have to step it up."
While Niagara has received nice contributions from its other lines, especially senior Chris Welch and freshman Sean Bentivoglio, the Purple Eagles revolve around their top line of Ehgoetz, Tallari, and sophomore Justin Cross.
"I like our team speed," Burkholder said. "I know that we are one of the faster teams in the country. Joe, Barrett, and Justin got it done down the stretch. We are going to need more out of them."
In the two weeks that Niagara has had to prepare (a total surprisingly matched by BC after it got bounced in the first round of the Hockey East tournament), the team has focused on limiting the Eagles' offense, especially superstar forward Tony Voce, who, unlike Ehgoetz, is a Hobey Baker finalist.
"It doesn't matter who BC plays, they are going to get their 40 shots a night," Burkholder said. "We are going to have to play extremely well defensively and limit our turnovers, be patient, and take care of the puck when we do get it."
This will place plenty of pressure on sophomore goaltender Jeff VanNynatten, who earned the starting job during the season and showed his mettle in the CHA championship game, making 31 saves, including six in overtime.
"We have to be patient," Burkholder emphasized. "Jeff knows it. He's only a sophomore, but he's junior tested and he's a very confident kid."
A huge variable for any underdog is how well its opponent plays. At first glance, Niagara might welcome playing a Boston College team that, despite being ranked third in the nation, has lost five out of its last six games. Burkholder disagrees.
"Everything I've read out of Boston has the Eagles just happy for a second chance," Burkholder said. "If they had cruised through the Hockey East playoffs, they might've been looking past us to Michigan or UNH. Now they will take every game at maximum seriousness."
Still, confidence abounds for the CHA champions, who enter with regular-season preparation. During the year, Niagara played New Hampshire, Boston University, Denver, Massachusetts-Lowell, Yale, and Colgate.
It defeated Lowell and the Bulldogs, and tied the Raiders, not to mention the Wildcats when they were the number-one team in the nation. Even though UNH was depleted at the time, that has made the milieu of Manchester very inviting. The Purple Eagles remained on the East Coast, playing in the Granite State, against whose hockey team the program earned its most significant win — a first-round upset in the 2000 NCAA tournament.
The Purple Eagles, still a young program, can't ask for much more karma than that.
"Our best preparation has been playing the hardest nonconference schedule that we've ever played at Niagara," Burkholder said. "We are 3-3 all time against New Hampshire and Michigan. This is the first time we've ever played Boston College. It means so much to have our little school in the same bracket with so much college hockey history."
Niagara faces long odds of executing another first-round stunner, but in the NCAA tournament, anything can happen.
"Pretty much everyone expects BC to beat us and beat us pretty well," Ehgoetz said. "There's a quiet confidence on this team … As long as we continue to play well, continue to get unbelievable goaltending, anything can happen."
Michigan vs. New Hampshire
Saturday, 3:30 p.m. Eastern, Verizon Wireless Arena, Manchester, N.H.
Michigan Wolverines
Record: 26-13-2, 18-8-2 CCHA (first)
Seed: No. 8 overall, No. 2 Northeast
How in: At-large
2003 NCAA tournament: Frozen Four
By their own admission, the Michigan Wolverines limped into the CCHA Super Six tournament, won an uneventful semifinal against Northern Michigan, and then failed to show up for the first 40 minutes of the title game against Ohio State.
Midway through the third period, when Michigan finally awoke to a nightmare partially of its own making, it was too little, too late; the Buckeyes held on for a 4-2 win, denying the Wolverines their third straight Mason Cup.
"I can't say I know the reason why," said Wolverine forward Brandon Kaleniecki, an all-tournament pick. "If we came in thinking that [this game would be easy], we deserve to get beat. Even though they played two tough games, they're in the finals. If they're in the finals, they deserve to be there.
"Something wasn't right in the locker room before the game. Maybe we just thought that we handled them pretty well the last time we played them. Maybe we thought we were going to do that again. Obviously, that didn't happen."
"It's embarrassing for our team," said Michigan head coach Red Berenson, whose Wolverines trailed 3-0 going into the third. "I can't tell you that we're a better team than Ohio State — I don't think we are — but it's still embarrassing for your team to come out in a championship game and lay an egg like that, particularly in the first period."
Time and again this season, Berenson has said that the Wolverines haven't been playing desperate enough hockey, impassioned hockey that can carry a team. Michigan ended the season with an 0-3-1 record in its last four contests before the playoffs. While the Wolverines finished one point ahead of Miami for the regular-season title, having lost their last game of the season to Michigan State, the Wolverines had to hope Ohio State prevailed in its last regular-season contest — and the Buckeyes did, beating Miami and helping an archrival in the process.
Then the Wolverines needed three games to beat last-place Nebraska-Omaha to get to the Super Six, at home, where Michigan was previously undefeated on the season by a CCHA foe.
This is a Michigan squad that has gone to the Frozen Four the past three consecutive years. So what gives?
"There's nothing in particular," said Berenson. "Our one line that was so hot just quit scoring. They didn't have a point between them in seven games. That includes the power play, too. That line dried up, the power play dried up.
"We weren't getting the offense. We were being victimized by some weird goals, which happens when you're not winning."
Freshman T.J. Hensick (12-33–45) leads the Wolverine offensive attack, such as it's been lately. With two goals against OSU, Kaleniecki now leads the Wolverine in that department (18), with Dwight Helminen (17-12–29) knocking on his door. Milan Gajic (13-18–31) has been streaky this year, and Jeff Tambellini (15-12–27) is stunning when he's on a roll.
But for any one of the Wolverines — including goaltender Al Montoya (2.25 GAA, .915 SV%) — to take the step that snowballs into a necessary postseason roll may be difficult.
"When Ohio State was in first place [in the standings], we swept them," said Berenson. "When Miami was in first place we swept them. I think subconsciously, our team thought that we had first place wrapped up.
"Sure enough we lose two games in Notre Dame, then the Michigan State weekend we were lucky to get a point. That was a big point, as it turned out. It knocked Michigan State out of the running for first place and guaranteed us first or second.
"You end up backing into the league title. Again, in the playoffs, you're the first-place team playing the last-place team. I can't tell you we played poorly against Omaha, [but] we gave Omaha some confidence and they came back and played an inspired game.
"Now we're going into the tournament. I don't know that we're far off the mark, but we're not there."
New Hampshire Wildcats
Record:20-14-6, 10-8-6 Hockey East (fourth)
Seed: No. 9 overall, No. 3 Northeast
How in: At-large
2003 NCAA tournament: Runner-up
The past two seasons, New Hampshire entered the NCAA tournament on the heels of Hockey East regular-season and tournament titles and then rode that momentum all the way to the Frozen Four. Not so this time, at least not in terms of titles and momentum.
The Wildcats finished fourth in Hockey East, needed a rubber game to eliminate Providence in the quarterfinals and then fell to Massachusetts in a semifinal game. Perhaps even more frustrating to UNH fans is the way the team fell, taking a 2-0 lead before surrendering five unanswered goals, including four in the closing 13 minutes.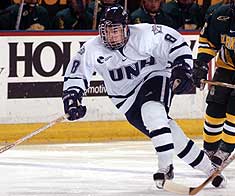 Then again, the playoffs might be considered UNH's regular season in a microcosm. Nothing has been easy for the Wildcats. Following a four-game, mid-January winning streak, UNH has gone 5-7-3 without back-to-back wins.
"We won the regular season and tournament the past two years," coach Dick Umile says. "That put us in a great position.
"Wins and losses have been difficult for us this year. It has been more — not rebuilding — but there have been a lot of ups and downs. We've had some struggles, but we've battled and now we've earned the opportunity to win the national championship. If we can put 60 minutes together, we can be a difficult team to beat."
UNH once again features a strong offense, having gone neck-and-neck with Boston College all year as the first- and second-ranked scoring teams in Hockey East. Nationally, the Wildcats come in at ninth with a 3.42 goals per game average. A big part of that is the league's top power play with a 22.0 percent conversion rate.
Leading the way offensively is Hockey East Player of the Year Steve Saviano (27-21–48) along with Sean Collins (16-25–41), Justin Aikins (10-31–41) and Preston Callander (21-14–35). The big gun from the blue line is Brian Yandle (11-17–28).
Team defense, however, has been an uncharacteristic problem. After a string of years in which UNH has been among the top Hockey East teams in its own end, this year it has fallen to an almost inconceivable next-to-last 3.17 goals against per game with the worst penalty kill, 79.2 percent. Goaltender Mike Ayers became a mere mortal this year, going from Hockey East Player of the Year to failing to even be an honorable mention on the league all-star team. Still, the talent is clearly there between the pipes.
"Any time you have a goaltender the caliber of Michael Ayers, he's going to give you a chance to win no matter who you play," Umile says. "Based on how we played this year against Boston College [a win and a tie], Maine [a win] and even UMass [a win and a tie], we know that we can play against anybody and beat anybody."
And there certainly will be home-ice advantage for UNH in Manchester.
"No question," Umile says. "We knew that if we qualified for the NCAA tournament, it would be something special to host in the [Verizon Wireless Arena]. We played there earlier this year [tying Boston College, 2-2, and defeating Dartmouth, 5-0] and it was a great environment in front of a sellout crowd.
"So we'll be ready for that this weekend. We obviously expect it to be a home crowd."
First up on the docket for UNH will be Michigan, in a shoe-is-on-the-other-foot situation after having enjoyed playing in front of Ann Arbor crowds in recent years.
"They've been a storied program in so many of the NCAA tournaments in recent years along with us," Umile says. "There's a mutual respect there between the two programs. We're familiar with the way they play and like the way they play. Playing Michigan is like playing BC or BU. They play a great brand of hockey."
And if the Wildcats knock off Michigan, it'll almost certainly be a rematch with Boston College, over whom they've had by far the better of it in recent years.
"If we were fortunate enough to beat Michigan, we'd be hoping that [BC] would win [over Niagara]," Umile says. "It wouldn't get any better than that. Playing Michigan and BC on the same weekend is a great opportunity. Those are the things you look forward to."