They may have limped into the NCAA tournament, but their stride now exudes confidence. Although they entered the day a collective 4-10-1 in recent games, they now stand one game away from the Frozen Four.
Boston College and Michigan both shrugged off recent downturns to post dominating victories in the opening round of the Northeast Regional. BC pulled away from Niagara in the third period to win, 5-2, while Michigan throttled host New Hampshire, 4-1.
What a difference 60 minutes of hockey makes.
Boston College had entered the national tournament having stumbled to a 1-5-0 finish after a dominating 26-3-4 record up to that point. A near-prohibitive favorite to reach the Frozen Four prior to the stumble, the Eagles sat home and watched four other teams compete in the Hockey East semifinals.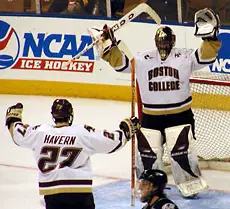 Would that slump extend to include a loss to Niagara in the NCAA opening round? As it turned out, no, although there might have been some palpitations among Eagle fans when their team surrendered a goal on Niagara's first shot and led only 3-2 heading into the third period. BC scored twice in the early part of the final frame, though, to pull away to a clear-cut 5-2 win.
"We were really focused," BC coach Jerry York said. "We brought a pretty good game to the NCAA tournament this afternoon. I thought we were physically prepared and mentally very, very strong."
Some of that strength might have come from six days away from the rink that arose when York canceled practices in the immediate wake of his team's early elimination from the Hockey East playoffs.
"Those were really good mental health days for us all," Patrick Eaves said. "We got away from the rink and refocused. When we got back to the rink that next week everyone was tape-to-tape [with their passes], excited to be back, hooting and hollering. It was a good time off and I think we're better because of it."
Other than the overall recharging of the batteries, BC's back-in-the-saddle play could be credited to three sources: resurgent play by goaltender Matti Kaltiainen, an effective power play and a healthy Ben Eaves.
Kaltiainen had suffered a groin injury at the start of the six-game skid, missed the next two games and, even after returning for the Hockey East quarterfinal series against Boston University, did not perform well.
"Matti's play in goal was a real big change," York said. "Matti was back to the form that he had early in the season."
The Second Team All-Hockey East selection stopped not only 26-of-28 shots, but most notably a penalty shot in the second period when the game still hung in the balance.
Ryan Shannon said, "When Matti has his confidence, you can't get a puck by him. You see that in practice when he comes out and attacks the shooter and plays really aggressive. He had that tonight.
"After the [penalty shot] save, you could just see it in his composure. He's big in net. When he has that, he's tough to beat."
Which bodes very well for the Eagles' run at a national title. That along with a hot power play that saw Patrick Eaves score twice while a man up against Niagara.
"We finished power plays and we had not done that for a while," York said.
Last, but certainly not least, Ben Eaves played a regular shift and was pronounced by brother Patrick as "full up." The elder Eaves brother had missed 15 games with a fractured kneecap, returned just as the slump commenced only to reaggravate the injury and be restricted to play on the man advantage. Against Niagara, however, he once again showed the form that cause many to call him the best player in college hockey.
Put it all together, and the BC Humpty Dumpty would appear to have put all the pieces back together again.
"We came out in the third period in a close game and put them away," York said. "It's a big [confidence and momentum] boost for us, no question.
"This is a pretty good club I coach. We thought we'd respond really well in the tournament."
York then noted that the Maine team that won the national tournament in 1999 failed to win either the Hockey East regular season or tournament title before winning "the big prize."
"So we're very much in the hunt here," York said. "We've handled that setback of being eliminated in our own tournament very, very well. We took our setback and then moved in the right direction."
Which can also be said about Michigan, perhaps with an even greater degree of emphasis. The Wolverines didn't see the wheels come off to quite the extent that Boston College endured, but still entered the NCAAs with a 3-5-1 record in their last nine games. They mustered only a single tie in their last four regular season contests, needed a rubber game to eliminate bottom-seed Nebraska-Omaha in the CCHA opening round and performed so poorly in losing the title game to Ohio State that coach Red Berenson deemed it "embarrassing."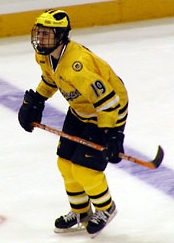 As with BC, it wasn't the ideal way to prepare for The Big Dance. Falling to the seventh overall seed, Michigan got paired with New Hampshire in the opening round.
What made that a particularly interesting matchup, however, was that UNH was hosting the Northeast Regional in the Verizon Wireless Arena and had already sold out the 10,104-seat building. The Wildcat faithful would be certain to give UNH a big home ice advantage.
Which spelled trouble for a Michigan team that hadn't of late been firing on all cylinders at any venue and, more ominously, had struggled on the road all season. The Wolverines home record was 19-3-0, but that success plummeted to 5-7-2 on the road.
All of which added up to about as many headaches as BC's 1-5-0 slump had. And all of which disappeared with an exceptional performance.
The Wolverines took the crowd out of the game with Brandon Kaleniecki's goal just 1:05 into the game. And while it wouldn't be until the second period that they would extend that lead to two and then three goals (followed by four goals in the third), the first-period dominance was stunning. Michigan outshot UNH, 14-2, and arguably did not allow a single Wildcat "grade A opportunity" until the game was half over.
"We knew coming in that the start of the game would be huge," Kaleniecki said. "We knew we had to take it right to them right off the bat and make sure they didn't get any momentum. I think we did a pretty good job of that."
Indeed.
And as for those road blues…
"Our team is more focused now," Berenson said. "When you get into events like this, everyone realizes they have to play the way the team has to play and maybe not the way they want to play. We had a better team effort on the road tonight than we've had in most games.
"You need goaltending on the road and Al Montoya got off to a good start in the game and was solid throughout. And then we made our chances count.
"Those are the three things we talk about when playing on the road and we did those tonight."
Which has put Michigan and Boston College on a collision course for Sunday afternoon at 4 p.m. Both enjoyed exceptional years until the end of the regular season. Both then suffered indignities they'd have much rather avoided.
Both, however, have now righted the ship. Both played opening-round games that made it abundantly clear that they were the far superior team to their opponent.
But only one can reach the Frozen Four.
And so an irresistible force meets an immovable object. Michigan – BC. BC – Michigan.
Tune in on Sunday.