Minnesota-Duluth vs. Denver
Thursday, noon ET, FleetCenter, Boston
Minnesota-Duluth Bulldogs
Final USCHO.com ranking: No. 5
Record: 28-12-4
NCAA seed: Midwest No. 2
How they got here: beat Michigan State 5-0, beat Minnesota 3-1
Junior Lessard was at dinner the other day when he was greeted with congratulations.
Evan Schwabe was walking through the halls at school when he was stopped by someone who told him they were rooting for him and his teammates.
Isaac Reichmuth has sensed the buzz around town.
This is Duluth, Minn., a city that has suffered through some lean years with its hockey team but is now enjoying its resurgence.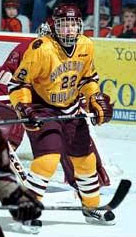 There aren't enough tickets around to cover everyone who wants to see Minnesota-Duluth play in the Frozen Four in Boston.
"It's awesome for us and it's awesome for the program," said Reichmuth, the UMD goaltender who allowed only one goal in two games at the Midwest Regional. "The town's real excited. It's great to be here."
And there's the statement that couldn't be made four years ago: It's great to be here.
When Scott Sandelin took over and this year's senior class members were fresh faces, the UMD program was in need of an overhaul. Sandelin was just off a national championship as an assistant at North Dakota but took over a team that had fallen to two straight losing seasons after consistently being a player in the WCHA race.
Sandelin didn't have many tangible results to show for his first two seasons, with seven and 13 wins, respectively.
But the rise to the top of the WCHA that started last season took its biggest step this season, when the Bulldogs finished second in the league and are no fluke to be counted as one of the last four teams standing nationally.
Reichmuth, the sophomore goaltender, made his decision to attend UMD after hearing the coaches tell him the Frozen Four was a possibility in the near future.
"I think maybe it came a little bit faster than they thought," Reichmuth said. "They knew they wanted to get here and they knew it was going to be a hard road. But last year, I don't think they expected to have as good a year as we did. But after last year, we knew we could have this kind of success this year."
It hasn't been a completely smooth ride for the Bulldogs (28-12-4), who will play Denver in the national semifinals on Thursday. After 10 games, they were just 4-5-1, having lost three straight — two to St. Cloud State and one to Bemidji State. They were swept in a five-game season series against North Dakota, including the most crucial WCHA series of the season.
But it was a December series with the Sioux that ended the first half on a bad note.
"Before Christmas, we had lost a couple big games to North Dakota, and Christmas break couldn't have come at a better time for us," said Schwabe, a forward who's second on the team to Lessard with 55 points.
When the Bulldogs came back from break, they started a 14-game unbeaten streak that put them in the upper classes of the national picture. They were 13-0-1 in that stretch, including two sweeps of Colorado College, one of Minnesota and another of Denver.
In that series with the Pioneers, UMD was outshot both nights but got out of town with four points. Reichmuth stopped 32 shots in a 1-0 shutout, then the Bulldogs broke a 3-3 tie with three third-period goals in a 6-3 victory.
"We probably didn't deserve to win that first game, but Isaac stood on his head and we managed to squeak one by [Denver goalie Adam] Berkhoel," Schwabe said. "That gives you tons of confidence when you know your goalie is playing like that and you know you can win the close games. Then the bounces started going our way and the run began."
But like the team, Reichmuth has had some off moments this season. He allowed six goals in a Final Five semifinal game against Minnesota, his first game since allowing five goals against Minnesota State in Game 3 of their first-round playoff series.
The Midwest Regional did plenty to quiet the critics. He made 23 saves to blank Michigan State, then stopped 22 to shut down a potent Minnesota playoff attack in the regional final.
"He's back to where we expect him to be, and that's one of the top goalies in the nation," Schwabe said. "He makes things a lot easier on us."
Schwabe has done a lot to make things easier for the Bulldogs, too. As a sophomore a year ago, he was 16th on the team scoring charts with 10 points. He said being more prepared from the beginning was one of the biggest reasons he has been able to increase his production.
It probably doesn't hurt being on the same line as Lessard, either. Of course, Lessard has been aided by having Schwabe on his line, too.
The Bulldogs may have the No. 2 offense in the country, but they're not a fancy team, said Lessard, the national leader with 30 goals and 61 points.
"Don't get me wrong: We've got some pretty good skill on our team," he said. "But we can't just show up and expect to win. We've got to work hard, and when we do that is when we're successful. At this time of year you can't play 20 or 40 minutes and expect to win because the other team's going to make you pay."
The depth in scoring has been perhaps the biggest reason for UMD's success. The team has 10 players with at least 24 points and eight players with at least 10 goals.
And they're playing the NCAA tournament as healthy as they have been in the last month. Defenseman Tim Hambly and forwards Tyler Brosz and Tim Stapleton each missed some or all of the WCHA playoffs, but all returned for the regionals.
"There was a lot of uncertainty with, 'Are they going to or are they not?'" Sandelin said. "Certainly getting them back was a huge lift."
Using their first-choice lineup should give the Bulldogs a great shot at the program's first national championship in its third Frozen Four appearance.
"Right now when we have everyone healthy, we don't even have a freshman in the lineup," Reichmuth said. "We don't have a lot of NCAA tournament experience, maybe, but we've got a lot of games played."
Denver Pioneers
Final USCHO.com ranking: No. 8
Record: 25-12-5
NCAA seed: West No. 2
How they got here: beat Miami 3-2, beat North Dakota 1-0
To describe his team's situation at the start of February, when it was four games under .500 in the WCHA after winning just one of its last six games, Denver coach George Gwozdecky pulled a line from the movie "Apollo 13."
Near the end of the film, when the crippled spacecraft was returning to Earth, two of the principals at Mission Control are discussing everything that could go wrong on re-entry. One says it could be the biggest disaster in NASA history.
Then Ed Harris, portraying flight director Gene Krantz, steps in and says, "With all due respect, sir, I believe this is going to be our finest hour."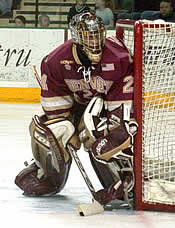 So there were the Pioneers the night of Jan. 31, having tied North Dakota 1-1 in Grand Forks but still with a 6-10-4 record in the WCHA and on the wrong side of the league's race for home ice in the first round of the playoffs.
The turnaround may have been started by the coaches changing up the way the team practiced or a shift in the lineup, but in Gwozdecky's eyes, it was the team's senior leaders — like defenseman and captain Ryan Caldwell and goaltender Adam Berkhoel — who realized it was their last shot and turned up the intensity.
"It was sheer will," Gwozdecky said. "They came together, and their demands and their expectations on their fellow teammates were huge. When many had written us off, these guys, led by the seniors, said this is going to be our finest hour."
History shows that Apollo 13 safely got back to Earth. Will history show the Pioneers' turnaround ending with a national championship? If so, it could be one of the best reclamation projects in recent memory.
In a six-game stretch in January, Denver was 1-4-1. There had been other causes for alarm earlier in the season — three WCHA weekends that claimed no more than one point each — but this was the kind of slump that can send a season downward for good.
But things started to go back in the right direction with that 1-1 tie with the Sioux. A night before, Denver had been pounded by North Dakota 6-1, but the Pioneers came back with a solid game that included a goal by Caldwell.
They went 7-0-1 to close out the regular season, which was good enough to finish fourth in the WCHA and keep them in a NCAA tournament spot even though they crashed out of the league playoffs by losing a first-round series to rival Colorado College.
"I think we really pulled together then and went on that unbeaten streak to get home ice in the playoffs," Caldwell said. "And even though that didn't work out, I think that was really a turning point to let our team know that we were one of the best teams in the country and we could put together a run like that. And I think that gave us the confidence to take off right now in the NCAA tournament."
Said Berkhoel: "When our season was on the line, those last four weeks of the season, we needed to play well and we all stepped up our games and played really consistent going into the playoffs."
It helped that Denver started holding onto its leads. One of the most disheartening moments of an up-and-down first half had to be the 8-7 loss to Minnesota State on Dec. 20. The Pioneers led that game 7-1 eight minutes into the second period.
It almost happened again in Denver two months later, when Minnesota State rallied from a 6-2 deficit after two periods to eventually tie the game at 7. But Gabe Gauthier got a face-saving goal with 1:10 remaining and Caldwell scored into an empty net to seal a 9-7 victory.
"In January, finishing games when we had the lead was a problem that we had," junior forward Kevin Ulanski said. "I think as you get a couple wins and can hold onto your wins and play better as the game goes on, it just gets your confidence up that you're going to be doing that in the third period of every game. I think once the game's on the line, we have a lot more confidence in each other to get the job done."
That was evident in how the Pioneers got to their first Frozen Four since 1986. In beating North Dakota 1-0 in the West Regional final, they held the nation's best offense (4.44 goals per game average) off the scoreboard.
Berkhoel stopped all 33 shots he faced — the Pioneers were outshot 33-17 — and it took a Luke Fulghum redirection of a Max Bull shot with 2:29 remaining in regulation to eliminate the Sioux.
"We had all the confidence in the world in Adam, and he had a great weekend," Caldwell said. "We knew that the way we were playing in our own zone, that goal wasn't going to happen on a mistake by us. It was going to have to be a pretty great play by them because our whole team was playing great defense. It just happened that we got that chance, and all it took was one shot and we knocked off the best team in the country."
Now Denver (25-12-5) gets a crack at the nation's No. 2 scoring offense in Minnesota-Duluth (4.14 GPG), which it will face in Thursday's national semifinals. That means Caldwell and the Pioneers' defense will see how it stacks up against the nation's scoring leader, UMD's Junior Lessard, on the big stage.
"Whenever you can play against a guy like that, I personally take that as a challenge," Caldwell said. "With the depth we have on the blue line and how Adam's playing right now, we can play with any offense in the country."
The Denver offense, led by Gauthier, a sophomore with 17 goals and 42 points, may get a boost with the possible return of second-leading scorer Connor James, who has missed the entire postseason with a broken leg. Gwozdecky said the senior's chances of playing are 50-50.
The Pioneers are exacting revenge one by one. North Dakota beat Denver three times this season — "Pretty handily, too," Caldwell said — and one of those was in the Pioneers' January slump. But it was Denver that won when it counted the most.
Minnesota-Duluth handed Denver 1-0 and 6-3 home losses to start the slide, and the Bulldogs are next on the Pioneers' list.
"We outplayed them the first night and [UMD goaltender] Isaac Reichmuth stood on his head and won them the game," Berkhoel said. "That got them momentum for the Saturday night game and they came out and took it to us. I think it's a lot like North Dakota, where a lot of people were counting us out because they took care of us during the season. But it's a whole different season when you come to the playoffs, and we have played really well the last two times."