After two periods, it's a 1-1 tie between Maine and Boston College in the second Frozen Four semifinal Thursday.
Jon Jankus had the first-period goal for Maine, Ryan Shannon tied it up for BC early in the second, and Maine goaltender Jimmy Howard put on a show of his own.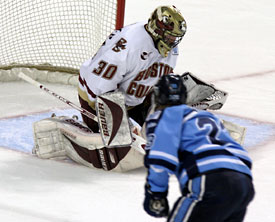 The game was scoreless through nearly all of the first period until Jankus gave the Black Bears a 1-0 lead at 19:28, from Mike Hamilton and Dustin Penner. Penner intercepted a BC pass in the neutral zone and passed left to Hamilton, who shuffled the puck up to Jankus breaking in on the left wing.
Jankus fired from the top of the right circle and hit BC goaltender Matti Kaltiainen's leg pads. The puck bounced through, five-hole, and Maine led 1-0 after one.
Shannon tied it at 2:35 with a smart, patient move on an innocent-looking play. Howard came out to play the puck left of the net on a rebound of Dave Spina's initial shot, and Shannon skated out left and around Howard, extending his stick to get the puck behind the Maine goalie at 2:35.
Howard was outstanding through two, making key saves on Ben Eaves, Spina, Ryan Murphy, and Stephen Gionta in the first, then standing tall on an extended BC five-on-three man advantage 12 minutes into the stanza.
In the final minute of the period, Howard's stop of Tony Voce on another Boston College power play resulted in a shorthanded break in the opposite direction, with Kaltiainen forced to make a save on Cameron Lyall at 19:15.
The Eagles outshot the Black Bears 33-15 through the first 40 minutes.