He played 158 games with the normal nicks, cuts and bruises of a hockey player, but nothing like this.
As Denver's chances for the upcoming NCAA tournament took a hit in its first-round WCHA series loss to Colorado College, so did the prospects for senior forward Connor James. His ironman streak came to an abrupt end when he awkwardly went into the boards, breaking his fibula just above the ankle.
As soon as that weekend ended, the Pioneers tried to regain their optimism. If they could just make the Frozen Four, they said, James could return. But the idea of making it at that point was hard to fathom, much less the return of a guy with a broken leg.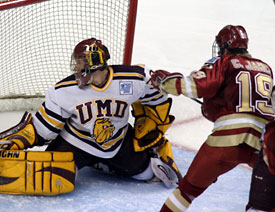 But Thursday, there he was, just over four weeks later, playing in the Frozen Four against Minnesota-Duluth.
And by all accounts, he came through OK.
"I feel good," James said after the Pioneers' dramatic 5-3 win. "It hurt a little early on, but I didn't feel much during the game."
James is wearing a leg brace, which is actually in its second incarnation. The first brace was too rigid and it was hard for James to skate. This version is two pieces of hard plastic that wrap around the lower leg and connect at the boot. It allows James just enough flexibility, and just enough protection.
Of course, the leg is still not fully healed, so there was still plenty of concern that James could break it again. But the coaches, trainers and James decided that, hey, this is his senior year, and the worst that could happen is six more weeks in the cast.
So Denver coach George Gwozdecky tentatively started James on the third line with Adrian Veideman and J.D. Corbin. Then the first period didn't go so well, as Denver fell behind 2-0.
"I wasn't getting a lot of ice time in the first period," said James, who sat partially because of all the penalties Denver had to kill. "I wasn't sure if coach was going to come back to me. But he did and things got better as the game went along. It hurt a little bit, but I finally decided to just forget about it and go all out."
Gwozdecky saw that James was feeling more comfortable, so he moved James back with his old linemates, Gabe Gauthier and Greg Keith.
"There was definitely some concern at first about how much Connor could play," said Gwozdecky. "Once we saw that he could do everything out there, we moved him back to the top line so he could get more playing time."
He was certainly out there when Denver started its rally in the third period. Down 3-1, Keith won a faceoff back to Skinner, whose shot James redirected to narrow the Bulldog lead to one.
James factored into the scoring later on, as well. Ahead 4-3, James came down with Keith on a 2-on-0 towards an empty net to seal the win. In one of the most unselfish acts you'll see, James passed off to Keith, who tapped it in.
"Keith has been helping me all season, I felt he deserved one," said James.
Said Gwozdecky, "That's the embodiment of everything Connor James is all about."
James and Denver. Neither appeared to be in good shape to be here. Both are still playing … in a championship game.