Resiliency and survival.
Those words continue to be the story of Denver's season. People call DU the Frozen Four's Cinderella, but this fair princess has been more of a cat with nine lives.
For that matter, if this team is any kind of cat, it's a tiger.
Thursday the tiger roared, if only for 20 minutes. Denver scored four times in the game's final frame to overcome a 3-1 third-period deficit, beating Minnesota-Duluth, 5-3, and advancing to Saturday's national championship game. And what the FleetCenter crowd witnessed was a microcosm of the Pioneers' season.
"It's not in the game plan to [have to] come back, but this is kind of symbolic of the entire year," said Denver coach George Gwozdecky. "There have been times that we just haven't made it easy for ourselves. But there are things that we see in our team that they understand now. They've learned how to win."
The story of survival goes back, way back, to January, when the Pioneers survived a 1-4-1 stretch by putting together a critic-silencing eight-game unbeaten streak. But the naysayers returned when that streak was broken in the WCHA playoffs. Denver was upset in the first round by Colorado College, pushing this would-be tiger in the NCAA tournament with a whimper rather than a roar.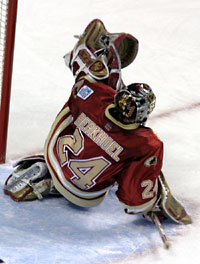 After surviving the West Regional by winning two one-goal games — most impressively by beating the tournament's top seed, North Dakota, in the final — Denver brought its show to Boston and entertained Thursday's matinee crowd at the FleetCenter with a thrilling performance.
Asked if there was a way to vocalize the comeback, senior captain Ryan Caldwell said it simply: "No."
"I told the guys between the periods that I believed in them and I thought we could win the game, but whenever you say that you still seem to end up on the short end," Caldwell said.
Not so this time, despite a painfully slow start to the game that put the Pioneers in a hole, first 2-0 and then 3-1 through two periods against a team that was 25-0-1 this season when leading after 40 minutes.
But survival was still the order of the season, and of the day.
The Pioneers survived all of the elements on Thursday, beginning with a slow start by goaltender Adam Berkhoel, who some figured was the only reason that they made it to Boston after his 33-save shutout in the regional final. They survived four straight minor penalties in the first that came because they simply weren't moving their feet, weren't hustling.
Even after completing the comeback and taking its first lead of the game, the Pioneers had to survive a video review of an apparent tying goal by Duluth with 32.2 seconds to play.
"I don't know what it was tonight," said Caldwell, "We've never come back in a game like this.
"I don't know what the trick was. The guys stuck together just believed in each other."
If he's looking for a reason, maybe Caldwell could look to the final minute of the second period when Berkhoel took it upon himself to change the complexion of the game.
Holding a 3-1 lead, Duluth's Junior Lessard, who already had two goals in the game, had a perfect look at an empty net after being set up on a two-on-none. The Hobey Baker finalist placed the perfect shot high on the net only to have Berkhoel somehow flash his left leg in the air and make the save.
"I needed to come up with a save," said Berkhoel. "Those first two goals were my fault. I was careless on both of them and got us in a hole and I had to dig us out of it.
His performance was reminiscent of a midseason stretech that saw Berkhoel get pulled from one game, only to rally to a 7-0-2 mark in his next nine starts.
"No question that when he made that save that we were making sure everyone on the bench knew that Berkhoel was back on his game," said Gwozdecky. "We knew that he was going to win this game for us as long as we got him some support.
"There's always that point in the game you look at and say that was a turning point, and that certainly seemed to turn things around for us."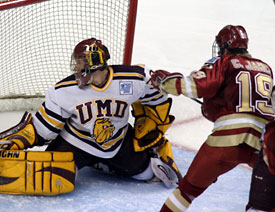 With the momentum, the comeback in the third — which will go down as one of the more monumental in Frozen Four history — almost looked easy. Space on the ice for Denver that was missing all game suddenly was present in abundance. Grade 'A' chances, of which Denver had three through two periods, seemed to come at least one a minute.
And after all was said and done, after the comeback was in the books and the game was about to be put away, one last statement for the Pioneers came from assistant captain Connor James.
"It was a very classy play and a terrific message to his teammates by one of our leaders," Gwozdecky said of an assist by James on Denver's empty-net goal. James, who missed the regional tournament with a fractured right fibula, skated two-on-none with Greg Keith. Instead of burying the biscuit himself, James dished to Keith, who fired home the game's final goal.
"Connor had to sit and watch over the last month, but two weekends ago in Colorado Springs at the West Regional was excruciatingly difficult for him to watch," said Gwozdecky. "He was so excited to be given the go-ahead to play this weekend and it was almost fitting that he would say [by making that pass], 'You guys have carried the load for the last month. Greg, here's the puck, you put it in the net. You deserve it.'
"It's pretty symbolic, I guess."
Symbolic indeed, as much as the game symbolized Denver's season. It might not have been pretty, and it wasn't according to the game plan. But neither has been this season for the Pioneers. But the resiliency of this club has helped it survive to see one more day.
And maybe even a national championship.