"We just look at him and he's so calm and we say, 'Wow, why can't we be?'"
— Prestin Ryan on Jimmy Howard
When did Jimmy Howard know he was going to be on against Boston College in the national semifinal game?
"I knew when I was coming on the bus ride here," Howard said with a smile after stopping 40 of 41 shots to lead Maine to a 2-1 win. "I knew it was going to be one of these nights."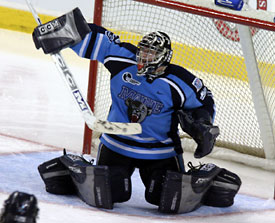 Howard's pregame ritual was the same as always: stretch out, listen to music and visualize himself making one big save after another, a mental preparation technique he'd learned three years ago when part of the US National Team at Ann Arbor, Michigan.
When the game began, he did exactly what he had already seen himself do in his mind. Stop one puck after another after another.
At the three-minute mark, Patrick Eaves threatened with first one shot and then another on the rebound. Save. Save. Just like Howard had already seen in his mind.
A few minutes later, he was flashing a glove to stymie Dave Spina.
And on it went. By the end of two periods, Boston College had outshot Maine, 33-15, but Howard had kept the score deadlocked at 1-1. Only a Ryan Shannon goal from the doorstep failed to match the result Howard had already visualized.
In the third period, the Black Bears team defense finally tightened up and held Boston College to only eight shots and when the final buzzer sounded Maine had earned its tenth straight win, the last eight by only a single goal.
When Dustin Penner and Jon Jankus, the two goalscorers, were asked about the team's success, their words echoed those of Prestin Ryan about Mr. Calm.
"We've come to kind of a calmness, just knowing that if we bide our time and execute on our grade A chances, with him in net we should get the win most of the time," Penner said.
Jankus then added, "It helps having Jimmy Howard in the net obviously. That's basically [our secret of success]. He has stood on his head all season and he'll look to do that in the championship game, I'm sure."
Quite predictably, Howard deflected the praise to his teammates, like sending a soft floater into the corner.
"It wasn't as difficult as 41 shots may have seemed," he said. "We did an excellent job of keeping it on the perimeter and keeping them along the boards, just taking shots from outside.
"That stems from the defense blocking out well in front and the forwards coming back and breaking up the odd-man rushes, forcing them to shoot from up top. They didn't get too many shots from in close. It says a lot about our defensive corps and forwards."
While it hadn't been as dominating of a game in the crease as Howard's performance in the Hockey East championship game, a triple-overtime thriller in which he stopped 63 of 64 shots, the 40-save win was still a huge one.
In six postseason starts, Howard has now allowed more than one goal only once. He attributes some of that success, ironically enough, to a midseason knee sprain that sidelined him for five weeks. The injury came at the same time that one year earlier he'd headed to the World Junior Championships, a stint that may have led to a burnout-induced stretch run stumble. Forced to skip the World Juniors this time, he charged batteries that are now delivering full voltage.
"I just hung out with my family," he said. "I think it's played a key role in how I've been playing down the stretch just because I got the five weeks off where I got to kick back and relax for a couple weeks and then do intense rehab. It's really helped."
Of course, Howard had to be an extraordinary goaltender in the first place to have the imposed rest make a difference. And being an extraordinary goaltender is exactly what he's been since arriving at Maine last year, the lone exception coming during his burnt-out stretch run last year. He is now poised to break NCAA records for best goals against average (1.20) and save percentage (.956).
If you ask Howard, however, he'll just talk about his teammates. But ask Maine coach Tim Whitehead and you hear some of the reasons why Howard is on the verge of setting records.
"Jimmy has exceptional concentration, he never loses sight of the puck, he's great in traffic and he really appears to be the most composed guy in those scramble situations," Whitehead said.
"He also anticipates extremely well. He's always one step ahead. I'm amazed he hasn't played forward before because he can anticipate [what they'll do]. It seems like he reads their minds sometimes."
Howard is now 60 minutes away from a national championship and has placed himself in the elite company of other goaltenders Whitehead has coached both at Maine and Massachusetts-Lowell.
"It's too early to say [where he fits in among them] because those goalies have had the opportunity to continue on [in the NHL], but certainly at this point in his career he's right up there with Garth Snow, Mike Dunham and Dwayne Roloson," Whitehead said.
"We've been fortunate even since I've been back at Maine to have Matt Yeats, who just made his NHL debut and Mike Morrison, who made his debut with Edmonton.
"We've had some great goalies. Jimmy's right up there with those guys. I'm very confident that he'll continue to improve as much as those guys have because he competes so hard. You should see him practice. He practices hard. It's not an accident that he continues to improve.
"He's better than he was last year and he'll get better next year. That's a scary thought."
For opposing teams, "scary" would be an understatement. "Horrifying might be more like it.