Great Move
Chris LaPerle hopes he's the next success story from the Denver volunteer coaching position.
LaPerle knew virtually no one in Denver some months ago when he decided to pick up his stuff, drive 2,200 miles from home and take up a new job that has limited permanency.
He was working as an assistant coach for Division II Southern [nl]New Hampshire and had just received his master's degree in sports administration when the big move occurred. LaPerle figured that if he was going to move up in the hockey coaching world, the best place to be was Denver.
So he signed on with the Pioneers, a program that has a good track record of placing volunteers on a fast track to a good job in the business.
But at that point he had no idea he would be here. Denver will play Maine Saturday night at the FleetCenter for the national championship. The decision to move wasn't easy, but now it all seems to make sense.
"It was pretty tough," LaPerle said, "but it was well worth it."
LaPerle, 25, is part of a coaching staff that includes George Gwozdecky, assistants Steve Miller and Seth Appert and director of hockey operations David Tenzer. The former [nl]New Hampshire College forward went from a school that has 1,200 students to one that has 9,500.
Two of the Denver full-timers are former Pioneers volunteers. Plus, Miami head coach Enrico Blasi and St. Lawrence assistant Bob Prier are one-time Gwozdecky volunteers who have made their way up in the coaching world.
"A lot of guys who have gone through working with coach and the University of Denver staff have gone on to great positions," LaPerle said.
Gwozdecky said he treats his volunteer openings as if they were for full-time jobs and conducts a job search accordingly. He met with LaPerle and other candidates at the coaches convention in Florida last spring.
LaPerle had some qualms about moving to a place so far away from friends and family, but the experience he has gained has negated those fears. With the Pioneers, he works with player development, travel arrangements and video breakdown.
As with most volunteer coaches at this time of the season, he's not sure what's in the immediate future.
"Obviously I want to get a job," LaPerle said. "If it's with Denver and they want me for another year, I'll be glad to stay. If there's something else that's out there, if it's Division I or Division III or in junior hockey, I'd love to do it. But my heart's in Denver right now."
Time For a Change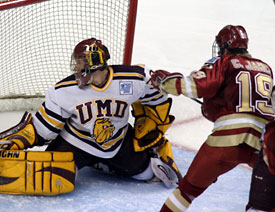 It must be pretty tough to figure out who scores for Denver. On Thursday, the Pioneers' second goal was changed from Gabe Gauthier to Connor James some six hours after the game ended.
Gauthier, who wears No. 9, was mistaken for James, who wears No. 19. James redirected a Brett Skinner shot for his 13th goal of the season, in his first game since returning from a broken right fibula.
It was the second straight game there was some confusion over who scored a Pioneers goal. In the West Regional final against North Dakota, Max Bull was initially credited with the late winner in a 1-0 victory. Luke Fulghum, who scored Denver's first goal on Thursday, was later ruled to have redirected the puck and was given credit for the goal.
Foot in Mouth
Within a couple of days at the Frozen Four, it's easy to recognize that Denver's Lukas Dora is, to say the least, pretty outspoken. The senior from the Czech Republic, though, might wish he had kept quiet after Thursday's come-from-behind win over Minnesota-Duluth.
When asked about his potential opponents in the finals by ESPN and USCHO.com's Adam Wodon, Dora said something to the effect that he looked forward to playing Boston College. Little would he know that the Eagles would fall to Maine in Thursday's nightcap, making those comments at least a little bit awkward and possibly major motivation for the Black Bears.
"If they're looking forward to playing BC," said Maine senior Todd Jackson, "I guess they're in for a big surprise."
Maine defenseman Prestin Ryan, though, downplayed the comment.
"I don't think that words really mean much. It'll all be decided on the ice," said Ryan.
Truth be told, the expressions on the faces of both Ryan and Jackson at Friday's press conference told the true story. Both wore smirks before each answered the question with the more tempered response.
Remembering the Legend
With Maine a step away from the national championship game, plenty of talk revolved around the program's late mentor, Shawn Walsh. Head coach Tim Whitehead noted that he remains in constant contact with the Walsh family.
He talked, too, about the new Shawn Walsh Hockey Center that is being built on the Maine Campus. The center, which will be an extension of the current Alfond Arena, will include new locker rooms and training facilities for the players, as well as a Hall of Fame and a museum-like section dedicated to the late Walsh and his influence on the Maine program.
"The proud tradition that we have in our locker room isn't really out in the arena for the public to see," said Whitehead. "That's the objective of the Shawn Walsh center, to make sure that anyone that walks in there can see this history and tradition that we're so proud of.
"Coach Walsh's legacy is very much a part of that and something that we believe should be first and foremost there."
Prediction: Overtime
One might expect Saturday's national championship game between Denver and Maine to go to extra sessions. Besides the fact that Maine already played one marathon title game at the FleetCenter, in this year's Hockey East final — beating Massachusetts 2-1 in triple overtime — the history of both the Black Bears and the host city, Boston, dictates extra sessions.
In each of its previous four trips to the national title game, at least one of Maine's games in the Frozen Four went to overtime. Similarly, the last three Frozen Fours in Boston had at least one OT game.
To that, add the fact that four of the last six national championship games went to overtime.
The moral of this story: Fans coming to the FleetCenter on Saturday night might want to pack pillows and blankets.
He Said It
Denver's Ryan Caldwell, on Saturday's championship:
"It might end on Monday night the way both goalies are playing."
In Other Words
• Saturday's game will be the seventh national championship matchup between a Hockey East team and a WCHA team, and the fifth straight. The WCHA has won five of the first six, including the last two. Boston College's overtime victory over North Dakota in 2001 was the only victory for Hockey East in the series.
• Denver is 5-3 in NCAA title games; Maine is 2-2.
• An NCAA ice hockey committee chair will watch his school compete for the national title for the first time since 1967. Ron Grahame, associate athletic director at Denver, is the chair this year. Thirty-seven years ago, Boston University AD Victor Stout watched the Terriers lose to Cornell 4-1 in Syracuse, N.Y.