Set amidst the colonial charm of Faneuil Hall, USCHO.com kicked off Frozen Friday's festivities with its fourth annual Town Hall Meeting.
Moderated by USCHO General Manager Jayson Moy, fans in attendance had the opportunity to grill five of college hockey's luminaries in an open forum of discussion. Unlike past years, which focused more on NCAA-wide, global issues, this year's topic was "The State of College Hockey from the Coaches' Perspective."
The panel featured three coaches: Tim Taylor of Yale, John Tortorella of Colby, and Blaise MacDonald of Massachusetts-Lowell. Joining the skippers on stage were CCHA Commissioner Tom Anastos and Hockey East Commissioner and AHCA Executive Director Joe Bertagna.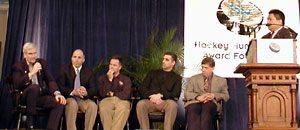 As has become tradition at Town Hall Meetings, the fans in attendance posed perspicacious questions and the panel responded in a spirit of openness.
"The event is great," said Howard Weiss of Randolph, Mass., the first fan to address the panel. "For fans that really enjoy this game, this gives us a little more understanding into how the coaches think. You will never get 100 percent of what you want to know, but we learned more information into how the whole process works."
Weiss asked about players leaving early, setting a general theme of recruiting and player management that the coaches returned to often. Weiss, a fan of Northeastern, lamented students foregoing their college education for the lure of professional sports.
It struck home with Taylor, who lost Chris Higgins two years ago after he won the ECAC Player of the Year Award as a sophomore, and at the end of March had to say goodbye to Joe Callahan after three years.
"It is very frustrating to lose a player who you think should stay in college," Taylor said. "Until two years ago, I had never had a player leave early, and after 28 years, I have two in the past two years … The first one [Higgins] I was fully involved in the decision, the second one [Callahan] kind of caught me flat-footed."
"My advice to any young man thinking of leaving early is to seek the counsel of your coach because he really does have your best interests at heart."
Anastos concurred.
"Some players leave college early and they are really ready to play in the NHL," he said. "Some leave early to play in the minors. Boy, it's a real shame to give up some of the best years of your life to play in the minor leagues."
The coaches also discussed the pressures of recruiting and how closely universities now scrutinize athletes.
"At the NESCAC level, the biggest change is accountability," Tortorella said. "They are monitoring our kids' academics. They are not monitoring the flute player, the biology student; they are monitoring athletes. The pressure is on me to find athletes who not only have good SAT scores, and a good transcript, but a good character."
In discussing the process of recruitment, the panel reviled the practice of schools committing to a player who is a freshman or sophomore in high school, urging their colleagues to stop the practice.
"This is something we ought to get out of our game," Taylor said. "There's nothing wrong with Tim Taylor talking to a nine-year-old kid — then it goes on some website that Joey Jones is going to Yale in eight years. We are seeing more and more of it. It's bad for hockey."
Tortorella was particularly acute in his condemnation.
"The American Hockey Coaches Association has a code of ethics and it appalls me to be up here and to say there are coaches within our conference that don't sign it," he said. We as coaches need to stress the ethics within our business. The coach has to make the clear decision that we tolerate things like talking to players over email when the rules say you can't make phone calls to them. It trickles down even to the Division III level."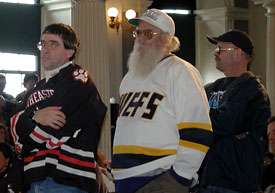 One of the more thoughtful moments of the meeting came when Charles Shub exhorted the panel to proscribe the full facemask and return to at least a half-shield because the extra protection actually encourages sticks to the head.
Bertagna acknowledged the moral hazard to Shub, festively attired in a Charlestown Chiefs jersey and boasting a silver beard styled after Confederate cavalryman Jeb Stuart.
"Our rules committee every year, for six straight years, made a recommendation to the NCAA to go to a half-shield. Anything involving safety and finance can be overruled by the league and we were overruled to the extent that they asked us to stop making this particular recommendation. It was our unanimous opinion that putting a little fear back in the game would be a good thing. It's not just a facemask, the equipment in general is so much that there is no fear of injury."
"I think if you took a poll of every player and coach," Taylor added, "they would like to see the face masks come off completely."
Shub was pleased by their responses, but would have liked to address members of the NCAA committee in this forum so more decision-makers could have heard his pleas.
"I would also have liked to asked about other issues," Shub said. "For example, what is the secret bonus they use in the PairWise rankings?"
Despite the serious issues addressed by the panel, no college hockey gathering would be replete without some light-hearted banter. A popular target was Boston University coach Jack Parker.
"One of the changes you've seen in this game is in the assistant coaches," MacDonald said. "They are very active from a coaching perspective. … When I worked at BU I had to get Jack his coffee, make sure it's pretty warm, and shine his shoes, and then show up for the Beanpot and stuff."
MacDonald, dressed in a collared shirt while the rest of the panel had on suit jackets, also took a shot at USCHO.com columnist Dave Hendrickson, thanking him for his fashion advice.
In returning to the meeting's overall theme, the panel noted how much the game of college hockey has changed, not all for the better.
"The specificity of the sport has increased to the point where players are like robots," Tortorella said. "When I grew up we are on ponds. We have players who don't play other sports. There's a synergy to other sports that will make you a better hockey player. The specificity has made it difficult to attain some kids that can help our program compete at a high level."
Still, everyone agreed that the future of the game has never been brighter.
"When you go to the rinks, you see the beautiful buildings that these Division I programs now have," MacDonald said. "When you used to go to games the band was there, there were some fraternity brothers, some sorority sisters, you threw a fish out there and let's play some hockey — except if you're the visiting team at UNH.
"Now the rinks hold 6,501 with the bands and the laser shows and there's some great entertainment value."