It ain't glamorous. It just wins hockey games. Especially come playoff time.
Defense, that is.
No one had done it better this year than Maine, which was the primary reason why the Black Bears were favored to win their third national championship once they advanced to the title tilt.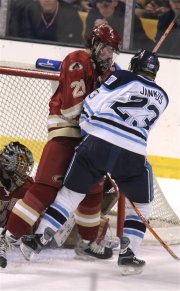 Eleven teams had finished with more potent offenses. North Dakota topped the list at 4.44 goals per game, more than a full goal ahead of Maine's 3.28 pace. But North Dakota, Minnesota-Duluth, Minnesota and all the other more high-octane offenses all were sitting at home while Maine's pedestrian attack sought to close out a national championship.
All the other high-octane offenses but Denver, that is.
Denver, however, was nowhere to be found in the nation's top defensive rankings. In December, the Pioneers couldn't hold a 7-1 lead over Minnesota State and lost, 8-7. A later rematch saw a 6-2 lead evaporate into a 7-7 tie before a late goal and empty-netter resulted in a 9-7 win. Those midseason struggles rendered Denver only the fifth-best defensive team in its own conference.
Not exactly a defensive powerhouse.
As it turned out, defense did win the 2004 national championship. The victors blocked 10 shots in the first period, eight in the second, and nine in the third. The first shutout in a title game since 1972 came by stopping all seven opposing power plays, including a five-on-three for the final 1:34, an advantage which became a six-on-three after goaltender Jimmy Howard was pulled for an extra attacker.
Unfortunately for Maine, however, it was Denver that took a page out of the Black Bears' book. In a stunning role reversal, they were only the second-best defensive team on the ice.
"The statistic that jumps out at me is that we had 67 attempts and 27 of them were blocked," Maine coach Tim Whitehead said. "They had 36 shots and only five blocked.
"That was the key, their ability to block shots. Definitely the difference in the game."
Denver, months removed from the stunning inability to hold that 7-1 lead, had won the national championship by playing more stifling defense than the number one defensive team in the country.
"It was very, very difficult back in January," Denver coach George Gwozdecky said. "We weren't a healthy team.
"As a coaching staff we were admiring some of the teams in our league who were playing against us: North Dakota, Minnesota, Duluth, and Wisconsin. [We] tried to become more like them in certain ways, demanding that we become more like them.
"Sometimes you try to pound a square peg in a round hole and it just won't go."
The turning point came when Gwozdecky spoke to mentor and coaching legend Ron Mason.
"I remember sitting and feeling sorry for myself," Gwozdecky said. "[Mason] told me, 'Smarten up, kid. Use your strengths. Quit trying to be something that you're not.'
"We redesigned a number of things. We thought about what we needed to do as a staff, redesigned our practices and started going back to what our guys did best. The heck with how the other teams played against us, we were going to play the way that we felt was going to give us the best chance.
"When we started to do that, we started seeing better performances from some of our guys. They bought into it. The leadership started coming back into the team. [We got back our] health. We started putting some wins together and got a roll started."
A roll, to be sure. The Pioneers, blown leads no longer relevant, had rolled to a national championship.
And they'd done it with defense.