If you want to know what distinguishes college hockey from the rest of major NCAA athletics, look at the crowd. Few other sporting events from around the country assemble such a disparate group who share not only a passionate love for a given program, but also for the game itself.
Therefore, the fans show up in force. They set a record for the most people ever to watch a hockey game at the FleetCenter, many proudly displaying the uniforms of their teams, creating a collage, not just of Maine blue and Denver red, but of North Dakota green and of RIT orange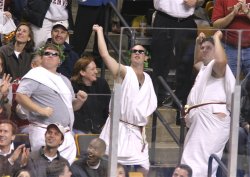 Other schools represented in the crowd included: Yale, Harvard, Boston University, Alaska-Anchorage, Minnesota, Nebraska-Omaha, Michigan, Michigan State, Colgate and Lake Superior. One guy, perhaps doing a little too much wishful thinking, had on a Syracuse jersey. One fan, definitely doing some wishful thinking — and perhaps spending a little too much time in the local establishments — donned a Guinness uniform.
"I think college hockey is one of the last sports in which everybody who comes still comes in the colors of the team, even if they are not here," said John of St. Cloud, who epitomized the team menagerie, wearing a Husky uniform and a UNO cap and accompanied by a boy in a Golden Gopher jersey. "I've been to NCAA basketball and baseball and this is the one event where you will see all different team jerseys."
The Frozen Four beckons all of these hockey-loving souls-including a wannabe First Fan of the nation, Senator John Kerry, who played club-level at Yale and still laces them up.
Kerry, perhaps still bitter he never played varsity, would not tell his story to USCHO, but many fans graciously agreed to tell theirs, so here are just a smattering of tales from around the Hub.
There were longtime veterans in the stands. Rich Sandberg, of Omaha, Neb., proudly wearing a Maverick uniform, has been to eight Frozen Fours and has been around long enough to rank them.
"It's been a great tournament," Sandberg said. "My only complaint is Boston is more of a pro sports city. This event gets lost in the city as far of the atmosphere. Unlike a place like Providence, which was more festive with bands playing.
Sandberg expressed concern that new ticket procedures could fracture the fan community.
"The NCAA needs to get involved and fix the ticket lottery mess. A lot of people who have been coming to the Frozen Four for years are finding that tickets are messed up, and they aren't used to standing on the lines to get tickets. I had my tickets messed up, and it took a while to get it fixed."
There were plenty who exceeded Sandberg's tenure. One of the most bizarre was part of a group from Michigan known as the "AL" club. Everyone in the group has an 'A' or an 'L' in their name and they have members who have been to 21 Frozen Fours.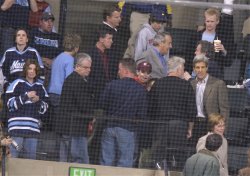 John Ur-al Somers from East Lansing and a Yooper known as D-al-e spoke for the group. Each was festooned with green stickers identifying his al-legiance.
"This seemed like a good idea at the time, calling ourselves the Als," they said, filling in each other's sentences. "It just became like a snowball rolling down a hill."
In addition to veterans there were newbies in the group, such as the precocious 10-year old Connor Latz from Connecticut. With his face painted blue and the words "Go Bears" on his forehead, he was ready to watch his first ever college hockey game. In fact, he insisted that giving this quote was a waste of time, but he added:
"This event is just amazing, I've never been to a college hockey game before. Go Maine!"
Latz was just one of the many Maine-iacs in the crowd, seemingly everyone, regardless of age had painted up their body. Karen White, a 58-year old mom of the Maine band director had a bear claw painted on her right cheek. White took the early train from Durham, Maine, and waited on line until 4 p.m. the day of the game to be the first to get tickets when the remainders went on sale.
Peter and Susan Blais, from North Yarmouth, Maine, had some fun with blue spray paint. Peter had sprayed his dark grey goatee blue and Susan, who normally has beautiful silver hair, could now get admittance at a punk rock concert with its azure tint.
"We came down with 25 people, some of whom been doing this for years," Peter said. "It's like a cult. It's only our second Frozen Four, but we hope to be back every year."
Peter was clear on what team his blue represented.
"I'm a UNH grad who lives in Maine and has adopted the home team. Maine is everything I wish UNH was."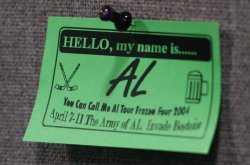 Denver, outnumbered, but undaunted would get ultimately get the last laugh. Leading the pack was the self-proclaimed "Supermom," Pam Keith, the mother of Pioneer senior Greg Keith, had that added to her DU jersey along with signatures of the entire team. Keith trekked across the continent from Vancouver to see her son play his last college game.
"We've got a good number supporting us. There are a lot of alumni in the area and Denver does better when the crowd is bigger for the other team."
Among the wildest fans in the arena also belonged to Denver. Three young men were dressed in togas, getting on the big screen dancing to "Louie, Louie" Animal House-style.
"This is the first time I dressed up in a toga," said the consul of the triumvirate, Buckingham from Texas. "We did it for team morale. You get so many people from Maine here, we had to do something special."
During the final match, the West really did rally together to win in one of the East's hockey capitals. The Pioneers themselves set the tone Friday by showing up to support the WCHA's nominees for the Hobey Baker.
In that spirit, Keith Stauber, the cousin of Hobey-winner Robb Stauber, wore his Minnesota-Duluth jersey, but for the event, he put duct tape through the M, transforming a UMD into a DU (with the aid of a mirror).
"If the fourth- or third-best team in the WCHA can be the first- or second-best team in the East, which presumably Maine is, it just shows how tough our conference is."
Stauber was initiating his son Nate, age 12, into the ways of the Frozen Four, taking him to his first championship. Nate proudly showed his Duluth cap autographed by this year's Hobey winner, Junior Lessard.
"This is great," Nate succinctly said.
Amidst all of the revelry, Maj. Dave Hartwick of the 107th Air Refueling Wing offered a reminder of how meaningful these traditions are. Hailing from just outside of Buffalo and wearing his Niagara jersey, Hartwick was all set to go to last year's Frozen Four, which was in Buffalo. Two weeks before the event, he was deployed to the Middle East.
Now, he is making up for the time he dedicated to his country.
"I made it a point to come here this year," Hartwick said. "I'm here with my father and my uncle and I want to keep coming here for as long as they are able. We enjoy hockey."
Hartwick exemplifies the meaning of a college hockey family. Undoubtedly he enjoyed one of the greatest finishes to a championship game conceivable along with Pam Keith and the Staubers, and Jim Sullivan, a local from Worcester, Mass., who surprisingly is a diehard Denver fan attending his fifth Frozen Four.
"This is what college hockey is all about," Sullivan said. "I live for the Frozen Four every year. Without question, every year it's great to meet different folks. This is my favorite time of the year."
What jersey are you wearing?