They say the Kentucky Derby is the greatest two minutes in sports. There is officially some competition.
What we all witnessed in the final two minutes of last Saturday's NCAA championship game in Boston won't soon be forgotten. In a game full of drama, if not goals, the final two minutes had everything you could imagine, and it all happened at a frenzied, harrowing pace. And with everything on the line.
Maine had a goal disallowed in the first period because Mike Hamilton's toe was in the crease. Moments later, Denver's Gabe Gauthier scored to put his team up for real, 1-0. From there, it was a slugfest, as each team shut down the other. When the few opportunities came their way, neither team could convert.
As the closing minutes approached, the desperation built.
Maine came into the season knowing it wasn't going to have a potent power play this season. It surprised everyone this season on the back of timely scoring, a balanced attack, and tremendous defense and goaltending. But in the playoffs, the power play was even worse. Now, in a twist of fate, it was all up to them.
Flashback to the 129 seconds of insanity:
2:20 remaining — Maine's Todd Jackson, in the neutral zone, makes a nice pass up ahead to Derek Damon. Denver defenseman Matt Laatsch is caught up ice slightly, and as he's trying to backcheck Damon — with forward Max Bull covering his spot — takes him down just over the blue line with 2:15 left.
2:09 — Denver touches up the puck on the delayed penalty. Laatsch heads to the box. He sits down and buries his head. … Maine's power-play unit consists of Michel Léveillé, Dustin Penner, Jon Jankus, Todd Jackson and Prestin Ryan. Denver's penalty killers are Gabe Gauthier, Ryan Caldwell, Matt Carle and Connor James.
Laatsch: "I didn't feel like the greatest hockey player in the world at that point. I can't even remember the play."
Power Play
2:09/2:00 — Penner kicks the faceoff back to Ryan, who flips a backhander from just beyond the blue line over the glass in the corner to the left of Berkhoel, out of play.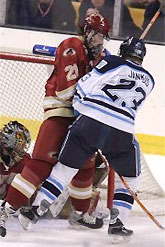 2:02/1:53 — Penner wins the faceoff again. Ryan passes across to Jankus, who carries it over the left wing.
1:59/1:50 — The puck is played around the boards to the right wing, where it's intercepted and cleared out of the zone by Denver's Matt Carle.
1:47/1:38 — Ryan comes back to get it, and starts the breakout.
1:43/1:34 — Trying to flip the puck into the zone, Denver's Gauthier, just inside the Denver line, jumps in the air, catches the puck and throws it to center ice as he's hit by Ryan. First, the linesman puts his arm up to signal a potential hand pass. A second later, referee Tim Kotyra puts his arm up.
1:34/1:25 — The puck is touched up at the Maine line by Connor James, as the play is blown dead. Wait … Kotyra is going over to the scorer's table. It's more than a hand pass. He calls a delay of game penalty on Gauthier for throwing the puck. (Rule Book, Section 19(a) "If the puck is caught and dropped immediately, play shall continue. If the puck is carried or held, play shall be stopped. If the puck is thrown, a minor penalty shall be assessed.") … Denver's players look at each other, captain Ryan Caldwell gives a chuckle, as if to say, "Geez, what else must we get through." … Denver coach George Gwozdecky rallies the troops. "We'll get through it," he says calmly. … Gauthier joins Laatsch in the box and mutters something to him. Laatsch buries his head further.
Caldwell: "That stuff's been happening to us all year, what other way would you want to win it? 5-on-3, 6-on-3, it was unreal."

Greg Keith: "We were sitting there when it goes to the 6-on-3, and coach looks at us — there was me, Caldwell, Carle and Berky — and he was calm. And he goes 'You know, we're going to get through this. We'll be fine.' And you know what? I looked at him and said, 'Yeah, we will.' We don't win the easy way; we always go the hard way."

Laatsch: "My head was down the whole time. I threw a towel over the penalty box camera. The only thing I saw was Gabe coming in the box to join me. At that point I was almost happier that I had another guy in the box with me. … 'All right guys, maybe it's not all on me now.' But what are you going to do? It's part of hockey."
It's 9:39 p.m. ET … Maine's fans awaken. Maine coach Tim Whitehead calls time out. He's trying to devise some plan to get the puck past Berkhoel.
Two-Man Advantage
The penalty killers are still the senior Caldwell with two other seniors, Keith and Bull, rotating at forward. The senior Berkhoel is in net. The other defenseman is Carle, a freshman.
Gwozdecky: "The two forwards that we moved back and forth out there — Greg Keith and Max Bull — are two guys who have had terrific careers and been great leaders for us and wanted so badly to win this game. And obviously Matt Carle — he's still a baby as far as his experience is concerned but plays like a senior as far as his poise and composure are concerned. That's why those guys were on the ice."
1:34/1:25 — Greg Moore faces off against Keith just inside the Denver line, right-wing side. The puck winds up behind the net off the draw. Carle goes back to get it, turns and tries to flip it down the ice. Colin Shields, at the right point, jumps and gloves it down, holding it in.
1:29/1:20 — Shields passes to Mike Lundin at the top of the umbrella. Lundin brings it to the top of the left-wing circle. Caldwell is guarding the front for Denver. Carle and Keith play between the circles. Maine is trying to set up a backdoor play.
1:25/1:16 — Todd Jackson, standing along the goal line on the left wing, taps his stick on the ice to call for the puck. He gets the pass and one-times it across the crease to Léveillé on the back door. Carle comes off his spot between the circles and gets a piece of it just in time.
Berkhoel: "I was down and out, I made a bad read on the play and I think it was Matt Carle on the back door; he batted the puck out of midair and saved the day."
1:24/1:15 — The puck is kept in along the right-wing boards by Shields. He passes back and forth with Léveillé, then moves it along the blue line.
1:18/1:09 — Maine pulls the goalie. Dustin Penner joins the play.
Whitehead: "There was no reason not to. It only gave us more options. It would be different if it didn't work. We obviously wanted to get one more guy on the ice, and the odds of them icing it down into our net, we could live with that. … We left it all out on the ice."
1:16/1:07 — A pass comes to Jackson on the left wing then back to Shields, who winds up and fires a shot that's blocked by Keith, a huge block. Keith tries to poke it out, but Penner, coming on as the extra skater, races over to pressure the puck on the right-wing boards. Keith didn't get enough on it and Shields again is able to keep it in at the right point.
Gwozdecky: "You're just trying to get in the way of the shooting lanes. With a minute and a half to go, I hate to say this for any of you who are a little sensitive, but anything goes. You're clearing people; you're chopping; you're slashing. You're doing anything to get yourself in position to block a puck, to clear a path so the goaltender can see it. It's war out there, especially when that puck is loose. That's what we were trying to do. We had three of our warriors out there — four when you include Adam."
1:09/1:00 — Shields passes to the left point as three Maine players head to the front of the net. Jackson is still at bottom of left-wing circle. Caldwell is trying to fend off two guys in front; the other two Denver players, Carle and Keith, are between the circles just trying to get their bodies in the way.
1:05/0:56 — Lundin passes to Jackson who walks in and tries to stuff it, but it gets a piece of Carle's stick, goes off Berkhoel and deflects off the post, then bounces into the right-wing corner.
Berkhoel: "I was just trying to see the puck, and they were letting me see it and they were blocking shots. It was a great team effort, and I can't explain it."
1:01/0:52 — Again, the puck is kept in at the right point, then passed to the left point and back again to Shields as he walks in towards the slot. Shields then turns and flips it to the right-wing side along the goal line to Léveillé, who passes it back up top to Shields for a one-timer.
0:51/0:41 — Shields' shot gets through a mess of bodies, while Berkhoel makes a left-pad save. The rebound sits right in front before being poked over to the left-wing boards by a sprawling Caldwell. It's tracked down by Maine's Mike Lundin at the left point, who passes it to the left wing on the half boards. From there, it's passed up top to Shields again at the middle of the blue line.
Berkhoel: "I was getting a little nervous back there. But you know the boys did everything, give them credit. I was down and out, and a defenseman made a great play to clear it — I don't know who it was."
0:42/0:32 — Shields winds and fires. Two Denver players are holding off two Maine players, Jankus and Penner, in front of the net, thereby giving Berkhoel room to see the shot. Berkhoel does a split as he picks it with the glove hand and holds on. The puck may have been tailing wide anyway, but Berkhoel comes up huge nonetheless.
Laatsch: "[Gauthier] was yelling, he was doing the play by play. My head was down. … We battled through it like we battled through all season. It's the story of our year, we never make things easy on ourselves."
Finally with a stoppage, Ryan Caldwell comes over to the Denver bench. He waves off Gwozdecky. "Don't call time out."
Caldwell: "Their No. 1 power-play unit went off the ice, I think they were tired. I thought I had more in the tank than them, and I didn't want them to get a chance to rest up. And I didn't want them to go over anything tactical. … I said don't call a timeout I'm not tired, we're going to win this thing."
In the meantime, Berkhoel is gesticulating to the bench. He wants a timeout badly.
Berkhoel: "I was dying out there. I wanted a timeout, but [the bench] just waved me off. … I'm just a no one sitting in net, all by myself. But [Maine] had the first unit off the ice and that's what they wanted, and they make the calls. And I guess in the end, they're right and I'm wrong."

Gwozdecky: "I know Adam was fine, but when Ryan says — you know, Ryan's dictated for the last two and a half months exactly what goes on on the ice. And we were kidding around in that third period about a number of things he did — he fanned on a clearing attempt one time — and we were barking back and forth to each other in a good-natured [way]. But once he says he wants to stay on the ice, he's staying."
There will be no timeout.
Whitehead: "You know, the second group of guys we put were just as good and I think we hit a crossbar. I was very confident in either unit. We felt the other line was well rested … and we had our chances."
0:40/0:30 — Jon Jankus takes the faceoff for Maine against Bull, now on in place of Keith. Caldwell and Carle stay out. Mike Hamilton comes on for Maine along with Damon and Ryan to replace Shields, Léveillé and Lundin. Jankus pokes the puck off the draw to Penner in the circle, who slides it to the right point. Damon then heads to net.
0:36/0:26 — Now three guys are standing right in front of the net. Damon passes to the left point to Prestin Ryan, who walks in and wrists it over the net. The puck hits the glass and bounces to the right corner.
Caldwell: "It was just mayhem. I was just looking to get the puck and knock someone over. I was trying to do as much as I could."
0:30/0:20 — The puck comes around the boards and is held in at the right point by Damon, who passes it to the high slot for Ryan.
0:29/0:19 — Three Maine players are up high, one is on each wing, and currently only one is standing in front of the net. Bull goes out to chase the right point. Caldwell is holding off two Maine players over towards the right-wing circle. Carle stands between the circles hoping for a block.
0:28/0:18 — With lots of room on the left wing, Ryan passes to Jankus sitting at the bottom of the left-wing circle. Jankus tries to one-time a wrist shot into the top corner over Berkhoel's right shoulder, and clangs the corner where the post and crossbar meet as the crowd gasps.
Caldwell: "I was just swinging, diving, trying to get hit with the puck, hit somebody. I was just looking for something to do out there."
0:24/0:14 — The rebound pops out to the top of the left-wing circle. It's gathered in by Ryan, who pulls it back to the left point, then sends it cross-ice to the bottom of the right-wing circle.
0:18/0:08 — [nl]Hamilton tries to flip a pass back to Damon at the right point, but he saucers it a little and it hops over Damon's stick and rolls out of the zone. It's the first time since the timeout that the puck is out of the zone.
Gwozdecky: "We were fortunate in that was the end of the period. The ice wasn't very good. The puck isn't staying flat; it's bouncing a little bit. That was maybe a factor in their timing maybe being a little off."

Caldwell: "It feels like it took two hours, but we were just swinging and hacking and doing anything we could to get that puck out."
0:15/0:05 — Ryan finally tracks it down near his own blue line. He sends it across ice to Damon who carries it down the right wing.
0:10/0:00 — Laatsch comes out of the box as Jankus takes the pass from Damon at the right point. He walks into the circle and rips a wrister that sails over the net. It caroms all the way around out of the zone.
Whitehead: "We had plenty of chances. We had plenty of looks at the net, and somehow, none went in."
0:02 — Laatsch chases after Ryan for good measure as time expires. The horn sounds, and Laatsch throws his gloves and stick in the air in exultation.
Laatsch: "I was out with [nine] seconds left, and the puck came out and I all I could think was, I don't know, how much was left now, I gotta get this puck and I gotta go down and stuff it in, and I've gotta make up for the boys. When the horn sounded, I was all the way down at the other end by myself and I threw my stick as hard as I could, threw my helmet off, skated down, and from there it was … well, mayhem."
0:00 — Bedlam.
Caldwell: "I don't even remember the last 10 seconds of the game, I was just going nuts. I think Adam deked me out — didn't want to be on the bottom of the pile. It was just amazing."
Reflection
Laatsch: "I'm just happy that they killed it, because I didn't want to come back to that bench."
Caldwell: "Matty's a great player. He's going to be a great college hockey player if he chooses to stay around. It was great playing with him all season, and he's a calm player on the ice. He doesn't get rattled. He's just an exceptional young kid."
Laatsch: "We believed all along … looking back on it, losing to [Colorado College in the WCHA playoffs] was the best thing that ever happened. And the greatest thing about this night is you can shave."
Caldwell: "I don't have any injuries right now. Everything feels 100 percent. I'm just so pumped to win that nothing hurts right now. … I think I could run the Boston Marathon."
Laatsch: "That's Ryan Caldwell, he's a first team all-American, that's what he does. He's the heart and soul of this team."
Whitehead: "I'll have to watch it on tape. … I don't know how it ranks with other games, I'd have to watch it again on tape to get a sense of what type of game it was. But my sense on the spot was, it was a helluva hockey game, and both teams had their chances."