An Army captain — who also played on the Army hockey team — returned home after 11 months in Iraq after being among a detachment that played a key role in capturing Saddam Hussein.
Capt. Brody Howatt, 27, served as an artillery officer with the 1st Brigade of the 4th Infantry Division from April 2003 to May 2004. Howatt played a part in capturing several of the top 55 most-wanted Iraqis, including Saddam.
"We performed an outer cordon of the perimeter of the area where Saddam was hiding at the request of Special Forces and the CIA," said Howatt on May 8. "We didn't know they were going in after Saddam. We didn't know until an hour after his capture."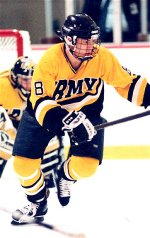 Howatt did not observe the capture because he was involved in the perimeter operation with his battalion at the time. Later, Howatt saw the subsurface "spider hole" where Saddam hid while trying to elude capture.
Stationed at Ab Dawr on the eastern bank of the Tigris River and 35 miles southeast of Saddam's home town base in Tikrit, Howatt's unit of 85 soldiers served as military police and helped to control civilians in the town.
Howatt said he was struck by the obvious wealth enjoyed by the Iraqi dictator and his comrades in contrast to the poverty of other Iraqis.
"Saddam Hussein had a complex of about 15 or 20 palaces built around a beautiful lagoon," said Howatt. "The opulence of those palaces was amazing. The palaces were hidden from the view of average citizens by high walls."
Howatt returned with photographs he took of the inside one of Hussein's palaces as well as one of Howatt inside the spider hole.
"It was a tiny little space in which they found him," said Howatt.
Howatt grew up in Randolph, N.J., where his parents, Garry and Karen Howatt, have owned and operated Mount Freedom Golf on Sussex Turnpike since 1984.
Howatt followed in his father's footsteps and played hockey in his youth for Randolph High School in his freshman and sophomore years. His father had played hockey professionally with the New York Islanders for nine years, one year with the Hartford Whalers, and two years with the New Jersey Devils. When his pro-hockey career ended in 1984, he and his wife purchased Mount Freedom Golf.
With an intense love of hockey, Howatt left Randolph High School after two years and completed his high school education in 1995 at Choate Rosemary Hall in Wallingford, Conn., because the school had a more advanced hockey program.
"I had good grades but playing hockey gave me more options in getting into a good college," said Howatt.
Recruited by several major colleges, Howatt decided to accept an offer from West Point.
"It was a good decision," said Howatt. "I went in there a little cocky after high school. They taught me to be a little more humble. Leading a platoon makes you grow up and accept responsibility."
Graduating from West Point in 1999 with a systems engineering degree, Howatt had to fulfill a five-year commitment to active service in the Army.
Upon his return from Iraq, Howatt married Andrea on April 16 and the couple enjoyed a honeymoon in the Bahamas. The two had met while he was stationed at Fort Hood in Texas for the past five years.
"I enjoyed the Army a lot," said Howatt. "If I hadn't met Andrea and gotten married, I would probably have stayed with it. I'm now on terminal leave and will be officially discharged on June 9."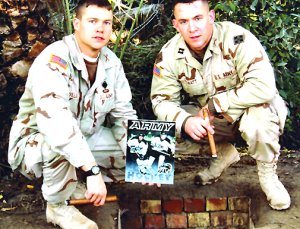 Although he still enjoys hockey, several knee surgeries while at West Point eliminated the chance of a professional career. Howatt said he might join a local men's league after he and his wife settle in a new home, but for now he just wants to relax and get a job.
"If I stayed in the Army I would be in Special Forces," said Howatt. "That requires six months on tour and six months off. That isn't good for a marriage. I want to be around when my kids, if I'm lucky enough to have some, are growing up."
But his time in Iraq has left a lasting impression. He said he is unhappy with the way the war is depicted by the news media.
"It is not really getting captured by the media," said Howatt. "There are a lot of pictures of those Iraqi who are opposed to Americans being there, but they are in the minority. For instance, there are six million people in Baghdad. If they didn't want us there they could easily run us out. But they haven't."
Howatt said there could be two groups of Iraqis only one block apart, in which a small group might be loudly opposing Americans while a considerably larger group is waving American flags showing their support of America.
"The media will inevitably show the smaller dissident group and not the much larger supportive one," said Howatt. "You're only hearing reports about a few trouble spots. The news people aren't reporting about all the other parts. Most of the people are with us. The majority want us there."
Howatt said whenever he and his men moved among Iraqis, little children would run along beside them to welcome them.
"When we were preparing to pull out at the end of our tour Iraqis were coming up to us and pleading with us to stay," he said. "They didn't realize that although we were leaving, a fresh unit would replace us. They kept telling us they weren't ready for us to leave yet. They've had 30 years of propaganda and brainwashing that has to be overcome."
Howatt said the Iraqi people have lived under tyranny for so long it will take time for them to learn how to self-govern.
One thing the media did report accurately after Saddam's fall was the scene of Iraqis tearing down of huge pictures and statues of the dictator.
"Whenever you came into a town there would be a big mural of Saddam Hussein," said Howatt. "It was Iraqis that were tearing them down."
Howatt said many Americans expect the political situation in Iraq to resolve quickly, but that it will take time to reconstruct Iraqi society, and the people have to be protected from outside insurgents until the country is rebuilt.
"We encountered and killed one group of four men in a pickup truck," said Howatt. "Their appearance made it obvious they were terrorists from another country. They were well armed and out after the 10 p.m. curfew that was in effect at the time. There is a very real threat from non-Iraqi terrorists."
While Howatt was in Iraq, his family often worried about his safety. One stretch was particularly tough for his mother, Karen.
"He was in a convoy four times each week, during which we were not in contact," his mother said on May 15. "You heard about convoys being hit on a regular basis. I thank God for emails. Brody always emailed us as soon a s he got back to base so that we could know he was all right."
"One day, I was having one of those mommy moments," she said. "I told him I was tired of this and wanted him home. But Brody said this was one of the best experiences of his life and he wouldn't have wanted to miss it."
The newlyweds haven't decided where they will live now that Howatt's Army service is ending. Their choice, most likely between Connecticut, New York and New Jersey, will depend on what jobs they find.
"It's not about making a lot of money," said Howatt "I just want to set up as a family and provide for my children the way my parents did for me."
Claire Knapp writes for the Randolph (N.J.) Reporter. Reprinted with permission; originally published on May 19, 2004.