North Dakota forward Brandon Bochenski, one of the nation's leading scorers the past two seasons and a Hobey Baker finalist last season, will likely sign with the Ottawa Senators of the NHL this week, according to former Fighting Sioux head coach Dean Blais.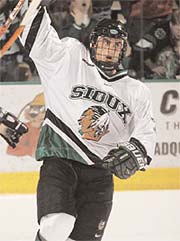 Bochenski, who would have been a senior at UND next season, was a member of the All-WCHA first team and a first team All American during the 2003-04 season. As a freshman, the Blaine, Minn., native was the WCHA Rookie of the Year. He is tied for 19th in all-time scoring at UND with 79 goals and 75 assists in 120 games.
In Tuesday's Grand Forks (N.D.) Herald, Bochenski hedged his bets, saying, "We're close. If they [Ottawa] get there [to financial terms Bochenski is seeking] in August, then I'll go. If they don't, then I won't."
Last season, Bochenski finished second in scoring nationally to Hobey Baker winner Junior Lessard of Minnesota-Duluth. In the 2002-03 season, he was second nationally in goal scoring behind Hobey Baker winner Peter Sejna of Colorado College.
Before joining UND, he played with the USHL's Lincoln Stars where he was the league's rookie of the year and a first team All Star. He was a member of Blaine high school's Minnesota state championship team in 2000.
In the 2001 NHL entry draft, Bochenski was selected ninth by Ottawa (223rd overall). He will be the second high-profile player to leave UND early. Zach Parise, a first-round draft pick of the New Jersey Devils who usually centered a line with Bochenski at right wing the past two seasons, signed with the Devils last April.
Blais resigned at UND's head coach on June 25 to accept the associate head coach position with the NHL's Columbus Blue Jackets. He is in Grand Forks coaching the annual summer hockey camps at Ralph Engelstad Arena.