Editor's note: This is the first part of USCHO.com's CCHA season preview, featuring a look at the league as a whole and six individual team previews — Western Michigan, Bowling Green, Alaska-Fairbanks, Lake Superior State, Ferris State and Nebraska-Omaha. Part two, featuring the remaining six teams, will appear Sunday.
As September slips into October and Autumn makes its frosty presence felt, the good citizens of the U.S. watch a familiar drama unfold: a strong incumbent leads every poll, Michigan and Ohio divide sharply, and a challenger — well, 11 challengers — attempts to gain some ground

Pity the pundits at CNN and Fox; they only get to play every four years.
If this is CCHA hockey, Michigan must be the preseason favorite. If this is September, however, every other team still thinks it has a chance to catch the perennial frontrunners.
How to call the CCHA this season? Western Michigan head coach Jim Culhane sums it best. "Put Michigan first, and throw a blanket over the rest."
Isn't that the way it seems, year after year? Michigan is the favorite to take the conference, many teams vie for home ice, and one or two teams duke it out for the right to attempt to reach Detroit via Ann Arbor.
Wolverine head coach Red Berenson says, "We have to reach that bar that you people set for us every year. The polls are definitely a benchmark for some teams, a challenge for other teams, and a disappointment for other teams."
Perhaps the biggest disappointment for everyone in the league except the Wolverines is the return of junior goaltender Al Montoya, who flirted with going pro after being drafted in the first round by the New York Rangers this year.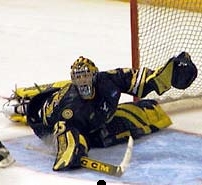 But Montoya's not the only guy giving forwards fits. The CCHA is a league packed with talented netminders, and goals will be earned the hard way this season. In addition to Montoya, any number of goaltenders may influence the final standings this season. Michigan State's Dominic Vicari and Matt Migliaccio are a powerful one-two punch. Miami sophomore Brandon Crawford-West will look to continue his winning ways. Northern Michigan's Tuomas Tarkki and Ohio State's Dave Caruso each have something to prove after stepping in for starters late in the season — Caruso having done so in dramatic fashion.
Perhaps the most telling fact about the league's goaltenders and the CCHA in general is that the most dominant guy in the cage last season, Jeff Jakaitis, played for the 11th-place team. Or was that Jordan Sigalet, for ninth-place BGSU?
After a down-to-the-wire, slimmest-of-margins, surprisingly-without-a-recount finish to last year's regular season — which, once again, crowned the Wolverines — and Ohio State's remarkable three-game run to the Mason Cup, is anything truly and safely predictable in the CCHA?
"We got five teams in the NCAA tournament last year because of the strength of our league, night in and night out," says Miami head coach Enrico Blasi, the 2003-04 CCHA coach of the year.
Okay, so one thing may be predictable: a long, tough, exciting season of league play, and no one representing the CCHA in Columbus in April 2005. After all, you're only as good as your last game.
We could debate this all day. Instead, here's a quick look at the six teams most likely to travel for the opening round of the CCHA playoffs, in order of expected finish, last through seventh. Click on any team for a full preview.
Next week, the guys most likely to be sleeping in their own beds the second weekend of March.
12. Nebraska-Omaha
Head coach: Mike Kemp, eighth season
2003-04 record: 8-26-5, 2-19-4 CCHA
2003-04 CCHA finish: 12th
Predicted ceiling/basement: seventh/12th
The issues: The Mavericks had a season Kemp called "disappointing," finishing last with just two league wins. Offense, defense, goaltending — you name it, and these are the issues. "We don't like the view from where we're sitting," says Kemp. "It's not a nice view to have."
Head coach: Frank Anzalone, 12th overall and fourth this time around
2003-04 record: 9-20-7, 7-16-5 CCHA
2003-04 CCHA finish: 11th
Predicted ceiling/basement: ninth/12th
The issues: Okay, so the Lakers play hard, disciplined hockey. With Jeff Jakaitis in net, they have a chance to win every night. Why don't they? "Up front, we're always going to have that little annoyance of putting the puck in the net," says Anzalone.
10. Alaska-Fairbanks
Head coach: Tavis MacMillan, first year
2003-04 record: 16-19-1, 14-13-1 CCHA
2003-04 CCHA finish: sixth
Predicted ceiling/basement: seventh/10th
The issues: Eleven newcomers and a new head coach, albeit one who knows the program inside and out. "Youth is the strength of our hockey program," says MacMillan. The Fairbanks faithful pray he's right.
9. Ferris State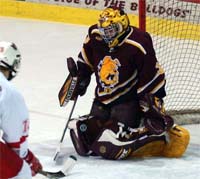 Head coach: Bob Daniels, 13th season
2003-04 record: 15-20-3,10-17-1 CCHA
2003-04 CCHA finish: 10th
Predicted ceiling/basement: sixth/ninth
The issues: What didn't go wrong for FSU last season? One year after earning their first regular-season CCHA championship and first-ever invite to the NCAA tournament, the Bulldogs found themselves unable to compete. This year, a veteran squad returns with something to prove. "All of them had disappointing years last year," says Daniels, "and were a big reason why the team had a disappointing year."
Head coach: Jim Culhane, sixth season
2003-04 record: 17-18-4, 12-13-3 CCHA
2003-04 CCHA finish: eighth
Predicted ceiling/basement: sixth/ninth
The issues: Defense, defense, defense. And goaltending. Still, Culhane is optimistic about his disciplined Broncos' chances, especially with the impending NCAA on-ice infraction crackdown. And WMU finished up strong. Says Culhane, "It was a tremendous playoff series for us down in South Bend … where they'd only lost one [home] game all season."
Head coach: Scott Paluch, third season
2003-04 record: 11-18-9, 9-13-6 CCHA
2003-04 CCHA finish: ninth
Predicted ceiling/basement: sixth/ninth
The issues: The new bridesmaids of the CCHA, the Falcons are led by a head coach well acquainted with winning and a senior class with a tough work ethic, have one of the best goaltenders in college hockey, and can look back with pride to a season that saw nine ties. "Some people may say we have a screw loose," says Paluch, "but we were a better team offensively last year."