Like Deja Vu All Over Again
Press the rewind button back to April 8. Two wins away from a national championship, Boston College and Maine battled tooth and nail as Hockey East's finest in the FleetCenter.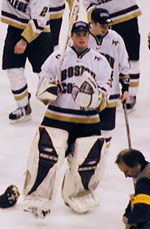 Look for more of the same this year. The Eagles and Black Bears enter the season as the clear favorites. BC returns four 2004 All-Hockey East selections and feature, at least on paper, the league's most potent offense. Maine counters with the best defense led by goaltender Jimmy Howard, surely the preseason favorite for 2005 Player of the Year.
After BC and Maine, the picture becomes less clear and then suddenly vanishes.
Massachusetts-Lowell and New Hampshire — the "less clear" duo — are the favorites to nail down the other two home ice berths. The River Hawks return the same cast that would have finished one point out of third place last year if not those unfortunate forfeits. UNH suffered some major losses, but still returns an offensive powerhouse second only to BC.
After that, there is no picture. It's anybody's game. Predicting where the other five teams will finish devolves into picking slips of paper out of a hat, flipping a coin a bajillion times, or throwing darts at a board festooned with Hockey East decals.
(An admission: in the past, this writer attempted thoughtful research to make such decisions. The results, however, have led to experimentation this year with a dartboard. Supplementing the team decals is a now-tattered photo of Hockey East Commissioner Joe Bertagna placed squarely on the bullseye.)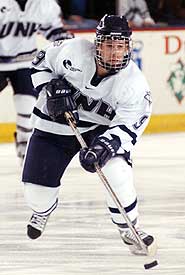 Among the five teams not picked to earn home ice, Massachusetts and Boston University are the favorites to bypass either Lowell or UNH, but it remains a wide-open field. The Minutemen suffered major losses while last year's Terriers came within a whisker of not making the playoffs and then lost major contributors to boot. Challenging for home ice could just as easily be Northeastern, Providence or Merrimack.
Put it this way: if a fan of any school other than BC or Maine claims that his team is a shoo-in to take home ice or, alternatively, if he claims that your underdog has no chance at all, make him back the claim up with appropriate odds and then bet him. Parity within the league has gotten to the point where BC and Maine are this year's only sure things (a pronouncement sure to produce groans in Chestnut Hill and Orono).
Ahem. Not that this writer espouses gambling. The NCAA poobahs can please stop their harrumphing.
Onward, then, to a brief look at the nine schools, in order of predicted finish, with links provided for more detailed analysis.
Despite losing mega-threats Ben Eaves and Tony Voce, the Eagles' offense still ranks among the best in the country. Their top defensemen are strong and there's even a challenge between the pipes for Matti Kaltiainen. It looks like a complete package.
2. Maine
Unless Jimmy Howard suddenly can't stop a beach ball, this team should challenge for all the titles: Hockey East, both the regular season and tournament, and then the whole enchilada in Columbus, Ohio.

The high expectations boil down to the following formula:
(Home Ice Performance Last Year) – (Virtually Zero Losses) + (Maturity) + (Recruits) = (Home Ice This Year)
Next year, differential equations.
If the Wildcats return to strength in their own zone, they'll be a national contender once again. That, however, is a big if.
Why pick the Terriers this high after their near miss of last year's playoffs followed by key losses? Mostly, it's an inability to visualize BU having back-to-back clunkers. Some of the veterans are due to rebound and this looks like a strong recruiting class.
No one can replace Thomas Pöck, a unique weapon in the league last year. That X Factor is gone along with top-scoring forward Greg Mauldin, who left early. Coach Don "Toot" Cahoon is building a potential powerhouse program, but this year might be a half-step backward.
7. Northeastern
If the Huskies can take their stretch run play from last year and apply it all of this season, they'll finish a lot higher than seventh. The flip side, however, is that a third straight finish out of the playoffs would be an unmitigated disaster.
8. Providence
With the forwards and defense weakened through graduation, there's little margin for error if the goaltending falters in the wake of Bobby Goepfert's departure.
9. Merrimack
The Warriors don't look like a last place team, but neither do any of the other candidates. A fifth place finish isn't out of the question.
10. Vermont
Just because I promised Merrimack coach Chris Serino that I wouldn't pick his Warriors to finish last.