These are trying times for College Hockey America. In the past 10 months, one club has folded, three others have explored leaving the conference, and one of the league's top offensive threats has been suspended indefinitely.
Gone from the CHA ranks this season are the Findlay Oilers, a program which fell victim to budgetary constraints midway through the 2003-04 season. The Ohio school limped to a meager 11-22-5 record last year, but posted a much-improved 7-9-2 mark after the announcement marking the team's demise on Jan. 6.
While the loss of Findlay was disappointing, the potential defection of the two-time CHA tournament champs from Niagara could have been downright devastating. The Purple Eagles applied for Vermont's spot in the ECAC, but were turned down in favor of Atlantic Hockey's Quinnipiac Bobcats.
Quinnipiac's decision to leave the Atlantic has raised further threats to the CHA, though. At least two clubs — Air Force and recently added Robert Morris — have recently explored moves to the rival league, while the aforementioned Niagara has reportedly been courted for inclusion on the 2006-07 AH schedule as well.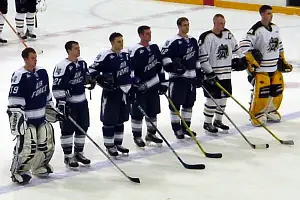 And just when you thought all the bad news had subsided, 2004 Second-Team forward Riley Riddell was suspended indefinitely by Bemidji State for allegedly sexually assaulting an 18-year old student at the school.
But soap opera drama aside, the CHA's sixth season is shaping up to be the most exciting to date.
After hiding in the shadows of the major powerhouses for several years, the CHA stepped into the spotlight last season, with wins against the likes of Michigan State (Findlay and Wayne State), Miami (Air Force), and then-No. 1 New Hampshire (Niagara). Bemidji State posted a 3-1 win against eventual Hobey Baker winner Junior Lessard and the mighty Minnesota-Duluth Bulldogs in November. Alabama-Huntsville dropped a 1-0 decision to Frozen Four runner-up Maine on Feb. 6, then followed that with a 2-2 tie against the Black Bears the following night. Air Force defeated NCAA tournament participant Holy Cross later in the month.
"It's the only way you can legitimize yourself," said Falcon head coach Frank Serratore. "You have to play against the established leagues and hold your own."
Niagara's Dave Burkholder, who has been with the Purple Eagles since the league's inception, agreed with his Air Force counterpart.
"What we've accomplished as a conference, with some tough non-conference wins — and I'm talking about every team in the conference — is going to make for a great season again," he said. "And every game's going to be an adventure."
Derek Schooley's Robert Morris Colonials haven't played a game in the conference yet, but have already drawn the attention of one of the big dance participants from last season.
"Miami called us about playing them, and Miami was in the NCAA tournament last year," said Schooley, the first-year head coach who honed his skills under Serratore at Air Force. "So I think people respect the league that we're in, I think it helped us recruit players, and it helped us get a challenging schedule in our first year."
The Colonials will undoubtedly face more than their fair share of trials during their first D-I season. The nearly two dozen freshmen on the roster will look to Doug Conley (formerly at Niagara) and Kurt Wright (transfer from Findlay) to help them learn the college ropes.
Air Force posted a school-record 14 Division I wins last year, but only six against conference opponents. The losses of Spanky Leonard and Shane Saum — the team's top two scorers last season — won't help the Falcons' cause, as they look to continue building for the future.
Wayne State went from capturing three straight conference tournaments to the bottom of the CHA standings last year, but did a good job setting the foundation. Nate Higgins and Jason Baclig paced the team in points as freshmen, and will be helped by the return of a healthy Mike Forgie, who missed all but two games due to injury last season.
Looking for a dark horse? Take the Chargers of Alabama-Huntsville. Jared Ross posted an NCAA-best 1.6 points per game last season, and is primed to prove that his preseason selection as conference player of the year is warranted. Fellow first-team all-CHA member Jeremy Schreiber, 16-goal scorer Craig Bushey and a healthy Bruce Mulherin make UAH a sleeper pick.
The battle for the league crown will more than likely feature Bemidji and Niagara again. Niagara still has 2004 co-player of the year Barrett Ehgoetz to count on for goal scoring (he led the conference with 25 last year), and fellow first-team member Jeff VanNynatten for goal-stopping. They'll need both to perform at top levels if they are to pull another upset like their 4-3 overtime victory against Bemidji in the CHA championship game last year.
The preseason favorite Beavers still have Brendan Cook to lean on for scoring, but 2004 CHA rookie of the year Luke Erickson will need to step up his game to cover for the loss of Riddell and his 34 points. Sophomore Layne Sedevie also has some big pads to fill, taking over the number-one netminder duties from graduated Grady Hunt, a second-team conference selection last year.
So put all the bad news behind you. The 2004-05 campaign has all the makings of a special season, when several top players could really put the CHA on the hockey map. Let's just hope the boundaries don't have to be redrawn at season's end.
Below is a brief look at the league's six teams, in predicted order of finish. Click on a team's name for its individual season preview.

Head Coach: Tom Serratore, fourth season overall / fourth at Bemidji State (46-45-16)
2003-04 Overall Record: 20-13-3
2003-04 CHA Record 16-3-1, 33 points
2003-04 CHA Finish: First
2004-05 Predicted Finish: First
The Short Story: A disappointing end to a successful season should be all the motivation the Beavers need entering a new year. Perhaps the most well-rounded team in the conference, Bemidji returns three players (Cook, Erickson and Hunt) that garnered year-end honors in 2004. But how will the loss of scoring threat Riddell affect the team?
Niagara
Head Coach: Dave Burkholder, fourth season overall / fourth at Niagara (53-49-9)
2003-04 Overall Record: 21-15-3
2003-04 CHA Record 14-6-0, 28 points
2003-04 CHA Finish: Second
2004-05 Predicted Finish: Second
The Short Story: Ehgoetz wasn't passed the torch, he took it from former CHA player of the year Joe Tallari, even before the senior made the jump to the AHL at season's end. Add Justin Cross and Kris Wiebe into the mix, and Niagara returns three of the top 10 CHA scorers from last season. Don't be surprised if the Eagles make a return trip to the NCAA tournament this season.
Alabama-Huntsville
Head Coach: Doug Ross, 20th season overall / 20th at Alabama-Huntsville (328-212-33)
2003-04 Overall Record: 11-16-4
2003-04 CHA Record 10-9-1, 21 points
2003-04 CHA Finish: Third
2004-05 Predicted Finish: Third
The Short Story: Could Jared Ross be the Rodney Dangerfield of the hockey world? He got no respect from the Hobey Baker voters, despite leading the nation in points per game last year. The Chargers should prove a formidable opponent for both Niagara and Bemidji, but overcoming that twosome is a mighty task.
Wayne State
Head Coach: Bill Wilkinson, 23rd season overall (394-383-67) / sixth at Wayne State (81-82-14)
2003-04 Overall Record: 9-24-3
2003-04 CHA Record 4-15-1, 9 points
2003-04 CHA Finish: Sixth
2004-05 Predicted Finish: Fourth
The Short Story: A year older, a year wiser. Freshmen occupied 12 of Wayne State's 26 roster spots last year, leading to the club's worst showing since its inaugural 1999-2000 campaign. Higgins and Baclig performed well while getting their feet wet as rookies, and the team's goals against average (a league-worst 3.96) was nearly a half point better when sophomore Matt Kelly was between the pipes. But the Warriors are still a year away from returning to the CHA's upper echelon.
Air Force
Head Coach: Frank Serratore, 12th season overall (154-226-24) / eighth at Air Force (105-134-15)
2003-04 Overall Record: 14-21-2
2003-04 CHA Record 6-13-1, 13 points
2003-04 CHA Finish: Fifth
2004-05 Predicted Finish: Fifth
The Short Story: The Falcons averaged just 2.73 goals per game last season (101 goals/37 games), with departed seniors Leonard and Saum accounting for nearly one quarter of those tallies (11 and 13 respectively). Mike Knaeble seems the likely choice to pick up some of the slack, but he'll need considerable help if Air Force is to improve on its 6-13-1 conference record.
Robert Morris
Head Coach: Derek Schooley, first season overall / first at Robert Morris
2003-04 Overall Record: N/A
2003-04 CHA Record: N/A
2003-04 CHA Finish: N/A
2004-05 Predicted Finish: Sixth
The Short Story: Strengths? Weaknesses? Who knows? Robert Morris features just four players with NCAA experience, and only three of those are eligible to participate for the Colonials this season. The team's coaching staff could be its greatest asset, as head coach Schooley (Air Force) and assistants Nate Handrahan (Niagara) and Marc Fakler (Wayne State) all have previous experience behind a CHA bench. Let's hope they have lots of patience as well.