Plans for Quinnipiac's new athletic complex, which will house a new on-campus hockey facility, are well under way after Thursday's announcement that Hudson United Bank has agreed to a $5 million sponsorship of the project. The building will be known as the Hudson United Bank Center.
"Over the last 30 years, Hudson United Bank has generously supported Quinnipiac in so many ways, but none more meaningful and enduring than this," Quinnipiac president John Lahey said. "The Hudson United Bank name will now join a distinguished group whose generosity has helped Quinnipiac to become one of the country's leading regional universities."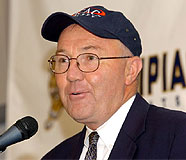 The Hudson United Bank Center will be a 157,000-square-foot facility containing a basketball arena and a hockey arena, joined by a common lobby area for concession stands and ticket sales. The center also will include: offices, locker rooms, club and premium seating, conference and meeting rooms, storage and weight-training facilities.
The new Athletic Center, which is expected to open in January 2007, is the first building in Quinnipiac's $150 million economic development project to develop its 230-acre Sherman Avenue campus. Future plans call for the construction of a graduate education center and a student residential community.
Kenneth T. Neilson, chairman, president & chief executive officer for Hudson United Bank, said, "Quinnipiac University has been a longstanding partner with Hudson United Bank, and it is an honor to be associated with such an outstanding academic institution. Our organizations not only share a marketplace, but also a strong commitment to the communities we serve. We are proud to help make the Hudson United Bank Center a reality."
Quinnipiac was recently named by the ECAC to replace Vermont starting with the 2005-06 season. One of the reasons Quinnipiac beat out the other teams in the running was its promise to build a new on-campus hockey facility. For now, Quinnipiac will still play this season in Atlantic Hockey, with games played at a local rink, the Northford Ice Pavilion.