The American Hockey Coaches Association's highest honor for a Division III male hockey player will bear the name of one of the AHCA's greatest coaches. Beginning this season, the College Division Player of the Year Award will be known as the Sid Watson Memorial Award, named in honor of the late Bowdoin coach and administrator, who died suddenly last April.
"I applaud the coaches whose vote created this honor for Sid," said AHCA executive director Joe Bertagna. "All of the AHCA awards are named for giants of our game. And Sid Watson continues that tradition."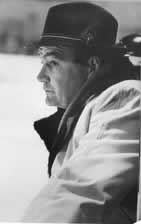 The longtime Bowdoin coach and athletic director died on Sunday, April 25, of a heart attack at his home in Naples, Fla. at the age of 71. A multi-sport star at Northeastern University, the Andover, Mass., native earned the nickname "Century Sid" in college because he averaged 100 yards a game rushing for his career.
"Sid Watson was a great innovator and educator who motivated and inspired generations of young men both on and off the ice," said Bowdoin College president Barry Mills. "This award, now in his name, reflects the values and traits Sid instilled in his players: leadership, tenacity, a love for the game, and the knowledge that excellence is always the result of hard work and consistent effort. Sid was a beloved member of the Bowdoin College community. We are proud to have his legacy memorialized through this important award."
Before carving out a unique hockey career at Bowdoin, Watson played in the National Football League from 1955 to 1958. As the story goes, he roomed with a future NFL Hall of Famer at one Pittsburgh Steelers' camp. Watson made the team, and the other player, Johnny Unitas, was cut.
But it was in Brunswick, [nl]Maine, that Watson's legacy was carved out. He won 326 games from 1959 to 1983. He then became athletic director, passing the coaching reins to current coach Terry Meagher. A three-time winner of the Edward Jeremiah Award as AHCA College Division Coach of the Year, Watson served the AHCA as an officer for many years and was also one of the most influential members of the NCAA Ice Hockey Rules Committee for many seasons. In 2001, he was presented the "Legends Award" from the Hobey Baker Award Foundation.
"In honoring Sid, the AHCA membership truly honors our game and the young men who play small college ice hockey," said Meagher. "Just like Hobey Baker, Sid excelled in football and hockey. He worked a lifetime to promote and protect the sound philosophical principles of our Division and multiple sport participation is certainly one.
"A great athlete, a legendary college athletic builder, caretaker and coach/educator, a person of integrity, a wonderful family man and a friend and mentor to so many. Sid would have been humbled by this recognition and his family will be so very proud to have his name represent all that is good about college division athletics."
Current Division III men's head coaches voted to name the award for Watson following this year's AHCA Convention.