What goes around, comes around.
In 1982 Adam Oates came from Weston, Ont., to a small school called Rensselaer Polytechnic Institute in Troy, N.Y. Two years later that school went on a run the likes of which had never been seen. The 1984-85 RPI Engineers ripped off a 30-game winning streak and a 33-game unbeaten streak that culminated in the school's second NCAA championship.
That year Oates led the Engineers in scoring with 31 goals and 60 assists and assisted on five goals in a classic overtime NCAA semifinal against Minnesota-Duluth, won 6-5 by RPI. Over the course of three years, Oates amassed 66 goals and 150 assists in 98 games, two ECAC titles and that NCAA banner.
After that season Oates signed with Detroit and went on to play 19 seasons in the NHL with the Red Wings, St. Louis Blues, Boston Bruins, Washington Capitals, Philadelphia Flyers, Anaheim Mighty Ducks and Edmonton Oilers. He finished his career number six on the all-time NHL assists list.
On Friday, November 5, Oates comes back to Troy.
Oates will be honored by Rensselaer with entry into the Athletic Hall of Fame and will become the inaugural member of the Ring of Honor at the Houston Field House.
"I'm extremely honored — obviously when I played at RPI a long time ago I never thought that this would happen," said Oates. "I've had a long career and RPI is one of the memories of my life that I will always have. It was a great experience for me and taught me so many things. I am so honored to come back and do this."
Oates' induction into the Hall of Fame and inclusion on the Ring of Honor is obviously well-deserved. When Oates entered Rensselaer, the Engineers were beginning to find their way under fourth-year head coach Mike Addessa. Two third-place ECAC West finishes and a fifth-place finish in 1981-82 left many in Troy with a feeling that something might be happening.
The next year Oates stepped on campus and into a different environment, not one to which he was accustomed.
"It was kind of overwhelming," said Oates. "Academically the school's reputation was well-known and it was intimidating for a Canadian kid, especially when academics was not my sole goal in life. The hockey was fantastic and every level you mature; the hockey was that much better when I came to school. It's a transition, that's for sure.
"The academics were very hard and overwhelming. Hockey-wise … even up until then, I had not had much coaching and Coach Addessa took our team and me to another level and really taught me a lot of the game. He really made me a man in terms of being a professional and disciplined, and provided a lot to my life."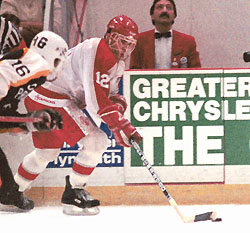 In 1982-83 the Engineers once again finished third in the ECAC West, but the foundation was laid. Oates finished that year with nine goals and 33 assists and the Engineers lost to Harvard in the ECAC quarterfinals.
That season whetted the appetite of the fans — and of the team.
"I can remember freshman year we lost to Harvard in the playoffs and in my hockey life that was the biggest weekend — and it was a fantastic experience even though we lost," said Oates.
The next year, the Engineers began to roll.
They finished the regular season with a 28-4-0 record, then won the ECAC championship, 5-2 over Boston University. Oates compiled 26 goals and 57 assists as the Engineers finished the season undefeated at home (15-0), then hosted the first round of the NCAA tournament. Ranked No. 1 in the country, the Engineers lost to North Dakota in total goals, 9-6, dropping both games.
"We won in the Garden and the East — which was our goal all year long — and that was just an unbelievable experience to win in Boston Garden," said Oates. "Then we had to play North Dakota at home and it was almost like, well, you said we just had to win the East and hockey after that was anti-climatic.
"We weren't ready for it.
"We learned a lot from that weekend. We learned that sometimes you have to lose before you can win. We were ranked No. 1 and we were upset, and I think it was because we set our goal on the East and we forgot about finishing the job, but that took us to the next year where we just steamrolled."
The next year was indeed magical. The Engineers went 35-2-1 and captured the ECAC and NCAA championships.
"My junior year when we won, it was a blur," Oates recalled. "We lost our first game of the year and then it was just a clinic. That was a fantastic hockey team. We were the best team in hockey by far.
"If I had come back for my senior year we would have been fantastic as well; we had the players. We had the best goalie in the land and our numbers were statistically incredible."
After three years at Rensselaer, it was time for Oates to turn to the next level. Oates left Troy to sign with the Red Wings.
"I think it was perfect," said Oates about his choice to turn pro. "I had not thought about it until [NCAA championship weekend], and then we won and it made it an easy decision. It was great timing for me."
Oates felt he was ready to go.
"I had confidence, the confidence from winning," he said. "But I was in for a real wakeup when I went pro, believe me."
Oates woke up quickly enough, starting a career that lasted 19 years.
"I have a ton of memories, I was so fortunate to play for so many years — 19 years is a long time," he said. "I got to play in Detroit, which is a great city, then I went to St. Louis where I got to play with Brett Hull, then to Boston, which is a great sports town, playing with Ray Bourque and Cam Neely.
"And then to D.C., which isn't really a hockey town, but I went to the Finals for the first time, so it's a real special memory there. The rest is the winding down of my career, other cities, and Anaheim, where we went to Game 7 in the [Stanley Cup] finals."
Oates spent his last season with Edmonton, and then this past summer called it a career.
"I actually thought a lot about it last summer and Edmonton came calling," he said. "I was really contemplating retiring after playing for the Ducks and I decided to play one more year, talked with my family and friends, and this summer that was it."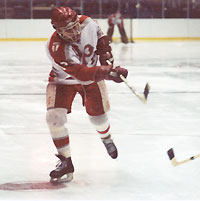 He ended with 341 goals and 1079 assists, sixth all-time in the latter category in the NHL. His numerical accomplishments are a source of pride, but his career ended without a Stanley Cup.
"It's one of my favorite things," he said about his assist total. "Being a playmaker all my life, you never would have thought that your numbers would climb like that. I've been fortunate to play for so long and with such great players. When I think of the game and what I bring to the game I'm very honored to have that number.
"I get in an argument all the time with guys who have won the Cup that would trade that ring for the life, and I've had a fantastic life and a fantastic run and going to the Finals, losing in Game 7," said Oates. "But I don't hold anything back, I'm very happy. I showed up for work every day, played as hard as I could, and it just didn't work out where I got drafted by a team that won four rings.
"It just didn't work that way."
The obvious question: will the NHL Hall of Fame come calling?
"If they do, that's great," he said. "I'd be honored but that's not why I played the game and never thought of it, and if it happens it's another great honor."
So Oates will come back around to Troy after 20 years to be feted. He can't help but feel something stirring when he steps back out onto the Houston Field House ice.
"I had my junior number retired but I didn't get to go because it was in the middle of the season and my family went for me," he said. "I've never been in one of these situations, I've seen a bunch throughout my career, when we played [other] teams, or guys on my own team.
"I'm looking forward to it because it's going to touch a lot of memories that I had in that building, and to go in the locker room to say 'Hi' to the guys, I'm really looking forward to that
"I'm sure a lot of memories will come back and I'll get that feeling of when I was there. I'll try not to get too emotional about it. I'm really looking forward to it, and to being part of the program.
"I think I'll hold [my emotions] in check. I'm really not that kind of person; I'm really understated. Every time you see a guy retire, in his speech, the toughest guy breaks down and starts bawling and I'm going to try not to do that, but I also expect some sort of emotion to be flying through my body.
"You wouldn't be human if you didn't."
Adam Oates, Troy, RPI and college hockey are glad you came around.