Fans of Division I college hockey in general, and ECAC hockey in specific, are very familiar with the six Ivy League schools that make up half of that conference. What few may know is, there used to be a seventh Ivy playing hockey alongside its academically gifted peers.
The University of Pennsylvania, whose hockey origins date back as far as the late 1890s, fielded teams in the sport through the 1970s. Joining the ECAC Division I conference in the 1966-67 season, the Quakers played 12 seasons of varsity hockey in the league until the school's administration pulled the plug immediately following the 1977-78 season.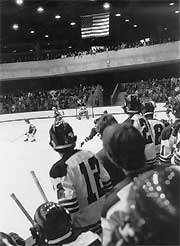 Granted, Penn isn't the only Ivy missing at the varsity level in hockey, a sport the Ivy League, long before it was given the Ivy moniker, started on the intercollegiate level in the late 1890s. It's probably not a great surprise that Columbia University is also absent from the fold. Penn, however, began its participation in the sport in 1898 with a 2 wins, 1 loss season under the leadership of a team captain as coach. Seasons were brief and little was recorded back then, and the team kept competing through the 1920s playing their final season in 1929-30 before a nearly 35-year absence. The team was re-assembled for the 1964-65 season at the club level under head coach Jim Salfi.
Salfi, a varsity letter-winning skater who graduated from St. Lawrence in the spring of 1964, took the reigns of the Red and Blue that fall.
"I had just graduated the semester before, and had never been a head coach. The salary wasn't good, but they let me take graduate courses for free, so I took the job," said Salfi. "My first year, we were still a club team. In my second year we went varsity but still had some Division II schools on the schedule. The third year, which was 1966-67, we won our first game against an Ivy League opponent, Dartmouth. That was a big win because Dartmouth had always been a good team and their program had a lot of history."
The 1965-66 season, in which Penn began varsity play, was the Quakers best season under coach Salfi. The team went 16-8 followed by a 13-11 season in 1966-67. The next few years saw the team finish under .500, but in 1970-71 they finished at 14-11, and the following year, 1971-72, saw them reach the 16-9 mark. Coach Salfi recalls some of the more memorable games of his tenure.
"I remember in one of my first years coaching, a group of alumni from Harvard and Penn got together and sponsored a hockey game at a skating club in north Philly. Back then freshmen weren't allowed to play varsity. We had a terrific freshmen team that we thought would win against Harvard's freshmen. All the Penn alums were excited to hopefully see these young guys beat the Crimson," said Salfi. "The freshmen played first. I had 10 recruits at the game that I was hoping would come to Penn if they saw them win, but the freshmen ended up losing. All the alums were devastated. Harvard was, of course, expected to win the varsity game, since they had a great team. Well, we won that one! Our varsity team beat Harvard's varsity!"
A great win, indeed. And a not a bad display for the recruits.
"I ended up getting nine of the 10 recruits to come to Penn," Salfi added. "The one recruit I didn't get was Bob Goodenow, who is now the executive director of the NHL Players' Association. He went to Harvard."
Recruiting top-notch athletes to an Ivy League university is probably not the easiest job in the world. With no athletic scholarships to offer, and a great academic standard to be maintained, it wouldn't be surprising to see potential blue-chip prospects go elsewhere. Luckily, the reputation of the University and its Wharton School proved to be a helpful factor, and the coaches managed to secure some great, and interesting, recruits.
"I recruited from all over — Minnesota, New England, and Ontario, Canada," said Salfi. "I had Humphrey Bogart and Lauren Bacall's son, Stephen, play for me. We had Lauren Bacall at a few of our games. One of my guys, Steve Connett, dated Candice Bergen, and another, Tommy Braun, dated figure skater Peggy Fleming. Probably my greatest player was Tim Cutter, an amazing recruit out of Milton Academy in Massachusetts. Tim was heavily recruited by a number of schools. But his father and grandfather went to Harvard, so they were a little upset that he chose Penn."
After finishing at Penn, Cutter was selected for the 1972 U.S. Olympic team.
A major disadvantage of the Penn program was the lack of an on-campus facility.
"We played in an arena on 45th and Market, next door to where they used to tape Dick Clark's 'American Bandstand,' but that rink burned down and we started using a rink in Cherry Hill [New Jersey]," said Salfi. "The team would get dressed to play, get on a bus that took us across the river to the rink. They'd practice or play a game, then get back on the bus in their gear and go back to the campus to shower."
Tough times for the skating Quakers.
"It was at a cocktail party that I met Howard Butcher III," Salfi added, "He was the president of the Class of 1923, and a major benefactor to Penn. I convinced him to build a hockey rink. It was completed in 1970 in time for the 1970-71 season."
The Class of 1923 rink opened in the fall of 1970. One of the Penn skaters on that 1970-71 team that christened the facility was senior defensemen Bob Finke, who later coached the Quakers for their final two seasons of existence.
"The rink opened for the 1970-71 season and cost about $3.2 million," said Finke. "Enthusiasm was really high, and crowd support was great. We made the ECAC playoffs that year, but lost to Clarkson in the first round, in Potsdam."
Reminiscing on the Quakers' previous homes, Finke added, "Before the Class of '23 rink was built, we played our home games at the old Philadelphia Arena, which was where Philadelphia's roller derby team played, and then the Cherry Hill Arena across the river in south Jersey. The Jersey Devils of the Eastern Hockey League played there back then. The new rink was a great addition to the program, and a really nice facility. The Flyers even used it quite a bit for training camp."
Jim Salfi left Penn after the 1971-72 season and took the head coaching job at RPI. Uncertain of the level of commitment the athletic department had for the hockey program, he thought a move might be best.
"The A.D. at the time was a really big basketball fan, but maybe not so much into hockey," Salfi said. "Penn was hosting the Philadelphia 'Big 5' tournament, with LaSalle, St. Joe's, Temple and Villanova. The games were usually packed for the other schools, but the turnout for Penn wasn't that good. The hockey games would draw more fans!" said Salfi, "But I could tell the support wasn't quite what it could have been. When the RPI position became available, I felt it was the right move."
Robert Crocker, who took the helm of the Quaker team for four seasons beginning in 1972-73, succeeded Coach Salfi. In his first season as head coach he led the team to a 16-9-2 record, one of the best in Penn hockey's history.

"I took the Penn job after having been the assistant coach at Boston University, my alma mater, under Jack Kelley," said Crocker. "When Kelley left, and I wasn't offered the head coach position, I felt it was time to move on. In my first year at Penn, we had a really good team. Back then there were 17 Division I teams in the east, and all of them were in the ECAC. The top eight teams made the playoffs. We finished the year in fourth place, and drew BU in the first round of the playoffs. They were the defending national champs with a much more storied program than us, and even though we should have gotten home ice, it was given to them, so we had to go to Boston to play. We ended up beating them, 7-3, in front of a packed house!"
Yet another highlight in Quaker hockey history. Unfortunately, things started to take a bit of a downturn.
"Things started to get tight with the program. They began cutting away at our budget. The program was starting to dissolve," added Crocker. "I was bringing in lots of potential recruits, but they would only accept two or three. It was becoming very hard to run the team and keep them competitive. I did a lot of my recruiting from the juniors around New England and Canada. In all honesty I probably should have recruited more from the prep schools, since those students may have been a better fit."
Sadly, as the funding started to dwindle, the level of play suffered, and fan interest dropped. The axe finally fell on the Penn program near the end of the 1977-78 season. Considering that Penn has a rich history of success in athletics, it probably came as quite a surprise to some that it was canning its hockey program. Most surprising may have been the manner in which the coaches and team were informed about their impending closure.
"We found out with four games left to play on the season," said Bob Finke. "The administration needed to trim the athletics budget and decided to drop hockey and gymnastics. They've since reinstated gymnastics. The sad thing was, the last year or two we were operating with an annual budget of $60,000. That's pretty low, even for back then."
And the players?
"A lot of the guys transferred to other schools," added Finke. "Tom Cullity, a sophomore standout from Massachusetts, transferred to Vermont. Defensemen, Tim Strawman and Geoff Roeszler, and forwards, Doug Berk and Tom Whitehead all went to Cornell, and Graham Carter, who played defense and wing, transferred to Harvard. I remember there was a freshman, Dave Akre, that decided to forego hockey and stay at Penn, but most left."
"The whole thing was a strange experience for me," said David Akre. "I came from Grand Rapids High School in Minnesota, and my high school games were usually sold out. Suddenly I was playing in front of 500 or less people. I wasn't used to that at all. What's worse, I think coach Finke found out the team was being dropped by reading it in the school newspaper with a few games left in the season. We weren't even given the chance to try and prevent it."
Along with hockey and gymnastics, Penn also eliminated golf and squash. All the programs would eventually be revived, except for the icers. A little advance warning would have been nice, considering Skidmore College, of the ECAC East division III hockey conference, faced a similar situation in the 2003-04 season, but was able to raise $2.5 million in two months to save the program. The money was raised by alumni, parents of players, and friends of Skidmore hockey, a truly impressive accomplishment.
Akre added, "I decided to stay at Penn. I hadn't planned on making a career out of hockey, so I figured it was time to give it up and stay put. I graduated from Wharton in 1981 with a B.S. in economics."
A wise decision, as the Wharton school ranks among the nation's best business schools. Dave Akre now owns and operates his own wholesale wine company in southern New Jersey.
As for Penn's former hockey coaches, most continue to work in some aspect of the sport to this day. James Salfi has been head coach of the Capital District Selects junior hockey team, in Clifton Park, N.Y., for several years. The Selects play in the Eastern Junior Hockey League, and send many young players to Division I and II/III hockey programs.
Robert Crocker is now a scout for the New York Rangers organization. He and his wife live near Boston.
After coaching Penn, Robert Finke returned to his native Minnesota. He is now the executive director of the Center for Sports Medicine and Rehab, in Northfield, Minn., and lives with his family near the Twin Cities.
As for the Class of 1923 rink, it still stands on the northeast corner of the Penn campus. With a seating capacity of about 3,000, it's a facility that rivals many of the current Ivy League and ECAC hockey arenas. It is mainly used for public skating sessions and open hockey, as well as by the Penn men and women's club teams, and the club hockey teams of neighboring Drexel University.
Maybe one day in the not too distant future, we will again find Penn among the ranks of Division I college hockey. Philadelphia is a city not without its hockey faithful, as many Flyers fans will attest. It would be even more welcome now with the current NHL lockout.
"I could see Penn getting a team together again in the future," said Crocker. "The school is certainly poised for it, and the facility is intact, but it would have to be under the leadership of an athletic director that was very, very supportive. A 'hockey guy.'"
Whit Matthews, a coach and former player for the Penn club hockey team added, "There's a lot of youth and club hockey in eastern Pennsylvania and the Philadelphia area, so there's an appreciation for the sport. Philly is a bit of a pro sports town, and support for the college teams can sometimes suffer as a result, but I think that with a supportive athletic department, a varsity team could thrive. The rink needs some minor, cosmetic repairs, but apart from that, it's a great facility. A great place to watch a game."
Who knows? Maybe we'll again see the day when students descend upon the Class of 1923 rink to cheer their Red and Blue skaters to victory. Hockey fans and alumni of the University of Pennsylvania can only hope.