Throughout his days at Minnesota-Duluth, senior Tim Hambly has made strides to achieve the level of play that was expected of him from the start.
The 6-foot, 190-pound defenseman has impressed not only teammates and coaches, but other experts as well. Former Minnesota coach Doug Woog has this to say about Hambly: He's a "good skater, sees the rink and is an adept passer." Woog also calls Hambly a "really good power-play performer."
Hambly has made steady progress to achieve that level, but his promise was evident long beforehand.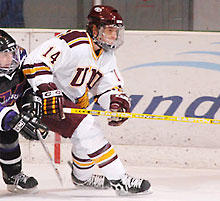 Hambly played his high school hockey in Minnesota, for White Bear Lake High School. While there, he was named to the Associated Press All-State team, as well as being a finalist for Minnesota's coveted Mr. Hockey award for the 2000-01 season.
In addition, Hambly saw ice time in the USHL. Prior to skating for the Bulldogs, he worked the blueline in 17 games for the Waterloo Black Hawks, where he had a goal and eight assists.
Upon joining UMD in 2001-02, Hambly stood out as a promising newcomer. Besides playing the solid defense that is rare among freshman defensemen, he was a noticeably good passer. That year he put in a single goal and added 10 assists in 39 games.
Returning for his sophomore year, the defenseman's outlook appeared solid. However, Hambly's second season could only be described as a disappointment, as he scored a mere five points in the limited action of 29 games.
"It was frustrating," says Hambly, "I thought that every time I touched the puck, I had to do something with it immediately. It became a mind game for me."
UMD coach Scott Sandelin points out that Hambly struggled most early on that year.
"He didn't play up to our standards at that point," Sandelin says, "but how he responded to that was a big part of the maturing process."
Though he did have some weak games, by the end of the season, he had managed a plus/minus rating of +13 for the Bulldogs.
Over the next year, Hambly worked to improve his game, knowing that as a junior for the Bulldogs, he would have to step into a bigger role.
"I worked on speed throughout the summer," says Hambly. "Playing in a lineup with [All-American] Beau Geisler really helped me. I learned to settle down and have more patience."
Hambly also notes the importance of the defensive pairing he had with Steve Czech, saying "we really gelled together as linemates."
Whatever the reason, there was a clear change, because whenever he stepped onto the ice for the 'Dogs in 2003-04, Hambly was an impact defenseman. He tallied five goals and added 19 assists for 24 points in 39 games, and though these are impressive numbers, it was his consistent defensive play that was his real strength.
Says Sandelin, "He has gotten better each year. Tim is good at both ends of the rink."
For his junior season, Hambly earned a stunning plus/minus rating of +33 for the Bulldogs. Not only that, but there was a noticeable gap of +13 between Hambly and UMD's second best plus/minus player for the year — that being none other than the Hobey Baker Award winner, Junior Lessard.
Hambly's value to the Bulldogs can also be found with an examination of their performance without him on the ice. During the 2003-04 season, with Hambly in the lineup, the Bulldogs had a record of 25-10-4. While he was in the stands, the team went a mere 3-3, including the Bulldogs' only loss to Minnesota, which they beat in five previous meetings.
Teammate Tyler Brosz has noticed as well. "[Hambly] has taken on more of a leadership role for us," says Brosz. "That's what Timmy's done over the last couple of years."
So it's probably no coincidence that UMD's poor showing against Vermont late in October came without the help of Hambly, who was hurt in the previous weekend versus Minnesota State.
One would expect Hambly to be among the most-missed of UMD's seniors after this season. With any luck, by that time his accomplishments will have been appreciated not only by the Bulldogs, but by the rest of the nation as well.