To endure as a Division I college hockey referee for 20 years is quite a milestone. Officials at this level are constantly being evaluated and someone who isn't doing the job is not going to slide by unnoticed.
"You are only as good as your last game," says veteran referee John Gravallese, who is in his 20th year on the job in Hockey East. "Now with video tape and constant evaluations, you are always held accountable."
Gravallese is the senior man in Hockey East at age 44. It just seems like a heartbeat ago he was breaking in as young official in the second year of the circuit back in 1985-86. He learned from the likes of Ned Bunyon, Bill Stewart, Steve McBride and Jim Villandry. Now new breeds of Hockey East officials are learning from him.
"I've noticed the play along the boards that players are using their shoulders and upper bodies instead of taking the hand off the stick."
— John Gravallese
"You know, I didn't know how old he was," says Brendan Sheehy, who serves as Supervisor of Officials for Hockey East, when apprised of Gravallese's age "It's all relevant. No one is going to have a great night every night, but John is usually about 90 percent. There is no age criteria in officiating, but you have to stay in a shape and be able to skate. Each year as you get older, it gets tougher."
What are some of Gravallese's strength as a referee?
"John has a good rapport with the players and the coaches," said Sheehy. "He has very good judgement and is very well respected."
Gravallese has an unassuming approach to officiating. It is true that your best officials are the ones you don't seem to notice.
"I just get my assignment, pack my bags and show up," he says. "I try to blend in and let the game call itself."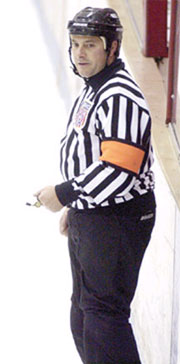 A native of Wakefield, Mass., Gravallese never played beyond the high school level, but always wanted to stay connected to the game. A few years after his playing career was over he started officiating youth hockey and high school and made a very fast jump to the fledgling Hockey East circuit.
"Dana Hennigar, who was director of officials at that time, approached me and asked me if I wanted to work in Hockey East," Gravallese recalled. "I said 'Sure.' At that time it was no helmets, no nothing. You just go out and have some fun. But, I remember these guys that gave you the opportunity, they didn't let you sink. And that's something I try to help the younger guys with. I've offered to work with them in the Atlantic League as an A.R. [assistant referee]."
Last February young official Tom Quinn, who is a Hockey East A.R., received an assignment to referee in the Atlantic Hockey League working the Sacred Heart-AIC game in Springfield, Mass. Quinn asked Gravallese to work with him on that night. So Gravallese, a veteran ref of many Hockey East playoff championship games, and no stranger to working in the NCAAs, made the trip as one of Quinn's A.R.'s before a crowd of 271 at the dank Springfield Olympia. That atmosphere was about as far removed as you could get from the 19,000-plus that he blew the whistle in front of when he worked the 2002 Minnesota-Michigan Frozen Four semifinal at the Xcel Energy Center in St. Paul.
"But, I don't look at it that way," said Gravallese. "Even when I ref high school, which I still like to do, I never think I am too good to do a game."
Quinn recalls that Gravallese's help was a comfort for one of his first games as a ref.
"For someone like him, who has so many years in as a ref, to take a night off to go out of his way to help me, shows the type of person he is and how committed he is," said Quinn, who played his college hockey at Vermont. "He would ask me in between periods what I saw out there and then suggest 'maybe you should try this,' or 'maybe you should try that.' He was great."
Gravallese does not keep track of what marquee games he has done. He doesn't have a list of how many Beanpot finals or Hockey East championship games he's officiated. His short term memory does allow him to remember the recent NCAA whistle stops. After his Frozen Four semifinal in 2002, he did a West Regional game in 2003 between Minnesota and Mercyhurst. Last year he was a backup ref in case someone got hurt in Manchester, N.H., for the Northeast Regional.
A strong trait that Gravallese has is being able to adapt to change. In 20 years things do indeed evolve. He broke in during the days of the one referee and two linesmen. Then it changed to two referees and one linesman. Now you have the one ref and two A.R.'s, who can also call penalties as well as the referee.
"If I had my say, I'd go back to the two and one," said Gravallese, referring to the days of the two refs and one linesman. "It builds consistency because you do work with the same guy all the time.
"But, the downside was offsides were being missed," he went on. "The first guy in the zone is the ref and he had his eyes on the penalties and was not watching the line. Then in the playoffs, you'd be split up from your partner because of the evaluations and be matched up with someone you weren't familiar working with."
Now with the new NCAA mandate about cracking down on obstruction, or restraining penalties, Gravallese has had to adapt to change again.
"That's all part of life and part of your job," he says. "You have to learn to adapt to what's given."
By his own admission it was tough at first to break old habits and preconceived notions of what is and what isn't a penalty.
"The first game I worked this year was an exhibition game between Providence and St. Francis Xavier from Canada," said Gravallese. "Basically we had a meeting, discussed it, saw video to prepare us on what to look for and went at it. Once the puck dropped I was of the mindset of watching for violations on players away from the puck. It was totally obvious these violations were there in evidence. I called an abundance [of penalties] my first game. It filled the sheet and they had to go into a second sheet."
During that exhibition game that was played on Oct. 3, Gravallese called 39 minor penalties and two 10-minute misconducts. Of the 39 minors, 21 were obstruction/restraining fouls (holding, interference or hooking).
"The guys from Canada felt slighted, like they were thrown into an experiment. It took awhile for both teams to realize we weren't going to stop [calling the penalties]."
Now a month into "the experiment," Gravallese feels there is change coming with the college game.
"I've noticed the play along the boards that players are using their shoulders and upper bodies instead of taking the hand off the stick," said Gravallese. "And I was being accustomed that if you played through a hook in the neutral zone that it's OK and it's not."
There was slight dropoff in the restraining penalties that Gravallese called in the Boston College-Maine from last Friday (Nov. 5). Of the 31 minors called, 11 were of the obstruction/restraining variety.
Gravallese has no problem with the NCAA mandate and readily admits the game needed to be changed. It wasn't just the NHL game was getting bogged down. Now players, coaches and even officials have to concentrate on a new mindset and get the message to bring back the speed of the game.
"I've seen it in high school and in youth hockey," he said. "The neutral zone trap was trickling down to all ranks. It can neutralize better skilled players. Coaches were teaching it and officials were being a little lax in calling penalties."
Officiating still remains fun for Hockey East's senior man. He knows he won't be doing it forever and would still like to remain active in some capacity perhaps as a supervisor or advisor.
"The most important thing for me is family," said Gravallese, who is married with two boys and girl. "My kids are all playing sports and more of their games are coming at night.
"But, I don't mind doing it and it's still fun. And the guys I work with are the best around.
"Maybe when I don't officiate anymore I could come back and help as an advisor and have people pick my brain. Twenty-some years of doing this should be worse something. I could give back something that way."