Another weekend, another tussle between Top 10 teams in the ECAC. This week's featured programs have both been oh-so-close to the summit of the college hockey mountain in recent years. Both harbor legitimate aspirations of being among the field of eight that will attempt the final ascent next March. Both have spent the past month breaking in new goaltenders with encouraging early returns. However, while No. 6 St. Lawrence comes into Meehan Auditorium off to its best start since 1999-2000, No. 9 Brown is seeking to weather an injury storm that has claimed two of its defensemen and the strongest link in its veteran chain (pun intended).
No. 6 St. Lawrence (7-1-2)
Top Scorers: Rebecca Russell, Sr., F (7-10-17), Chelsea Grills, So., F (8-7-15), Sabrina Harbec, Fr., F (5-7-12)
Top Goaltenders: Meaghan Guckian, Fr. (5-1-0, 2.67, .911), Jess Moffatt, Jr. (2-0-2, 2.40, .915)
Scoring Offense: 3.50 (9th)
Scoring Defense: 2.60 (15th)
Penalty Minutes: 19.0 (6th)
Power Play: 12 of 84, 14.3% (T-16th)
Penalty Kill: 67 of 85, 78.8% (26th)

St. Lawrence tasted defeat for the first time at the hands of No. 10 Providence in our inaugural Game of the Week. However, the Saints rebounded nicely from their first setback, taking three of four points last weekend from No. 7 New Hampshire. The goaltending competition continued as rookie Meaghan Guckian upped her record to 5-1 in a 5-3 victory on Sunday, and junior Jessica Moffat authored her best effort of the young season, stopping 35 UNH offerings on Saturday, including a breakaway late in the third period to preserve a 2-2 tie. Coach Paul Flanagan welcomes the problem of having two confident netminders to choose from, so another platoon seems in order for this weekend with Brown and No. 4 Harvard on tap.
Another encouraging sign for SLU coming out of the UNH series was the emergence of additional sources of offense to support the prolific top line of Rebecca Russell, Chelsea Grills, and Sabrina Harbec. Seven different Saints tallied against the Wildcats. More concerning to Flanagan & Co. is the recent performance on special teams. In the last three games, St. Lawrence has managed just one power-play goal in 22 chances while opponents have bagged eight goals in 26 opportunities (30.7%). As a result, the Saints have dropped to 16th in the nation on the power play and 26th in penalty kill, while still ranking sixth in penalty minutes.
No. 9 Brown (4-3-0)
Top Scorers: Krissy McManus, Sr., F (3-4-7), Keaton Zucker, Jr., F (4-2-6), Kerry Nugent (2-3-5)
Top Goaltenders: O'Hara Shipe, Fr. (2-1-0, 2.07, .923), Stacy Silverman, Fr. (0-2-0, 2.60, .895), Marie-Pier Desbiens (2-0-0, 0.67, 0.957)
Scoring Offense: 2.71 (15th)
Scoring Defense: 2.00 (8th)
Penalty Minutes: 15.4 (18th)
Power Play: 11 of 49, 22.4% (6th)
Penalty Kill: 47 of 52, 90.4% (5th)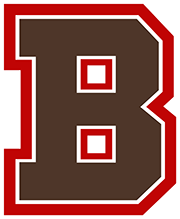 Heading into her 16th season behind the Brown bench, Digit Murphy knew she would have to do some juggling between the pipes with two freshmen and a little-used sophomore vying for the position. Murphy has likened her role to that of a baseball manager trying to sort out a pitching staff and to borrow her analogy, the members of the rotation have performed quite well to date, though a true ace has yet to emerge in the crease once occupied by 2000 Patty Kazmaier Award winner Ali Brewer '00 and Team USA netminder Pam Dreyer '03.
What Murphy did not bank on was having to juggle so much of the lineup in front of the goal. A roster that was supposed to feature 10 juniors and seniors among its top 12 skaters has already lost three key cogs to injury, including All-ECAC center Jessica Link, Brown's top scorer of the past two seasons. The other veterans trying to pick up the slack are junior Keaton Zucker and seniors Krissy McManus, Kerry Nugent, and Katie Guay. It will be difficult to gauge the true potential of this Bears squad without Link, who had a hand in 44 percent of the team's goals last season.