What do the Gateway Arch in St. Louis, Dulles Airport in Virginia and the 1960 Rome Olympic Complex have in common with college hockey? Plenty, as it turns out, for the famous architects who designed these mid-century structures also designed the college hockey arenas at Yale and Dartmouth.
Most college hockey fans pay little attention to the architecture of their favorite college hockey team's arena. It is simply a place where we watch the game, cheer our team, and perhaps buy some food or beverages. We might notice the comfort and sightlines of our seats, the convenience of the restrooms and the quality of the acoustics, but most of us are focused on the action on the ice and the comfort of our game-night experience.
After all, we are college hockey fans far more than we are architectural historians.
The vast majority of college hockey arenas are built to cater to exactly those two needs — function and comfort (and usually in that order). For example, Lynah Rink at Cornell or St. Cloud State's National Hockey Center are mostly functional — both are boxy square buildings with a hockey rink in the middle, surrounded by seating.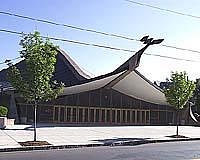 At these arenas, the game is foremost and the buildings are designed mostly around what's happening on the ice. Or at the other end of the scale, we think of spectator comfort, where a palatial new arena like North Dakota's Ralph Engelstad Arena boasts leather seats, marble floors and all the dazzling electronic displays a fan can handle.
But there are two college hockey arenas designed and built to be known beyond function or comfort, and to resonate as important statements in the rarefied modern world of mid-century architecture — buildings that were intended to tell a greater story of structural innovation.
Eero Saarinen (1910-1961) was one of the most influential architects of the 20th century. Saarinen was born in Finland, but his family relocated to the US when he was a teenager. A promising student, Saarinen studied architecture at Yale, graduating in 1934. By the 1950s, he had branched out and founded his own architecture firm (Eero Saarinen and Associates) in order to advance and challenge the conventions of structure and materials.
"Not only a brilliant designer, he was also a technological innovator," said Robert M. Stern, Dean of the Yale School of Architecture in a press release highlighting the donation of Saarinen's papers to the University. "[His] pioneer work with glass curtain walls, controlled rusting steel and reinforced concrete permanently influenced how we build."
In 1956, Saarinen was given a budget of about $750,000 to design and build an on-campus arena for the Yale hockey team, which had played for the previous 33 years at the old New Haven (Conn.) Arena. The bulk of the money to build the new rink came from the Ingalls family — who had also supplied a pair of Yale hockey captains over the years, David S. Ingalls '20 and David Ingalls, Jr. '56. The final project was completed for $1.5 million — double the original budget.
The centerpiece of Saarinen's design for the Ingalls Rink was the 300-foot long and 76-foot high concrete and aluminum roof, based on Saarinen's innovative theories utilizing cabling normally found in suspension-bridge construction. The roof suggests an almost Jetsonian sense of mid-century American optimism and technological progress that is echoed in many of his other designs, including his famous Gateway Arch in St. Louis.
Saarinen is also known for designing futuristic mid-century airline terminals at JFK Airport in New York (as featured in the recent movie Catch Me if You Can) and Dulles Airport in Virginia.
The architect himself had a less futuristic explanation for Ingalls Rink, known popularly today as "The Yale Whale" for the "humpback" nature of the roof. According to Yale Archivist Judith Shiff, Saarinen once remarked that "it looked like the spine of a giant dinosaur."
Shiff also wrote:
(Saarinen) felt he had achieved in a "structure based on tension rather than compression, which is unique to 20th-century technology." Saarinen's free use of sculptural forms marked a departure from the boxlike volumes of the prevailing International Style. In little more than a decade, Saarinen's thoughtful research, skill in using materials, and emphasis on process rather than stylized forms produced an impressive number of unique constructions.
With almost 3,500 seats and good sightlines, it was reasonably large for its time and place, and it was featured in Sports Illustrated soon after opening in 1958. Renovated in 1991 with a new ice plant, and sporting team photos dating back before the turn of the previous century, the building has now settled into part of the Yale experience. Yale still uses the rink 18 hours per day, and with the Bulldogs playing to 3,000-plus crowds for ECAC opponents, the arena is a cozy place to enjoy a game.
But Saarinen's work at Ingalls has engendered plenty of criticism over the years in both highbrow and lowbrow circles alike. Yale architectural historian Vincent Scully was passionate in his criticism of the rink, writing in 1969 that Ingalls Rink "embodied a good deal that was wrong with American architecture in the 1950s: exhibitionism, structural pretension, self-defeating arrogance."
And today, the rink is not known for its creature comforts — the restroom locations, traffic flow and acoustics are all notoriously substandard by today's expectations.
But Saarinen's body of work (and mid-century modernism in general) is enjoying something of a renaissance in design circles. In a recent Boston Globe article about Saarinen, Robert Venturi, the architect and theorist, who once worked for Saarinen, explained the return of modernism as the "your grandmother's wedding gown" phenomenon. "You look at your mother's wedding dress and you think it's ugly. But then you look at your grandmother's and it's beautiful."
About 15 years after Yale opened Ingalls Rink, Dartmouth also decided to build a new hockey arena, and turned to another mid-century architectural and engineering master, Pier Luigi Nervi, who is sometimes referenced as the "Poet of Concrete."
Nervi (1891-1979) was originally trained as an engineer at Bologna University in Italy. His success came primarily from his ability to fuse engineering and architecture, two disciplines that were one and the same in the ancient Roman and medieval worlds, but had become separated during the Enlightenment. Nervi saw himself as a master builder who could span both disciplines, a rare concept even today.
Nervi's first major sports commission was a futuristic-looking soccer stadium, the Stadio Comunale in Florence, Italy, completed in 1932. It would be the first of several sports edifices that would mark his career.
According to the GreatBuildings.com website:
In the 1940s (Nervi) developed ideas for a reinforced concrete which allowed him to create structures of "strength, simplicity and grace". His services as an engineering consultant were highly sought as a result of his experimentation with structural concrete … Nervi believed that architecture and engineering were two connected parts of a whole. To produce good buildings, he felt that knowledge of materials, nature and construction were essential to understanding architecture … Through his designs, Nervi successfully made reinforced concrete the main structural material of the day.
New developments in concrete after World War II enabled Nervi to experiment with a special pre-cast ribbed concrete dome design that became the basis for two critically-acclaimed sports arenas for the 1960 Rome Olympic Complex — the 17,000 Palazzo dello Sport and the smaller 5,000 seat Palazetto dello Sport.
A Dartmouth business manager had seen Nervi's Olympic designs in Rome, and met with Nervi there to commission his first U.S. building — Dartmouth's Leverone Field House. It was completed in 1963, in collaboration with local building firm, Campbell and Aldrich. That commission led to Nervi's 1972 building of the Norfolk (Va.) Scope, a sports arena that is an updated version of his Rome Olympic arenas (and is still home to the Norfolk Admirals of the AHL).
Shortly after building the Norfolk Scope, Nervi was invited back to the Dartmouth campus to build Thompson Arena for the Dartmouth hockey program (across the street from his Leverone Field House) in 1973. Thompson Arena opened in 1975 at a cost of $4.4 million. It was one of Nervi's last projects, as he was then in his 80s, and died in 1979.
Thompson Arena, like Ingalls Rink, is best known for its ceiling. "Nervi's ceilings are described in words like 'sunburst' and 'lacework,'" writes Sara Askari in a biographical piece on Nervi. "In effect, you experience the Nervi union of utilitarianism and artistic beauty."
Sunken into the ground and hard to see from the street, Thompson Arena is named after Rupert Thompson '28, a Dartmouth trustee. The building is anchored by a structural buttress of ferro-concrete, and offers a spacious (others have described it as cavernous) design that seats 3,500 fans in the seating bowl.
The arena has room for as many 1,500 standees, pushing the capacity towards 5,000. Today's local fire standards, however, limit standees to 1,000 and the overall capacity to 4,500. Known for its cold temperatures and good hot chocolate, Thompson offers a quintessential New England hockey experience, and with Dartmouth's hockey resurgence in recent years, the big crowds are back, too.
So the next time you travel to Yale or Dartmouth, take a moment to look up — and see more than the game. Consider the artistic and engineering skills of these world-famous architects who have touched our game, and left their mark on our world.
Tom Douglis is former editor of College Hockey Magazine and former PR coordinator for USA Hockey.