Boston University played 528 hockey games in over 33 years at Walter [nl]Brown Arena, and legendary coach Jack Parker can't recall missing a single one.
However, he did not see what he acknowledges to be the most memorable moment of all those games.
On October 20, 1995, a sellout crowd roared as BU's fourth national championship banner was raised to the rafters. Playing against North Dakota, the Terriers lifted spirits even higher when Chris O'Sullivan scored a goal on his first shift. But when O'Sullivan celebrated by pretending his stick was a gun and "firing" toward the net, Parker quickly pulled him down the runway behind the Terrier goal for some rather animated constructive criticism.
While that was going on, BU freshman Travis Roy raced in on the right-wing side after the ensuing faceoff, only to glance off Sioux defenseman Mitch Vig, falling headfirst into the boards behind the North Dakota goal. Roy cracked his fourth vertebra and remains paralyzed, the tragedy occurring just 11 seconds into his collegiate career.
"I was upset with Chris O'Sullivan for showing off a little after the goal," Parker. "I was talking to him down the runway here when Travis got hit, so I never saw the original hit — never saw it live."
Watching from section four of the stands, I remember watching Roy intently, awaiting a groggy movement of a leg or arm. There had been any number of times I saw a player go hard into the boards at that rink; I must have seen it happen to Jon Coleman about three times. Usually the outcome was a separated shoulder, maybe a concussion. So I wanted to believe that Roy had been knocked cold or that they were telling him not to move as a precaution. It didn't seem possible that something serious had happened.
It turns out that the same feeling prevailed on the BU bench through the first two periods.
"It was dead quiet in the building after Travis went down, but you never think the worst," Parker said. "You think you're going to take him to the hospital; he's going to be out for the year or have a bad shoulder injury or something — he'll get some feeling back when he gets to the hospital. So it wasn't until the end of the second period when Dr. Schepsis came back and told me how bad it was, and that's when I realized 'Oh, [expletive]. That's it.'"
One chilling memory from that night: A season-ticket holder behind the bench told me that O'Sullivan ended up sitting back on the bench while medical professionals attended to Travis on the ice. O'Sullivan hung his head at one point, revealing a scar from the neck injury he had suffered earlier in his career — another early-season accident that resulted in the Massachusetts native missing the rest of the 1992-93 season shortly after he arrived as a January freshman.
"Which is now what's got him out of hockey," Parker said of the former BU star's neck injury. O'Sullivan played 62 NHL games with three teams before hanging it up after the 2002-03 season. "That's why he's not playing any more."
The Roy injury hung over the season, but there were other vivid memories. I remember Terrier captain Jay Pandolfo carrying out Roy's jersey for every game that season, always an emotional sight for everyone involved. Then there was the streak of times that someone won the 50/50 raffle, only to donate their winnings to the Travis Roy Fund.
Before too long, the Travis Roy Fund had enough money to ensure that Roy's own financial needs would be met for life, and eventually Roy began the Travis Roy Foundation, which still raises money for assisting spinal cord injury survivors as well providing research money for a cure. Roy's No. 24 ultimately became the first uniform number to be retired — a tribute not to his injury but to the character he showed when confronting this incredible degree of adversity.
But if Roy's tragic accident ranks as the most-remembered moment, it's harder to pin down the best game ever in the Walter Brown Arena era. Everyone has their favorites, but Parker cites the days when ECAC playoffs and even NCAA tournament games were played right on Babcock Street.
"There were a lot of great ECAC games here — one game where you're in or you go home," Parker said. "In those days, if you didn't make the final of the ECAC, you didn't make the Final Four. A home game here was so pressure-packed all the time: You had to win. We had some amazing games here. Two years in a row we played BC — I think it was '76 and '77 — two unbelievable games, I think it was 4-3 [actually 6-5] and 8-7. And then we had an unbelievable game in '75 against Brown University [a 5-4 OT win for BU]. Those are the games that jump out at you because they were so important. The season was over when you lost."
Of course, the playoff games also resulted in some memorable lows. In 1983-84, the NCAA used an oddball format: a best-of-two series with most goals winning in the event of a tie. In the first game, the Terriers beat Bowling Green, coached by current Boston College coach Jerry York, 6-3 in the first game. I went to the second game, which felt almost like a formality from a fan's perspective. But after 60 minutes, the Falcons had not only won but matched the three-goal margin, 4-1. Then Bowling Green won in overtime, going on to win the national championship.
"But we were in the national tournament at least," Parker recalled. "That was the national tournament. We'd already had a successful regular season."
Another famous low point was No. 8 seed Merrimack beating BU in a best-of-three Hockey East quarterfinal series in 1997-98. Games two and three were particularly exciting, as Terrier alum Ron Anderson — a lame-duck coach at the time — managed to pull off a remarkable feat despite, or maybe because of, giving two of his ostensible four lines an incredible amount of ice time.
As for regular-season games, it's hard to know where to begin. I reminded Parker of a great BU-BC battle in the mid-nineties, a game that as much intensity as you could possibly want in a December game. With under 90 seconds remaining, Parker called timeout and pulled the goalie with the faceoff in the Eagle end. Mike Sylvia scored a goal right off the faceoff, and the arena erupted. I remember looking over at the BU bench, though, and Parker simply strolled calmly behind the BU bench, looking down at his shoes with his hands behind his back.
"That was a great game," agreed Parker. "All of the other regular-season games pale in comparison with the emotion involved between BC and BU."
If anyone needed a reminder of that, they got one last month in another December classic. After falling behind and then tying it, BU won it when the smallest player on the ice — centerman Brad Zancanaro — picked up the puck when an Eagle defenseman fell down, skating in before pinpointing a high corner for the game-winner.
Going back to the 1970s, Parker remembered another BU-BC classic when Rick Meagher scored a hat trick in the third period to lead a comeback victory. For many fans, another favorite might be another come-from-behind win: a 6-4 triumph over Michigan State in 1989-90. Freshman Tony Amonte scored two eyebrow-raising goals, and the game heralded BU's return to form as a national contender.
Although some mid-1990s games would not be considered great, there were dazzling displays of high-octane offense. In 1995-96, the Terriers scored ten goals or more on five occasions, including a game in which Jay Pandolfo notched a hat trick of shorthanded goals. Listening to the band almost became dizzying as the goals piled up and the "sieve" chants became longer and longer.
How about the strangest moment in Walter Brown Arena history? That was an easy one for Parker.
"The measles game, for sure," Parker said, referring to a late-season game in 1984-85 against Lowell. "We played a game with nobody here. There was a measles outbreak around campus and around some other campuses. So it was the press, the referees, the timekeepers, and us — no fans whatsoever. It was a real eerie feeling, a very bizarre game." Bizarre enough, in fact, to merit mention in Time magazine on March 11, 1985.
Beyond that, I have happy memories of many small moments at WBA, most of which came over seeing almost every game over the last 11 seasons: Dan Ronan's signature hip checks; Rick DiPietro's amazing pinpoint passes from the goal line to a teammate standing just outside the opposing blue line; Carl Corazzini's bizarre knack for scoring goals off the opening faceoff of the third period; Mike Grier's booming hits as an overweight freshman. and then his incredible hands and scoring touch once he turned his physique NHL-caliber by working with strength and conditioning coach Mike Boyle over the summer.
I also loved watching the development of initial fourth-liners into valuable contributors — Ken Rausch, John Hynes, Peter Donatelli, Ryan Priem, and Matt Radoslovich come to mind as underdog Terriers.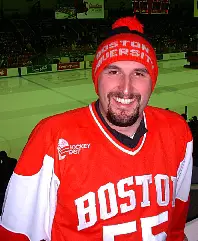 Going into the stands for Sunday's last game provided an opportune for some devoted Terriers fans to reflect on their favorite experiences in the arena. Up high in section eight, I tracked down Brian "Sasquatch" Zive, renowned for stripping his shirt to expose his ultra-furry physique while the BU band plays "Iron Man" in the third period.
"My three best memories are three games against Maine," Zive recalled. "The 0-0 tie back in the mid-nineties, then the year that Maine had to forfeit a bunch of games, and they were suddenly in eighth place. BU was in first place, so we had to play them in the first round of the Hockey East playoffs. There were questions about whether the Ferraro brothers and Kariya were going to play, and we beat them, I think 8-5 and 4-1.
"There was so much energy because it was unfair that we had to play Maine — they were much better than an eighth-place team — but the team rose to the occasion. Fantastic games."
Zive also has hair-raising but fond memories of his role as Sasquatch. "I remember walking behind the net over to the band section, and the reception was so loud that it just made the hair rise all over my body-goosebumps. It was a special time. I remember wearing a Miss Maine sash, and the real Miss Maine turned out to be here and didn't take kindly to that gesture."
Devoted fan Sean Pickett, whose website was the first to feature my writing on BU hockey, can't match Sasquatch in terms of antics or body hair, but he also was quick to mention the same Maine games.
"They really were a much better team than a No. 8 seed," Pickett said. "That was a great series. After that, it's tough. A lot of them are emotional: Travis's injury; the game when J.P. [McKersie, the goaltender who survived a coma after an offseason bicycling accident] came back in, and more Maine games — the 0-0 overtime tie in '94 when both teams put on a show but the goalies didn't let anything by them.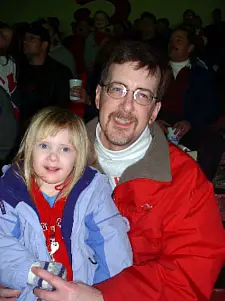 "Really way, way too many to pick one to be the all-time best. My all-time best probably had to be my second game here back in '85 when BC beat BU in overtime 2-1. It was such a great game; it got me hooked on college hockey."
Still, Pickett agreed that he feels no great sadness about transitioning from Walter Brown to Agganis. "Not anymore," Pickett said. "I've gotten to the point where I want to walk around the concourse without feeling cramped; I want a state-of-the-art scoreboard for replays. As I get older, I find that the new places are nicer."
After the game, the players and coaches reflected on this end of an era.
"I've never been here before, but I'm glad that as a coach that I had the chance to come here," Minnesota coach Don Lucia said. "It reeks of tradition. It's that old throwback building — the way buildings were when I played back in the seventies when this was built. It was great for us to be a part of this to close it down."
"I'll miss the atmosphere," Terrier goalie John Curry said. "Obviously we'll find out tomorrow what the new rink is like and everything, but it's just so personal for the fans, hanging over the glass. It's so exciting with the low ceiling — a lot of noise, great to play in — but hopefully the new arena will be the same deal."
Parker echoed Curry's curiosity about the new building's atmosphere. "It's really not the end of Walter Brown — we're not tearing this place down," Parker said. "But the crowd tonight made me wonder about what's it's going to be like tomorrow night. It'll be interesting to see what it's like tomorrow night in the new building because that's something we've always liked here — how it really gets us going, the crowd, how loud it gets. It'll be interesting to see how it transfers over."
The night began with 15 players and several coaches from the first Walter Brown team in 1971-72–which turned out to be the Terriers' second national championship team–coming out to be introduced on the ice. After the game, a smorgasbord of former Terriers–including many NHL players, thanks to the lockout–joined the current team on the ice for a massive photo opportunity.
BU leaves Walter Brown Arena with a final record of 362-129-36. Terrier fans leave with fond memories of a rink that repeatedly proved there was no place like home.