Just three nights after a million Bostonians enjoyed First Night activities around town on New Year's Eve, 6,224 hockey fans reveled in the opening night for the spanking new, state-of-the-art Agganis Arena.
Although the jury is still out on some elements, the early reviews proved to be positive. After a cavalcade of former Terrier captains on the ice well before game time, Travis Roy provided an emotional moment, wheeling out to center ice for the ceremonial opening faceoff between captains.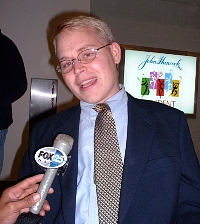 "It was nice," Roy said on the concourse after the first period. "The BU family, the hockey community has treated me so well, and Coach [Jack] Parker has taken great care of me. It was nice to have that opportunity — real special.
"It's a great atmosphere. The fans deserve it; the players deserve it; Coach Parker deserves it after the years he's put in. Just a lot of pride coming in here and seeing great faces-just a great night."
Unlike Walter Brown Arena, where Roy was relegated to an end-zone view up fairly high, thus far the former Terrier is still dabbling with seating options in this wheelchair-friendly facility.
"I'm playing around with it," Roy said. "It's awfully nice — they've got some great seating right down at ice level. I haven't sat down at ice level pretty much since my accident, so it was nice to be down there: the speed, the size of the players, it's just a great atmosphere."
Former Terriers packed the Mark Bavis Suite on the east side of the building. Just one night after Terrier junior centerman Brad Zancanaro scored the last goal in Walter Brown history, they cheered as the diminutive sparkplug notched the first goal in the annals of Agganis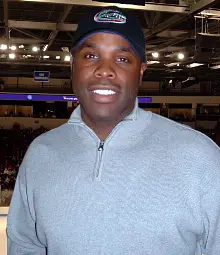 "It's been good," Mike Grier said, standing next to former Terrier teammate Chris Drury, who recently became his NHL teammate as well. "They've got a pretty big student section, so that helps. Everyone's been into it. Minnesota's a good team, so it's been an exciting game."
"I just like the way they designed it — none of the seats are too far away. I think everyone's got a pretty good view; it's really like you're right on top of the ice."
Minnesota coach Don Lucia has had the opportunity to see new arenas ushered in while coaching against North Dakota, Denver, and Colorado College.
"Our guys will always remember this weekend, closing down one great building and opening another one," Lucia said. "It's a terrific building. There's a great atmosphere, and it's a fun place to play."
I think it's very similar [to the other new arenas out west]. It's going to make a difference for the Boston University program. They've got great tradition, but hey, let's be realistic: They needed a new facility. This is going to help them level the playing field a little bit. It was needed and long overdue.
Everyone knew that the new building would feature great sightlines and vantage points plus a considerable helping of technology. The big question whether the high-octane atmosphere would transfer over from Walter Brown Arena.
"I'm really looking forward to getting reactions from our fans," Parker said. "I know last night when it was really rocking I was thinking to myself that we're really going to miss this; I don't know if we're going to have that in this building. But it certainly sounded like it was pretty loud tonight."
"It was unbelievable," Terrier goalie John Curry — the No. 1 star of Monday's game — said. "I tell you, I was really surprised at how loud it was in that building. I almost thought it was louder than Walter Brown last night. It was a lot of fun. There were times when I could hardly hear myself think. I didn't know if that was going to be the case with the bigger place and the higher ceiling, but it definitely was.
"The student section behind the goal, when you're looking down at it, it's got to be really intimidating for the opposing team. The advantage is still there, if not much greater."
That said, the Terriers still feel like they need to make more adjustments to playing in the rink, which is five feet wider than Walter Brown Arena. There is also considerably more room behind the goal lines.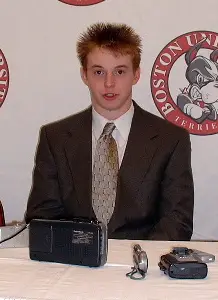 "We were out of sync a little because the building was bigger than we were used to," Parker said. "We had some problems adjusting to it. And I was upset because Minnesota didn't have any problems: They're used to playing in a big building. But I'm sure we'll catch up to that pretty quickly."
"It's noticeably bigger," Curry said. "I actually thought it was going to help Minnesota tonight because they play in a bigger building. But I think it's going to be good for us in the long run, with our team speed."
"A few times I didn't even try to get the puck when it was wrapped around — just let our defensemen get it. At Walter Brown you can practically stick your stick out and stop the puck, which is nice for goalies, but the advantage goes both ways. I have to adapt to it."
Talking to various fans in the stands, there were rave reviews for the vantage points, the scoreboard, and the immediacy of the action. Most interestingly, several fans commented on how much louder the sounds of the game seemed to be.
Told that fans could really hear everything much louder from the ice surface, Parker joked, "I hope not some of things that I was saying."
If there was a frustration for fans, it was the fact that getting in and out of seats was challenging-the rows are much longer and without great leg room, and the concourse was packed with traffic. However, there was some sense that the latter would calm down a little once the novelty of the building wore off. Some felt that a truer indication of the Agganis atmosphere would come when students returned to watch the matchup with BC two weekends away.
Given how long ago this year's schedule was devised, playing Minnesota for the last Walter Brown Arena game as well as for the first Agganis Arena matchup was never Parker's master plan. "It all depended on when they were going to finish the building," Parker said after a practice last week. "If it was in December, we were going to try to see if we could move a game, try to play BC back to back. If it was November, we were going to try to do it with UNH.
"We wanted to do back to back in Walter Brown and in the new rink; I just had that in my mind. That was the way I wanted to do it, no matter what. So as long as a year and a half ago, we were talking about "Who do you think will be in?" What's the guaranteed drop-dead date? So the most attractive "guaranteed we can do it" option was Minnesota."
Likewise, the fact that Minnesota ended up coming into this weekend as the top-ranked team in the nation was an unanticipated but serendipitous development.
"Having the No. 1 team in the nation come in, that's pretty nice," Parker said. Still, he liked the idea of opening against the Golden Gophers for various reasons. "The fact that we have big-game rivalries with them over time. The fact that we consider Massachusetts to be the hub of college hockey, just like Minnesota does out there."
Curiously, the two programs have faced each other relatively few times given the storied histories of these two universities in hockey. Parker was genuinely surprised — almost disbelieving — when told that Minnesota had not beaten BU in 17 years coming into this weekend's action. Of course, the teams have only played seven times since then, with the Terriers going 5-0-2 in that span.
"We've only played them in big games," Parker said. "We've played some series with each other, but for the most part it's the national tournament where we've played. The rivalry started really with BU beating Minnesota in '71 for the national championship. Then Minnesota beat us in the semifinal game in '76 [before winning] the national championship. Then we beat them a couple of times later on in the semifinals [in 1993-94 and 1994-95]."
After this pair of games, Parker came away with a healthy respect for the Golden Gophers' national prospects.
"Their chances are really good of making the Frozen Four," Parker said. "They play in a real strong league, and that's going to help them as far as the PairWise is concerned. The same thing is true for us. We're rated 13th [11th in the USCHO.com/CSTV poll] according to the coaches or scribes, but in the PairWise I think we're fifth because we have a hell of a strength of schedule.
"But I don't think there's any question that Minnesota will be in the tournament. Whether they get in the [Frozen] Four is another question because that's not automatic; it's so tough these days. We've got a long way to go, but they're a talented team.
"I tell you the thing that surprised me the most about Minnesota compared to when we've played them in the past is that they are a really determined team. I thought they had some quickness upfront, but I thought they'd play more loosey-goosey on defense, and they didn't. They're a real thorough team."
If all goes well for both programs, this First Night may not be the last night these two teams face off this season.