Although North Dakota sophomore forward Drew Stafford is only 19, he already knows a great deal about the thrill of victory and the agony of defeat.
Last year, he played on the U.S. National Junior Team that defeated Canada 4-3 in Finland to win America's first-ever gold medal in the 29-year history of the World Junior Championships. The International Ice Hockey Federation tournament features the best under-20 players in the world, representing 10 different nations.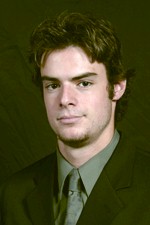 Last week, a U.S. team that included Stafford and 13 other NCAA players struggled to a disappointing fourth-place finish in the tournament. The Americans failed to defend their title on home ice at Ralph Engelstad Arena in Grand Forks, N.D., where Stafford plays for the Fighting Sioux.
Canada captured the gold by defeating Russia 6-1 on Jan. 4. Earlier that same day, the Americans missed capturing a bronze medal when the Czech Republic beat them 3-2 in overtime.
"The U.S. has only won four medals in the history of the tournament," Stafford noted. "That was a huge, huge game for us. We wanted that."
Stafford, the Buffalo Sabres' number-one draft choice in the 2004 NHL draft, led Team USA in scoring with five goals and four assists in seven games. Among all tournament participants, he tied for third in goals and was eighth in total points, tied with Canada's Sydney Crosby.
"I went out there and played as hard as I could and tried to contribute as much as I could," Stafford said. "I did all right for myself, but I obviously wish that we, as a team, could have been more successful. You can do all you want personally, but if you're not winning as a team, it's not as good."
The day after the tournament ended, ESPN.com posted an article by E.J. Hradek titled "Team USA breakdowns start at the top." It was highly critical of USA Hockey, the organization's structure, the process it used to select players and the team's coaching staff.
Reading the article, Stafford shook his head. He agreed with some of the criticism, but he felt most of it was unfair and off target.
"I'm surprised they (ESPN) noticed," Stafford scoffed. "When we won the gold medal last year, they gave us about five seconds on SportsCenter."
The fourth-place finish in this year's World Juniors helped the UND sophomore realize how special last year's gold-medal victory was and how difficult it is to repeat as champions. The first challenge is to assemble a team with not only the best players, but also the right players.
"We did have the right guys," Stafford says. "We had a such a fun time together. We had such a good team. But — I don't know — it just didn't work out. It wasn't meant to be."
After a only few days of practice and two exhibition games, the team started tournament play. Developing chemistry can be difficult, especially when some players are asked to take on roles to which they're not accustomed.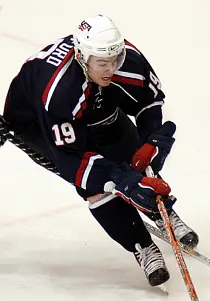 "You have to have chemistry in a short period of time," Stafford said. "If you don't, you can't take one game or a practice off where you're not trying to get better. And you're not going to get that chemistry when you need it right away.
"Otherwise, you're not going to be successful and you're going to have the peaks and valleys that we did. We never found our niche to be able to slowly get better and better as the tournament went on and, finally, in that last game, to play our best game of hockey."
The players and coaches must also quickly adjust to each other. Stafford noted that last year's coach, Mike Eaves of Wisconsin, was much different in personality and coaching style than this year's coach, Scott Sandelin of Minnesota-Duluth.
"I really liked Coach Sandelin, and I really liked Mike Eaves," he said. "But some guys just respond differently to different coaches.
"Sandelin puts a lot of responsibility on the players to get ready themselves and know what they have to do themselves instead of having a coach always telling them exactly what to do. They both have their different styles, but they're both good coaches."
Playing in the U.S. as defending champions also created expectations and pressure that last year's team never encountered in Finland.
"Last year, we were kind of under the radar. We'd always been good, but never mentioned for a gold in that tournament," Stafford said. "Not too many people paid attention to us at first. There wasn't really the crowd, the pressure, the media and everything that went with it."
But all that changed for the 2005 tournament. Between the Canadians seeking to avenge their 2004 loss and the NHL lockout, the World Junior Championships attracted more attention than usual. ESPN broadcast three of Team USA's games.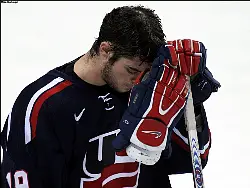 "There was a lot of pressure. Not only are you defending champions, but you're at home in America," Stafford said. "There's all this media surrounding it and everyone's questioning everything and scrutinizing every move that you do. It was hard."
Even if the U.S. team had made it to the championship game against Canada, was it realistic to expect a win?
"For us, if we would have been in the championship game, we would have had to play perfect," Stafford said. "Our defense would have to have had a perfect game. Everyone would have to show up. You couldn't have any passengers."
The Canadians didn't simply beat teams, they destroyed them, outscoring their opponents 41-7 in six games. In the championship against a talented Russian team, Canada built a 6-1 lead in two periods while literally battering the Russians into submission. The third period was played almost an afterthought.
"Canada was so deep at forward that you couldn't really match lines with them," Stafford said. "They just seemed to have an unstoppable threat every time they were on the ice. When they were forechecking, other teams couldn't keep up. And then you look at their defense with its size. And their goaltending …"
Despite this year's disappointing finish, Stafford said the experience he gained in two World Junior Championships has been invaluable to him as a player.
"In your first year, you're just keeping your mouth shut and trying to soak up as much as you can. When you're called upon, you go out there and do your job," he said. "In the second year, you're held responsible for whatever role you're in. You have a lot of responsibilities to perform every time you're on the ice.
"Last year I was in a defensive role. This year, I was more in an offensive leader-type of role," Stafford explained. "I felt I was ready for it. I definitely learned a lot. I'm hoping that I can take a couple of things I learned from this tournament back to the Sioux."
For UND, a team in dire need of more scoring, there's no time like the present for Stafford to demonstrate his new-found ability as an offensive leader.