Mention marquee players in College Hockey America, and the names Jared Ross and Barret Ehgoetz immediately come to mind — and rightfully so. After all, that duo is in an ongoing battle for first place on the league's all-time scoring lists.
But ask Bemidji State head coach Tom Serratore who he thinks is the best player in the CHA, and he's happy to nominate one of his own skaters, that being senior forward Andrew Murray.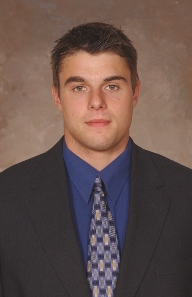 "I don't know how many guys are better in our league right now, or even in the country. He's nationally a top-end player," said Serratore. "Andrew Murray is one of the top players I've ever coached, and I've coached some NHLers. There's no question. The only kid that I say might be as good if not better than him that we faced this year is David Backes from Mankato. Other than that, there hasn't been a kid on a team that we've played against that's been a better player."
Actually, if you go strictly by statistics, Murray has been the better of those two players this season, averaging 1.45 points per game (13th in the nation) to Backes' 1.00.
And it would be hard to find a hotter player during the past two months than Murray, who carried an 11-game scoring streak (9-14–23) out of a weekend series against Robert Morris. In fact, the only time Murray hasn't tallied a point in the past 16 games came during a 3-1 win against Wayne State on Nov. 22
To say that Murray has found a comfort zone might be putting it lightly.
"Yeah, I've kind of been rolling. I got off to a little bit of a slow start personally," said Murray, who had just two points after Bemidji's first four games. "It helps playing with the same guys for a year and a half in [Brendan] Cook and [Luke] Erickson, developing a chemistry with them. It's just been great, knowing where each other is on the ice. We seem to be finding each other right now, so hopefully we can keep that going."
Murray had totaled 11 goals as of mid-January, and none of those was bigger than the one he netted against Air Force on Jan. 8. The Falcons and Beavers played see-saw the entire evening, with Air Force never trailing during regulation. And as time wound down, it looked like the visiting cadets would get their first win against Bemidji in CHA competition.
Trailing 3-2 in the final minutes, Serratore pulled goalie Matt Climie in favor of the extra attacker. But that's when Murray stepped in, picking up the loose puck and beating Air Force netminder Ian Harper with less than a minute remaining.
"On Saturday it was sort of back and forth all night, they'd get up and then we'd get a big goal from a different person every time," said Murray, sharing the credit. "It came down to the last minute, I got lucky enough to get a bounce and put the puck in the net."
Jean-Guy Gervais capped the comeback in overtime, and moved the Beavers to within one point of Alabama-Huntsville for first place in the CHA. But none of that could have occurred without Murray's equalizer. Still, Serratore said scoring is only one of his star player's strong points.
"You can get consumed with points. Andrew chips in his share of points. But at both ends of the rink, how hard he plays, you notice Andrew Murray every shift," he stated. "If he doesn't bring it offensively in certain games, he's bringing it on faceoffs, he's bringing it defensively. He's got a presence on the ice. I wouldn't trade him for anybody."
Points don't seem to be all that important to Murray, either. He's more than gracious when discussing the dynamic duo of Ross and Ehgoetz, and points to Bemidji's team success as his main motivation.
"Barret and Jared are both good hockey players. I give them all the credit, the numbers they've put up are exceptional. They're both having great seasons again this year," Murray stated. "Last year we had team success, and everybody chipped in as a group. The same sort of thing is happening this year. We're getting contributions from all four lines, all six D and both goaltenders. "You know, I'll take team success any day over individual success."
But one seems to come with the other. Murray tallied two points during the opening game of the Air Force series, and his second period power play tally gave him his 101st career point, moving him past Marty Goulet for first place on the Beavers' all-time Division I scoring list.
"At the time of the point, nothing was really said," Murray recalled. "After the game our radio guy mentioned it, and I kind of went, 'Oh yeah, I forgot about that.' But it's quite an honor. I had the opportunity to play on Marty Goulet's line for two years, and he's one heck of a hockey player. So it's definitely quite an honor."
But the only honor Murray, a 2001 draftee of the Columbus Blue Jackets, is worried about now is a trip to the NCAA tournament. Bemidji won the CHA regular season championship last year, but was denied a trip to the tourney when Niagara's Joe Tallari scored in overtime to win the CHA tournament.
"We did experience a lot of team success, winning the regular season. But we had a bitter taste in our mouth about the playoff loss too," Murray said. "So that was more or less the motivation for this season.
"It's more about team success and winning championships here."
And if Murray keeps producing at his current rate, those championships should follow.