Nearly every weekend from the beginning of October to late March, a group of 24 college-aged men come together to take part in a thing they love — the life of a Division I College hockey player.
Not everyone appreciates the time that the Western Michigan hockey team puts in week in and week out, but one thing is for sure: dedication is key to succeeding as a player at the level these young men are at today.
Eric Marvin, the backup goaltender for the Broncos, has the same schedule during the week, and makes sure not to vary his routine. "On non game days I do the same thing every day. I'm the second or third goalie out there, I hate rushing to get dressed. I get warmed up, take my time, and do the same warm-ups every time."
Along with his life as a hockey player, Marvin keeps in mind that he is at Western to get an education. "I have a pretty heavy workload with my classes. The biggest thing of balancing is time management. You have to know what you have to do that day, how long it will take and your capabilities as to what you can do."
Head coach Jim Culhane is known for stressing academics to his players. One team rule known to all is "if you don't go to class, you don't play."
During the week, players are busy not only with their academic responsibilities, but with preparations for their upcoming opponent, including studying game film. Throughout the CCHA, an exchange policy provides film two weeks in advance of a game.
Arriving at the rink Monday, the coaches have a video presentation prepared, and focus not only on closure from the previous weekend's games but on identifying areas of work with the players. Along with video, they will have drills in practice, and work on breaking down the team game in hopes of putting together success the next weekend.
One man who plays a large role with the Bronco organization is Dion Van Atter. In his eighth season at WMU, he is responsible for equipment and carries a high level of respect around the CCHA.
Van Atter comes into work every day around 7:30 a.m.; the players have practice from 9 to about 10:30 and are usually done with their hockey duties around 11. After they are gone is when the work really starts for Van Atter and his staff: laundry, repairs, equipment issues.
Van Atter is a firm believer in letting the players do their own thing.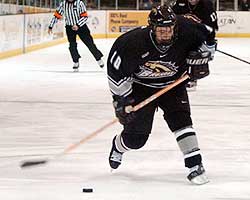 "I am an avid believer that the player has to be comfortable with what they use and are wearing, and that will help them perform at the top of their game on the ice," he said. "Each player takes care of their own sticks and gets them ready however they want, most of which are very picky about it all. Occasionally during a game I will take care of a stick or skate, but only if it is in an emergency situation."
Inside the locker room, the team has a board and a calendar hanging, on which players write out what they need — a stick or other piece of equipment, or a request for skate sharpening. That method is a must, since having to remember what 24 guys like is a near-impossible task.
What these players do during the week is a key to their success. But what they do on game days often looms as large. Hockey players are known, along with most athletes, for having superstitions. Most are personal, although some involve the whole team.
Junior Brent Walton goes with a somewhat-normal ritual, getting energized with a stop at the local 7-11.
"I drink a regular coffee with two cups of sugar; however, I only do this when we're at home," he said.
Along with the coffee is his daily nap after the pregame morning skate, and a compilation of mostly country songs on his computer, to which he listens in the same order.
Marvin claims no unusual quirks, for which goalies are known, but still …
"I put the pads on the same way every time, left leg first," said Marvin. "Once the clock starts I have my pants and socks on but I won't tie my skates until the coach comes in for a short meeting, then I slowly work my way on."
Players arrive at the rink two hours prior to start time. That time is spent on personal focus, along with team meetings. The coaches arrive at the same time, but with other tasks, of course.
"The guys start their preparation," said Culhane, "and we discuss the opponent amongst the coaches, depending on [whether it's] the first or second night [of a series], and make sure as a staff we have our key matchups, along with last-minute changes, or what we need to specifically look for during the game.
"One hour before the game I go in and address the team for two or three minutes, and then allow them to do what they want to prepare before going out to warm up."
"The pregame is a time for me to get set and be prepared mentally. I keep notes with me on the bench on the team we're playing, and importantly, I just want to be relaxed and ready to go for the drop of the puck. I have line charts and game notes during the game but there isn't too much alteration at that time.
"If we've done a really good job Monday through Thursdays [the days of practice], we can just get out of the way and let them play Friday and Saturday and make needed adjustments."
Scheduling is another challenge. The league provides a 28-game schedule, and six nonconference games are added. Culhane and his crew like to set it up so that four of the six are at home.
Once an opponent has agreed to be added, a guarantee is paid to bring those clubs in.
Of course, life on the road is part of the job as well.
Western Michigan travels by bus to most games, providing time to relax and get to know one another on a personal level. Walton claims the title of "best card player on the team," fortified by hours spent on the bus traveling from city to city, state to state.
Things are done a little differently on the road. Most of the time is spent together as a team, going out to eat or just relaxing while not at the rink.
The Broncos have had an up-and-down season, posting a near-.500 record halfway through. But they are having fun.
"This year has been different," said Walton. "It's easy getting along and there aren't too many cliques like previous years. Everyone hangs out and it makes for a great team."
The relationships cross positional lines, as well. Said Marvin, "There isn't really a boundary; eight guys live together and we all get along real great. We're all good friends."
That unity was in evidence prior to a game against in-state rival Michigan State. The Broncos take pride in developing personal relationships, and make sure to have a comfortable environment for everyone involved.
The Broncos have their current leaders and their future leaders all in one place, but for now they aim for the coveted CCHA title, along with hopes of the Holy Grail, an NCAA championship.