For the past two years, one could check out a Niagara scoresheet and expect to see names like Barret Ehgoetz, Joe Tallari and Jeff Van Nynatten stand out.
Fast forward to the present.
Tallari graduated last May, Van Nynatten went down with an injury at the end of November and Ehgoetz, though still putting up team-leading numbers, doesn't have as many goals as senior classmate and linemate Ryan Gale.
With 16 goals thus far, Gale has already eclipsed several goals he set for himself at the beginning of the season.
"Realistically, I looked at scoring 14 goals this year," Gale admitted. "With 14, I'd have 30 in my college career. I only scored 16 through three years and I even hoped double digits would have been a nice number."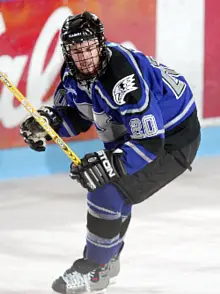 If his pace continues, Gale could hit 30 goals this year alone. He had a four-point game at Bemidji State on Dec. 11 and has scored two goals in a game five times, the last coming at Massachusetts-Lowell on Dec. 30.
"Ryan is a great example for our younger guys in terms of dedication and our systems," NU head coach Dave Burkholder said. "By his own admission, he's found a way to stay in the lineup over the years, but it just seems this year that all his chances are going in."
"My first couple years here, I played a lot on the penalty kill, blocked shots and did a lot of the small things," explained the 23-year-old St. Catharines, Ont., native. "I got to know the systems here and really was open to anything to help the team. I just worked hard in the summer like most guys here and came into this year with a lot of confidence, especially knowing I would be a senior."
Gale leads College Hockey America in goals and has been among the top scorers in the country much of the year. Mild-mannered, he's humble when asked about his scoring spree.
"Obviously when you play with a guy like Barret, good things will happen," added the 5-foot-11, 180-pound Gale. "But I've been thrown on the power play and I've been trying new moves on the ice that maybe in years past I wouldn't have tried. Confidence is huge."
And while Gale's confidence is sky-high, his demeanor is where it has always been.
"We have a tight group of guys on the team, especially the seniors," said Gale. "But I tend to hang out with all the guys. There are a couple guys I play cards with, a group I go out with and things like that. I hang out with my good friends and also the freshmen; it doesn't matter. Just because I'm putting up big numbers and I'm a senior doesn't mean I can't be seen with the freshmen. I'm as easy-going as they come and on any given night I could be with any one of the guys."
One of his senior classmates, defenseman Shayne Baylis, grew up with Gale and both attended Governor Simcoe High School in St. Catharines.
A talented scorer in juniors, Gale wasn't highly recruited. Even when he was the MVP of the Ontario Golden Horseshoe League in 2000-2001 with the St. Catharines Falcons, where he potted 46 goals, Gale didn't have college programs knocking down his door.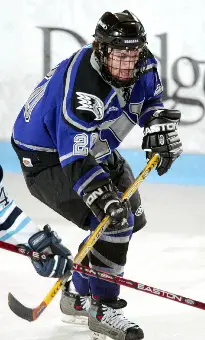 "[I talked] to a couple teams, but Niagara was the only one that made me an actual offer," he said.
"His first couple years, Ryan led us in breakaways and chances," Burkholder said. "We recruited him for his offensive abilities and if you look at his numbers in juniors, he was a guy who could obviously score. But I don't think anything changed in his work ethic from last year to this year; he's such a thorough player. We started him on the third line this year and he got off to such a terrific start that we had to put him on the top line with Barret and [on the ]first-line power play."
A business commerce major, Gale sees this year as one with more perks than downfalls, even though his Purple Eagles team has a sub-.500 record. Further down the road, Burkholder said that if Gale wants to, due to his speed and fitness dedication, he could easily find a place to play in the minors.
"I do plan on using my degree after I graduate," Gale said. "That's a great plan to fall back on in case hockey isn't in my future.
"But this year just goes to show you that if you take time to do the small things and learn the systems, you'll get your chance."
And his chances have been finding their way behind opposing goaltenders.