Just about a month remains in the regular season and there isn't a whole lot of clarity in the three league races entering the home stretch. Norwich has been able to provide some breathing room at the top of the ECAC East but there is a cluster of teams vying for the remaining home-ice playoff berths including Babson, Southern Maine, New England College and Salem State.
Over in the ECAC Northeast, the long anticipated match-up between league leaders Curry and Wentworth ended in a regular season tie last weekend leaving the remaining seven games on the schedule to decide the number one seed and home-ice for the duration of the conference championship. With UMass-Dartmouth lurking in third-place, the rest of the top eight is wide open among at least six teams including surprising Johnson & Wales, Fitchburg State, Plymouth State, Salve Regina and even Worcester State and Nichols, all looking to make a run at the top eight.
Finally, can it get much closer in the NESCAC conference where five teams are tied for the league lead and two other teams just two points behind — seven teams within two points of each other and only Trinity with a game in hand among the leaders. Clearly, every point is important for everyone entering February and with some key head-to-head match-ups on the schedule next month, expect things to stay tight all around New England.
Jumbo Weekend for Tufts Freshman
Fighting for their playoff lives at the bottom of the NESCAC standings, the Tufts Jumbos made a statement last weekend with a win over Colby and a tie with Bowdoin. Both teams came into the weekend nationally ranked while the hosts have been struggling within the league so far this season. The key difference maker for Tufts last weekend was their freshman goalie James Kalec who was immense in the win against Colby making 60 saves in Friday night's 4-1 win. Kalec then came back with 29 saves in holding offensive-minded Bowdoin to just three goals in a 3-3 tie on Saturday. Kalec's performance earned him NESCAC Player of the Week as well as USCHO Defensive Player of the Week honors while the three-point weekend vaulted Tufts into the eighth and final playoff spot ahead of Conn. College and Wesleyan entering the final month of the season.

Tufts is unbeaten in last five games going 4-0-1 in that stretch against some quality teams. "We've come a long way in just four years for some of these kids," said Tufts head coach Brian Murphy. "This weekend was a real good one for us and hopefully something we can build on moving into February play. Right now we are just focused on our next game, Southern Maine — it's cliché, but we can't get caught up in looking ahead when every game and point is so important right now." Commenting on the play of his freshman goalie, Murphy was very complimentary. "We were excited about James when we recruited him and even before last weekend he had been making steady improvement in the consistency of his play. He is very good with his feet and really doesn't breakdown with either his glove or blocker. He hopefully will continue to improve moving into February and like the rest of the team, be playing his best hockey when it means the most." Kalec has played in thirteen games this season posting a very respectable 3.49 goals against average and impressive .908 save percentage.
Murphy also pointed out that his team is getting excellent performances and leadership from a core group of seniors including forwards John Hurd, Jason Boudrow and Shawn Sullivan as well as defenseman Sean Hayes. "These guys have been through a lot including the move from ECAC Northeast to NESCAC so they know how much of an adjustment it is playing against the best teams every weekend," commented Murphy. "They have really helped some their younger teammates get ready to play and know how to compete." Should Kalec continue his strong play in backing consistent play up front, Tufts may hold on to the final playoff spot and in this topsy-tury season anything can happen if they get there.
Panthers Claw Back
After getting off to a rocky start in the first half of the season, the Plymouth State College Panthers have been turning things around in the second half largely due to the emergence of freshman goalie Karl Helgesson. The 6-2 native of Sweden has become the number one goaltender for the Panthers and has some impressive numbers in his first nine games this season — posting a 5-3-1 record with a 2.81 goals against average and .908 save percentage all while earning goalie of the week honors in the Northeast conference three times already this season.
After a 3-5-2 start, the Panthers have rebounded in the second half going 3-1 in January and getting back into contention for the playoffs in the ECAC Northeast. At the beginning of the season, head Coach Brett Tryder expected the team to play solid hockey in all three zones based on familiarity with his systems, but the team struggled scoring 36 goals in the first ten games but giving up 56, including 15 to league foe UMass-Dartmouth and 11 to NESCAC opponent Trinity. Enter Helgessen and his consistent goaltending which has kept PSC in every game. Up front junior forwards Dennis Kane and Rory Nickerson are among the team leaders in scoring as expected. The surprise has been the balanced contributions from two freshmen, Deni Bojadzic and Chris Cadieux. The four players combine for almost 50% of the team's goals and over 40% of their total points. With crucial league games coming up including back-to-back games on the road against conference co-leaders Wentworth and Curry, the Panthers will need to be solid in all aspects of their game if they want to surprise the favorites and contend in the league for a home-ice playoff position.
NESCAC Goaltending — "On Any Given Night …"
Now I know that my fellow D-III columnists have all taken a crack at covering some interesting developments this season relative to the strength and depth of the goaltenders in other conferences this season. Yes, Virginia… there are some very good goaltenders playing across the country in D-III! As we keep talking about the parity and equality in the respective conferences- and it doesn't get much tighter than the NEASCAC right now — it seems as though we have an abundance of goalies who can carry their teams on their backs on any given night against any given opponent. To me, that might be the biggest reason we see some interesting scores despite some really lopsided shot advantages in games this season.
Cases in Point:
Wesleyan v. Babson — Babson outshoots Wesleyan 52 to 23, loses 3-1; Steve Binswanger makes 51 saves
Williams v. Bowdoin — Bowdoin outshoots Williams 50 to 21, loses 2-1 in OT; Brad Shirley makes 49 saves
Tufts v. Colby — Colby outshoots Tufts 61 to 25, loses 4-1; James Kalec makes 60 saves
Bowdoin v. Middlebury — Middlebury outshoots Bowdoin 34-25, loses 4-2; George Papachristopoulos makes 32 saves
Conn. College v. Middlebury — Middlebury outshoots Conn College 42 to 13, wins 2-1; Steve Oven makes 40 saves
The old expression about "any given night" seems more true than ever. In a league that top to bottom has excellent goaltending, the opportunities for upsets and surprises have manifested themselves every weekend. In looking at the national statistics, ten different goaltenders representing all ten teams have goals against averages less than 3.50 and likewise all ten teams have a goaltender ranked with a save percentage at or above .900. Bottom line is that solid goaltending is not only keeping teams in games, it's stealing some victories for some.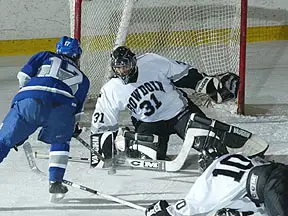 "You are only going to go as far as your goaltender can carry you," said Bowdoin head coach Terry Meagher. "I don't think it's the equipment or size of pads, you need to have kids protected — I think the goalies are fundamentally better and just better all-around athletes today. There is a lot of quality all around the league at levels we haven't seen before."
Certainly Bowdoin can lay claim to having one of the best in the league in George Papachristopoulos who is among the very best in the nation in both goals against average, save percentage and of course winning percentage. "George has really stepped it up since the second half of last season," noted Meagher. "He has been very consistent and given us a chance to win every night." Something a lot of NESCAC coaches are saying about their goaltenders too.
Coderre Returns to Lancers
In my never ending effort to maximize the discussion of goaltending in New England D-III this week, let me now turn to the return of goalie Jon Coderre at Worcester State. The Lancers have been looking at an outside shot at sneaking into the playoffs but are going to need to improve in a number of facets of the game, most specifically goaltending. That's where Coderre comes in. Prior to taking a semester away from the ice, Coderre was a solid, if not spectacular, goaltender for Worcester State and nearly single-handedly stole an opening round playoff game from eventual champion Wentworth making over 50 saves in a 1-0 loss two seasons ago. In 66 career games at Worcester State, Coderre has a respectable .890 save percentage and a goals against average of 3.97. Hopefully, there's not a lot of rust and Coderre can round into form quickly if the Lancers hope to play meaningful hockey in February. His first two games back resulted in a 6-4 loss to Western New England College and, most recently, a 6-3 loss to Franklin Pierce on Wednesday night — hopefully the new-game jitters are gone.
Coderre is not the only new face on the ice for the Lancers. Head coach John Guiney has added four other players to add some much needed grit and depth to the squad. Newcomers include forwards Nate Perreault, Chris Krawczyk, and defensemen Conor Deubell and Dan McLaughlin. Like the rest of the teams in the Northeast, WSC is hoping to take advantage of their late season schedule and beat teams competing with them for the playoffs. Goaltending will be a key but merging new parts in a short period of time will be critical to getting their play producing wins on a consistent basis.