When the voters decide on this year's Hobey Baker Memorial Award, let's hope that they give strong consideration to a) "strength of character on and off the ice" as well as contributing to the b) "integrity of the team" while displaying c)"outstanding skills in all phases of the game."
Given that the best answer would be d) all of the above, one would hope that Michigan Tech senior Colin Murphy would be a lock for the Hobey Hat Trick and a serious contender to take home the hardware in Columbus.
It's one thing for a Hobey hopeful to post huge numbers alongside several other point producers on a perpetually winning program. It's quite another to achieve excellence when your team has been getting kicked around repeatedly.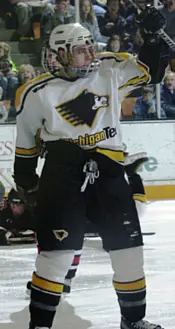 In a season that has tested the faith of even the most ardent Husky followers, the centerman from Alberta has been a bastion of leadership and quiet consistency, on and off the ice. Consider how disastrous the first half of the season was for the Huskies: They posted a horrific 1-16-1 record from the beginning of the season through the end of December. They weren't as bad as they looked: Those 16 defeats included one-goal losses to New Hampshire, North Dakota, and Minnesota-Duluth.
However, it would have been understandable if the team had been pondering Prozac prescriptions instead of New Year's resolutions.
Just one year removed from a torn abdominal muscle that brought him back to earth after a hot start last season, Murphy was ready to lead this year. Throughout the darkest days, Colin Murphy led the team on the ice — posting a remarkable total of 6-20-26 in those first 18 games. More importantly, he showed character and conviction in his role as captain on and off the ice, quietly ensuring that this young team didn't give up.
"He's been an offensive producer his entire career, but he's coming off an injury last year," Michigan Tech coach Jamie Russell said. "This year when we struggled early, Colin was playing terrific hockey for us. He's our team captain, our unquestioned leader. In a lot of our struggles early, he was a great influence on our younger players.
"He stayed positive. In my opinion, adversity exposes character. Colin did an unbelievable job in a very trying situation when we were playing pretty good hockey without getting results. His ability to lead our younger guys has really paid dividends for us as we've got on a bit of a roll in the second half."
That's unequivocally true. The Huskies have been the biggest surprise in the WCHA's second half, going 7-3-1 in 2005 including a pair of improbable sweeps at Minnesota and Minnesota-Duluth while splitting at Denver.
"After the New Year, everyone came back committed to the system and the program," Murphy said.
Murphy's numbers have reached an even more stratospheric level: With totals of 5-16-21 in those last 11 games, Murphy is now third in the nation in points and leads all D-I players with 36 assists.
"When you watch him play, he's got unbelievable poise with the puck," Russell said. "He'll hang on to it and hang on to it; he's got a real threshold for pressure. He has unbelievable vision where he'll find the open player and draw players to him.
"I think that the big reason for a lot of his assists instead of goals, but he can really shoot the puck. Against Colorado College, he scored a power-play goal that was an absolute bomb. In my opinion — no doubt about it — he should be a finalist for the Hobey Baker, and he would be an outstanding choice for the Hobey Baker winner."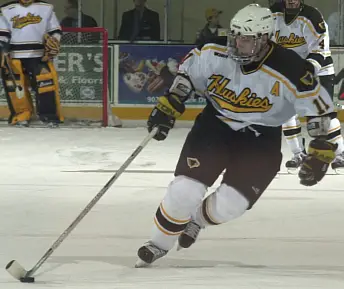 Murphy is soft-spoken but speaks honestly, with quiet confidence. He says that he is "not really" surprised that he has posted such gaudy numbers this season. "One thing I've been able to in my four years at Tech is put up decent numbers. But obviously being up in the top three is pretty good. Our power play has been a big key to that this year."
Sure enough, 21 of those 36 assists have come on the power play, which currently ranks seventh in D-I with a 22.4 percent success rate. Among WCHA teams, only Colorado College has converted a higher percentage.
"I play the point on the power play, and that produces a lot of chances," Murphy said. "Playing with two great players in Taggart Desmet and Chris Conner — they're both great-goal scorers. You get them the puck, and that helps us a lot too.
"I think I have the ability to see the ice very well and find guys in the open spots, knowing where they're going to be. I think that's something I've been blessed with, and I use it for sure."
Murphy piled up five assists against archrival Northern Michigan on November 4 and notched four more versus Notre Dame on January 18, but his most satisfying point came on February 4.
"He set up our overtime winner in Duluth," Russell recalled. "It was four-on-four; he was out there with Chris Conner. He got the puck; he circled back. He drew two defenders to him and then slid just a beautiful pass to Chris Conner at the back door for basically an empty-net tap-in, which gave us an overtime winner on the road."
That achievement still pales compared to Murphy's legendary performance in one game last season.
"Our biggest rival is Northern Michigan University," Russell said. "Last year, we were down three goals with two and a half minutes left. Colin Murphy basically took the team on his shoulders, and we ended up winning the game 7-6 in overtime. Colin had four goals in that game."
That game was picked as No. 3 in USCHO's "Best of the Best" article last season, in which we ranked the 25 most exciting games of the year. After the Huskies made it 6-4 on a Nick Anderson power-play goal with just 2:05 left, Murphy got his second goal of the game to make it 6-5 with 1:26 remaining. Russell, looking for his first coaching victory, pulled the goalie, and Murphy got his hat-trick goal to tie it up with just 28 seconds left. Owning all the momentum, Michigan Tech had all six shots in overtime. Fittingly, Murphy won it on his fourth goal of the game.
Murphy's offensive numbers are exemplary, but they don't tell the whole story about why this team and the coaching staff admire him the way that they do. "He's a great leader by example," Russell said. He's obviously an offensive player and puts up huge points — has been his entire career — but to see him backcheck, to see him finish his checks, doing all the little things to help us win games, sets the right example for our younger guys."
Another element that sets Murphy apart is his life away from the rink. While many college players enjoy cavorting with teammates on days off, Murphy has to contend with a family life that includes diapers. Murphy is married with a son who is 18 months of age. This ensures that the ups and downs of collegiate life are all relative to him.
"He's an older player; he's married and has a son, Easton," Russell said. "A lot of the younger players really look up to him. He's got a calming influence in the locker room; he's not a rah-rah, fire 'em up kind of guy. He'll sit down and talk with them and reassure them."
"It's tough, very tough, trying to make everybody happy," Murphy said of wearing many hats, including a helmet. "I'm a father and a husband; I try to leave that away from the rink. Going to school and being the captain of the team, it's tough, but there's a lot of great people around the community, and our coaches help out tremendously. It makes it easier.
"I've just totally committed myself to my family and hockey."
Assuming the National Hockey League ever bounces back from its labor stalemate, Murphy can look forward to being a free agent with attractive options. Still, leaving Houghton will be bittersweet. "Our program is up and coming and on the rise," Murphy said. "It kind of sucks being a senior because I really see good things coming up with this program, with Coach Russell and the job that he's done so far."
It also will be a difficult departure for this program, which will lose not only a hockey player but a captain, leader, point man, playmaker, husband, and father.
And, just maybe, a Hobey Baker winner. It's no more improbable than the Huskies' incredible turnaround this season, and it would be a fitting honor for a captain who has helped his team stay the course when the crew may very well have been tempted to jump ship.