Tucked away deep in the heart of an old but still proud building is a message of appreciation: "KR hearts Keni Gibson."
The fading blue ink penned on a door frame opposite the visiting locker room in Northeastern's 95-year-old Matthews Arena might as well read, "NU hearts Keni Gibson." Or, forgoing abbreviations, "Everyone who has ever met the kid … hearts Keni Gibson."
Try finding someone to say something — anything — bad about the best statistical goalie in Northeastern hockey history. Go ahead. Give it a shot.
"Keni is a great kid," said sophomore defenseman and teammate Steve Birnstill. "He's probably one of the nicest kids you'll ever meet. I think everyone in the league likes him — every player, every coach. They've got nothing bad to say about Keni."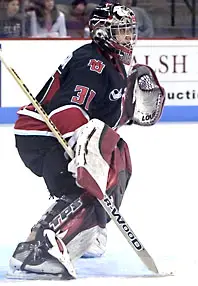 "He gets along with everybody," said former Husky captain and current Cleveland Baron Jim Fahey. "All the guys liked him and respected him because he's a good goalie. He's a solid kid."
"Keni is a very personable kid, he gets along with everybody," said coach Bruce Crowder. "He gives people the time of day. He doesn't really walk around like he should be three feet taller than everybody else — because he's not."
And so on …
Maybe they have reason. Gibson, one of those rare talents that combines his on-ice prowess with an infectious personality, has taken hold of Huntington Avenue during his four years between the Northeastern pipes.
To wit: once, after a disappointing loss, Gibson met reporters and explained that his team had, in fact, "crapped the bed." After beating Vermont last year to end the longest losing streak to open a season in school history (0-9-2), Gibson observed that he thought he "saw Curious George jump off [his] back and go running."
Not the sort of stuff you read in the morning paper.
This is to say nothing of his on-ice contributions to the program as the team's number one netminder for most of his four seasons.
With just two regular season games remaining in his career as a Husky, Gibson is the school's all-time leader in save percentage (.910), goals against average (2.65) and shutouts (seven). He is second in games played (112), wins (44) and saves (2,954).
This season, the 5-10, 180-pound Stittsville, Ont., native is fourth in Hobey Baker fan voting with a 2.31 goals against average, a .922 save percentage and one shutout. He leads the country in minutes, with 2,024:44.
Gibson has earned numerous Hockey East awards, including a spot on the All-Rookie team in 2001-02 and the ITECH Three Stars Player of the Year as a junior in 03-04. He has been HE Defensive Player of the Week eight times and was once honored as the conference's Player of the Week.
And so on …
"I think he's the all-league goalie," Boston University coach Jack Parker said after Gibson stopped 26 shots in a 2-1 victory over the host Terriers on Feb. 27. "There may be some goalies who are arguably better than him, in some ways, but they don't play as many games as he does and they aren't the stalwart that he is for his team. In general, I would say if you're picking the All-Hockey East goalie right now, it'd be Keni Gibson. He'd be First-Team All-Hockey East, and a good shot at All-American.
"He's been very, very good for a long period of time," said Parker, who was present when Gibson turned back 38 Terrier shots as a freshman to record Northeastern's first-ever shutout of crosstown BU. "The BC goalies have good stats, but they're splitting and BC is arguably the best defensive team in the league. So, I would say that this guy has done more at that position for his team than any other team in the league."
The Family Business
Dennis Gibson never meant for this to happen, of course. He never wanted his sons to follow him into the goaltending fraternity (as Keni says, "You make one mistake, and everybody notices").
He tried to avoid it. Oh, how he tried. He made all three start out playing forward or defense, figuring "after they scored a few goals they would never wanna go back."
"I didn't have too much success with that," he said from the family's new home in Kanata, Ont.
Scoti, now 27 and living in Vancouver, was the only one that stayed out of the crease. Keni's older brother Jodi, now 31 and working out of Ottawa, played for the Thunder Bay Flyers of the USHL from 1992-94, influencing his youngest brother to follow his path, and in turn follow the path of their father, who played Major Junior hockey with future NHLers Bobby Orr and Wayne Cashman as a member of the Oshawa Generals in 1963-64.
Keni Gibson started his hockey career at defense, before abruptly switching to the family job.
"He had played defense for a couple of years," Dennis Gibson said. "Like I told him, if he still wanted to go back to goal he could. He had a paper route so he was saving his money. His brother Scot's friend played goal and he was buying new equipment, so Keni bought his old stuff and came home one day with it under his arm, reminding me what I had told him, so that was it. There was no stopping him from there on."
Even before this point, though, Jodi Gibson could tell how big a factor the sport would be in his younger brother.
"I remember he used to come up with my dad just to watch," he said of his playing days in Thunder Bay. "He'd be in the dressing room and he'd be our stick boy and get the pucks off the ice and he was so excited."
As the family gradually moved east from Keni Gibson's birthplace of Smithers, B.C., the youngest member of the Gibson clan became more and more involved in Canada's game.
In turn, he was starting to get noticed.
Keni Gibson played minor hockey with the Ottawa Valley Titans before a season with the Carleton Place Kings — "kind of an interesting place to play. A lot of shots, not too many wins, a lot of fighting," he said.
After that, he earned a spot on the Ottawa Jr. Senators of the Central Junior A Hockey League. Three seasons later, the Sens were in the CJHL finals, Gibson was named Goalie of the Year and had just broken a 37-year-old CJHL record for goals against average, establishing the new mark at 2.29.
And ya know what? That's about the time Northeastern's ears perked up.
At that point, though, Gibson hadn't even considered the Huskies.
After receiving a call from then assistant coach Paul Cannata around Christmas, Gibson prepared a letter to send the Huskies to keep him in mind.
Before it arrived, Northeastern showed up at Gibson's door.
"The first game they [came to see] me play, my backup was playing," Gibson said. "And he was a good goalie, a real good goalie, but he played Major Junior so he was ineligible. They went to our GM at the time and asked him if he was eligible to play, 'This kid's pretty good.'
"[The GM] asked, 'You mean Luke? No, he's not eligible. But if you want a goalie, that kid is our backup. If you want, come back and see our other guy play.'"
Northeastern did just that, and before long, Gibson was in Boston on an official visit — a trip that rendered official visits to St. Lawrence and Michigan Tech pointless.
"I just fell in love with this school and this city," he said. "I was in a room with Leon Hayward and Jimmy Fahey, they were the guys taking me in for the weekend. I remember one thing: the sirens. It was a culture shock. You hear a siren back home and everybody turns their head. Everyone here just keeps walking like it's a normal thing. I just remember I couldn't sleep that night, because I thought it was so loud.
"Now, it doesn't even faze me," he added. "Its the weirdest thing. Now when I go home, I can sleep for a straight week without being disturbed."
Wearing The Husky Sweater
Much has happened since that sleepless night — and not nearly all of it is good. Gibson started 25 games his freshman season on Huntington Avenue and set a new rookie record for wins in a season, with 14. The campaign, however, will be best remembered for yet another Beanpot collapse, as BU's Justin Maiser scored with 1:12 remaining in the Championship game to dash NU's dream of Beanpot glory.
His sophomore season was, at best, a complete disaster. Gibson started just 21 games that year, losing starts to younger goalies while he mentally bombarded himself with the guilt of a last-place season. Northeastern, needing just a point out of its regular season finale to earn the eighth and final HE playoff spot, lost to UMass-Lowell, 4-1.
The record winless streak to start '03-'04 did little to help Husky confidence — but then a funny thing happened.
Northeastern won. And won and won and won. Five in a row, to be exact. Three of the five victories were Gibson shutouts, the last a 3-0 win over Boston College at Matthews Arena. The Huskies were unable to overcome their early season failures, missing the conference playoffs again, but the losing had stopped.
This season, behind often spectacular and always steady goaltending from Gibson, Northeastern has clinched a spot in the playoffs for the first time in three years.
As for the losing?
"I remember Mikey Ryan, we used to talk about his senior year. It was a real tough year for us, my sophomore year," Gibson said of the current Rochester American in the AHL. "I remember saying, 'It's too bad we couldn't have had a better year for you.'
"He goes, 'Well, I'll probably be better off for it. Most of the guys I'll be playing with next year have never been on teams that have ever lost before. I was on a team that lost a lot and now I know how to deal with it."
Dennis Gibson has noticed a difference in his more mature son.
"Keni used to lose his cool every now and then because he always figured he could win the game for the team," he said. "But I think [NU goalie coach Bruce Racine] has settled him down. Now he looks really relaxed when he plays. You don't see him getting too uptight any more."
For example, during the 2-1 win over BU, Terrier forward Kenny Roche crashed into Gibson while battling for position with Northeastern defenseman Tim Judy.
Gibson popped up and waited for referees to settle the scrum. A couple of years ago, that's not what would have happened.
In fact, it didn't.
During a similar situation on Jan. 5, 2003, Gibson slashed BU forward Brad Zancanaro, was kicked out of the game and made an obscene gesture to the BU fans on his way.
Moving Forward
Things have changed.
He's become a Northeastern favorite. On a team with other talented players like senior captain Jason Guerriero (second in HE points), and junior forward Mike Morris (ninth), Gibson is the emotional heartbeat of the team.
"The Dog House," Northeastern's student section, often praise their goalie with chants of "Gibson" (pronounced quickly in two beats, Gib-sin) while prostrating in reverence.
They have no such chants for Guerriero or Morris.
"Some of the reason is how good of a goalie he is," Birnstill said. "The fans probably love him because he always keeps us in the game, no matter what's going on.
"But I'll bet you a big part of it is that he's a big part of the Northeastern community. Everyone here, when you're walking around [campus] can put a name on the face of Keni Gibson. A lot of people consider Keni their friend because he's such a nice kid."
After the 2004 Beanpot heartbreak, an overtime loss to BU, Keni, Jodi and Scoti Gibson went to Connor Larkin's, a Huntington Avenue bar. On his way through the door, someone in the corner started the "Gibson" chant, his friends joining in.
Keni Gibson called it a "nice gesture," appreciative as ever of his devoted fans. But the cheer means more to his family.
"I could never have felt something like that," Jodi Gibson said. "The worst part is I think it affected me, my father and his other brother more than it even did him. To him, it's just another day at the rink and he doesn't let it get to him. But, when you're sitting there and you see your younger brother, it grabs you by the throat a bit."
"I kinda like that," Dennis Gibson said. "A few times it almost brings a tear to your eye."
As of yet, Gibson is undrafted and yet to line up a professional deal for next year, either in the AHL or the ECHL.
As with the consensus on Gibson's likability, there is little disagreement on what he will provide the team smart enough to sign him.
"He's gonna be good in the locker room, that's a guarantee," Fahey said. "He's gonna make a lot of big stops and I think if he can remain consistent he can be a good goalie."
"He'll bring something only he could bring," Birnstill said. "He brings everything you want to a team, anything a coach could ask for Keni has. He's got great work ethic, great personality. He never causes trouble and he'll compete every night. He'll always give you a chance to win."
"Fire," Jodi Gibson said. "He'll probably come in as relatively an unknown to most of the guys and 10 minutes with him in the dressing room and chances are they'll probably warm up to him pretty well. Every step along the way he's had coaches who weren't sure if they were gonna give him a chance and all of the sudden they realized what they had: something special, that's for sure."
And so on …
The chants are slowly dwindling on Huntington Avenue. Soon this season will be over and Gibson will be gone, off to pursue his dream of playing in the NHL.
You can move the chants to a strange new rink far away from Boston. You can even wipe the graffiti from the walls of Matthews Arena.
But you cannot erase what Keni Gibson meant in the hearts of Husky fans and teammates.
Not for a second.