On Wednesday Harvard tri-captain Nicole Corriero earned the first of surely many postseason honors to come when she was named the Ivy Player of the Year. She is the third straight Crimson player and sixth in seven years to receive that distinction, which is determined by league coaches.
Harvard dominated the Ivy awards with three First Team selections and the Rookie of the Year honor in addition to Player of the Year. Junior tri-captain Julie Chu and senior defenseman Ashley Banfield made the First Team in addition to Corriero. Sarah Vaillancourt was named Rookie of the Year and earned Honorable Mention honors.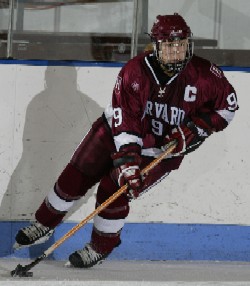 Corriero (49-28-77) is just two goals shy of the Division I single-season goal-scoring record, and she ranks second nationally in scoring average with 2.66 points per game. She leads the nation with 16 multiple-goal games, 18 power-play goals, and nine game-winning goals.
Corriero now has 251 career points (140-111), just two points shy of tying Angela Ruggiero (96-157-253) for fourth place on Harvard's all-time scoring charts. She is the sport's all-time leading career scorer since women's hockey became an NCAA sport in 2001.
Chu is second on the team scoring charts with 57 points (12-45) and has 206 for her career (69-137). Chu, who was the 2003 Ivy League Rookie of the Year, is second nationally in assists per game (1.73) and seventh in points per game (2.19).
Both Corriero and Chu are finalists for the Patty Kazmaier Memorial Award, which will be handed out on March 26 in conjunction with the women's Frozen Four.
Banfield is fourth in points on a team that is fourth in the nation in scoring offense with an average of 4.59 goals per game. This season she has totaled a career-best 34 points (8-26-34) and is second in the nation in defenseman scoring (1.17 points per game).
Brown forward Jessica Link is also a first-team honoree at forward. Link has totaled 25 points (4-11-25) on the season for the Bears and is tied for sixth in the League in goals scored with her total of 14. Link was also a first-team honoree in 2004.
Teammate Myria Heinhuis joins Link on the first team. Heinhuis is tied for eighth among Ivy defenseman in points scored with 13 (6-7-13). Heinhuis and her defensive teammates have the Bears ranked 13th nationally in scoring defense, giving up just 2.28 goals per contest.
Princeton goalkeeper Roxanne Gaudiel was named first-team goalie. The Tiger defense, currently ranked sixth in the nation by allowing just 1.86 goals per game, is anchored by Gaudiel, who ranks fifth in the nation in save percentage (.929) and sixth in goals-against average (1.79).
Harvard freshman forward Sarah Vaillancourt has been tabbed by the coaches for the Rookie of the Year honor. Vaillancourt is third on the team and fifth in the nation with 54 points (18-36), good for 2.35 per game. She leads the nation's rookies in scoring and is also third in the nation in assists per game (1.57).
First Team All-Ivy
F Nicole Corriero, Harvard, Sr. (Thornhill, Ont.)*
F Julie Chu, Harvard, Jr. (Fairfield, Conn.)
F Jessica Link, Brown, Sr. (Clifton Park, N.Y.)
D Myria Heinhuis, Brown, Jr. (Chatham, Ont.)
D Ashley Banfield, Harvard, Sr. (Toronto, Ont.)
G Roxanne Gaudiel, Princeton, Jr. (Venice, Fla.)
* – unanimous selection
Second Team All-Ivy
F Katie Weatherston, Dartmouth, Jr. (Thunder Bay, Ont.)
F Tifany Hagge, Dartmouth, Jr. (Coon Rapids, Minn.)
F Elizabeth Keady, Princeton, So. (Braintree, Mass.)
D Caitlin Cahow, Harvard, So. (Vinahaven, Mich.)
D Erin Duggan, Yale, Sr. (Beaumont, Alberta)
G Sarah Love, Yale, Jr. (Bayfield, Ontario)
Honorable Mention
F Hayley Moore, Brown, Fr. Wakefield, Mass.)
F Meagan Walton, Dartmouth, Sr. (Calgary, Alb.)
F Sarah Vaillancourt, Harvard, Fr. (Sherbrooke, Que.)
D Alana BreMiller, Dartmouth, Sr. (Millbrook, N.Y.)
D Dina McCumber, Princeton, So. (North Tonawanda, N.Y.)
G Ali Boe, Harvard, Jr. (Edina, Minn.)
Player of the Year
Nicole Corriero, Harvard, Sr. (Thornhill, Ont.)
Rookie of the Year
Sarah Vallincourt, Harvard, Fr. (Sherbrooke, Que.)
*Photo credited to DSPICS.com/Harvard Athletic Communications.