It's time for the second annual USCHO Best Regular-Season Games of 2004-05. In search of a life (obviously), I spent much of last weekend combing through every single week of the D-I college hockey schedule, looking over hundreds of recaps and box scores in the process. I also received nominations from several USCHO staffers. So now it's time to announce the top 20 — the Best Regular-Season Games of 2004-05.
Well, maybe it's not quite time yet. Before we begin, here are a few ground rules: First, I am considering only regular-season games here — no postseason games and no in-season tournaments. So please don't send any nasty emails complaining that I've overlooked a Beanpot game or the Joe Schlobotnik Holiday Invitational or anything like that. Once the national champion is determined, look for another article on this year's best "high-stakes" games.
Secondly, it must be understand that "best" is very much in the eye of the beholder. For some fans, nothing could be better than watching their beloved home team beat their hated archrival — preferably by a margin of two dozen goals. I have tried to pick games that either were great to watch (meaning that I saw them) or seemed to be great to watch based on what I could glean from various sources.
Some of these games were low-scoring goaltending duels; some were shootouts with numerous lead changes and fantastic finishes. Some were strange games that had a little of everything.
My choices would surely have been different if I had seen every game this season. I imagine that there were some 3-1 games that featured fantastic scoring opportunities, stellar saves, a horde of odd-man rushes and breakaways, and so forth. However, it's not always easy to tell. So my hope is that this article is more of a debate-starter than the definitive word on this subject.
Now, onto the games: There are several that didn't quite make the Top 20 but that surely would have been immensely entertaining. On January 29, Massachusetts-Lowell managed to outshoot New Hampshire 17-2 in the first period, only to end up losing the game 8-3. That would have been interesting to see for some great goaltending and a huge momentum swing, but it doesn't make the cut because of the lopsided final score as well as the fact that UNH's five-goal outburst in the third period largely came because of a controversial rash of River Hawk penalties.
Speaking of penalty-mania, Harvard's 8-6 win over Princeton was a sloppy but vastly entertaining contest. If you like special teams, you would have seen eight power-play goals here — and very few of those penalties were attributable to this year's initial crackdown on obstruction.
A special commendation must go to the Bemidji State Beavers, who didn't quite make the list but received much of my attention in this process, given that they won four overtime games this year. This team doesn't play to tie: They were 4-2-1 in OT action this season. Their two overtime losses — one to Western Michigan on Brent Walton's hat-trick goal in OT on December 17 and one to Lake Superior State in a see-saw 5-4 game that the Lakers tied with 13 seconds left in regulation — would have made the list had I gone with a Top 25.
Other omissions include Dartmouth's OT win over Cornell, BC's last-minute tie at home against Maine in the season finale, and Bowling Green's 4-4 tie against Notre Dame, which the Irish tied on an extra attacker goal with three seconds left, tarnishing a heroic 50-save effort by Falcon goalie Jordan Sigalet.
While on a ski vacation in Colorado recently, I also enjoyed some WCHA gems on TV. Just when it looked like Minnesota-Duluth would end its losing streak to Denver on February 18, the defending national champs rallied from two-goal deficits twice to win. even though the streak went down the next night. One week later, I saw St. Cloud State play a great game against Minnesota, only to have the Gophers rally to win late.
There are too many other extra-attacker goals and buzzer-beaters to mention, so let's get to the top 20.
20. Lake Superior State 2, Notre Dame 1 (ot) – January 8, 2005
Just a few weeks after the extra-attacker goal against Bemidji State sets up an OT win for Lake Superior State, the Lakers do it again in a hard-fought CCHA contest. Jeff Jakaitis makes 41 saves in the Laker net, while Irish goalie Morgan Cey stops two breakaways to keep it tight. With Jakaitis pulled, Matt Restoule redirects a Kory Scoran slapper to tie it with 28 ticks left. Then some tic-tac-toe passes starting from behind the net set up Jeffrey Rainville for the game winner on the first shot of overtime, just 56 seconds in.
19. Vermont 3, Minnesota-Duluth 2 – October 29, 2004
Sure, this result doesn't seem all that surprising now. But back on October 29, preseason WCHA favorite Minnesota-Duluth was No. 1 in the nation at 5-0-1, and Vermont was 1-4-0. This series proved to be a critical turning point for both teams: Taking three of four points at Duluth marked the beginning of an 8-0-3 stretch for Vermont, while the Bulldogs went 3-10-2 over their next 15 games, only getting back to .500 last weekend.
Two Bulldog defenseman are ejected in the first period, and Vermont goes up 2-0, outshooting the heavily-favored hosts 15-5. The Catamounts make it 3-0 before the home team battles back with 17 shots in the second period. Two goals, including a shorthander by Matt McKnight with just 14 seconds left in the period, make it 3-2 Vermont with a full period to go. But even with a five-on-three and then a six-on-four advantage in the last few minutes, Duluth can't muster a shot attempt against the stubborn Catamounts and their freshman goalie Joe Fallon.
18. Mercyhurst 4, Holy Cross 3 – February 25, 2004
Only 927 saw this excellent Atlantic Hockey league game in person. The two teams combine for 30 first-period shots, but Mercyhurst goalie Mike Ella and Holy Cross netminder Tony Quesada keep it 0-0. Then the Crusaders score in the opening minute of period two, while the Lakers respond with 11 seconds left in the period.
The inevitable offensive explosion doesn't come until halfway through the third period, when five goals are scored in the last ten minutes. Tyler McGregor scores two goals in just over two minutes to give Holy Cross a 3-2 lead with four minutes left. only to have the visiting Lakers tie it with 1:15 left and win it with all of 11 seconds on the clock.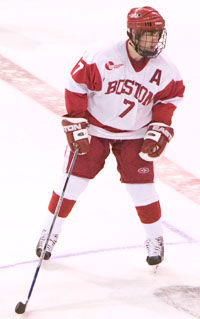 17. Massachusetts-Lowell 4, Boston University 4 (ot) – February 4, 2005
This is one that I did in see in person, and it was extremely entertaining. The River Hawks were on a 11-1-3 tear coming into this game, while the Terriers had stumbled a bit in January against BC and Maine before beating Merrimack and Providence.
BU comes out strong and goes up 2-1, and Agganis Arena reaches its loudest decibel level to date when Peter MacArthur prepares for the facility's first-ever penalty shot at 15:53. He beats freshman goalie Peter Vetri, only to have the puck hit the post, then Vetri's leg, but without going in. In the third period, the River Hawks bounce back from a 3-1 deficit to stun the crowd with the tying goal at 11:39. Fourteen seconds later, the Terriers regain the lead on David Van der Gulik's hat-trick goal, and victory seems assured. However, Cleve Kinley's excellent shot ties it at 16:51, and that's how it ends.
16. Boston College 1, Providence 1 – December 3, 2004
This is one of those irresistible force-immovable object matchups. In this case, the Eagles are the irresistible force, pounding Friar goalie David Cacciola (a.k.a. the immovable object) with 61 shots. The senior stops 60 of them, and the post is his best friend when Ned Havern hits it with two minutes into the overtime. Earlier, Cacciola made a terrific third-period pad save on Havern to keep it 1-1. The Eagles also hit a crossbar late in the second period and threw 23 shots on Cacciola in the last period.
15. Rensselaer 3, Brown 2 – February 12, 2005
The Big Red Freakout was another success for the Engineers this season; they are 11-0-4 in the last 15 Freakouts. This one was a little redder than usual, as Rensselaer wore their road reds for what apparently was the first time.
The Engineers trailed 2-1 going into the third but tie it up 36 seconds into the period, getting more energy out of the 5,152 fans in attendance. Just 8.3 seconds away from overtime, Kirk MacDonald fires a high wrister to beat Adam D'Alba and bring out mass pandemonium at Houston Field House. The win is the Engineers' fourth straight come-from-behind Freakout triumph.
14. Western Michigan 5, Alaska-Fairbanks 4 – October 15, 2004
For those who like their scoring in bunches, this CCHA game had plenty to offer. With the game 1-1 in the second period, the Broncos score two shorthanded goals in just 12 seconds! Thirty-nine seconds after that, Nanook forward Curtis Fraser gets a five-on-three power-play goal to make it 3-2. then another power-play goal 30 seconds later to make it 3-3. That's two goals per team in just 81 seconds total. After a comparative drought of 89 more seconds, the Nanooks take the 4-3 lead. only to have Western Michigan's Pat Dwyer score two in a row in the third period for a 5-4 Bronco victory.
13. Vermont 3, Rensselaer 2 – January 28, 2005
In a "tense, emotional" game, according to Vermont coach Kevin Sneddon, Rensselaer goalie Andrew Martin plays valiantly in this ECAC matchup, making 34 saves. The Engineers tie the game with 2:41 left, only to have Matt Syroczynski notch a power-play goal with 18 seconds left. Syroczynski went on to score just six goals all season — half of which were against the Engineers.
But it's not quite over: Oren Eizenman threatens to tie the game with four seconds left, only to have freshman goalie Joe Fallon make a highlight-reel pad save to preserve the win.
12. Minnesota 3, Wisconsin 2 – November 5, 2004
In this battle of WCHA powers, Minnesota trails 2-1 in the third period but gets a quickie from Gino Guyer to tie it. A few minutes later, Gopher Danny Irmen has a shorthanded breakaway, and he is kinda- sorta hauled down from behind. However, replays show that Wisconsin defender Andrew Joudrey was only partially behind Irmen, and he also got a piece of the puck. In any event, a controversial penalty shot is called, and Irmen buries it. Minnesota wins, leaving Badger fans wondering what sort of pact with the devil was made on this particular night.
11. Michigan 6, Western Michigan 5 – January 8, 2005
Here's another wild one: Trailing 2-1 after one period, the Wolverines reel off four straight goals, including two in 42 seconds. Then the Broncos strike back with two goals in 32 seconds to make it 5-4. Finally, on a power play Brandon Kaleniecki completes a hat trick with 53 seconds for the game-winner. This one also featured plenty of physical play and a disallowed Bronco goal that loomed large in the end.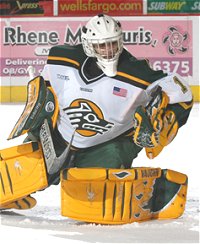 10. Alaska-Anchorage 3, Minnesota 2 – February 11, 2005
Just two years removed from their 1-28-7 season, the Seawolves arrive in Minneapolis with a goaltending question: top netminder Nathan Lawson had suffered a groin pull in Tuesday's practice. Backup goalie John DeCaro hadn't started a game in three months, and in his previous two decisions, gave up eight goals on 29 shots. So go figure: He stops 57 shots, and the Seawolves pull out a 3-2 win despite being outshot 59-21.
9. Boston University 3, Boston College 2 – December 3, 2004
BU was coming off a Rocky Mountain Low before this game. After playing well but losing at Denver, Colorado College embarrassed the Terriers 7-3. The Terriers came home to face then-No. 2 Boston College, their archrival. As a bonus, BU head coach Jack Parker was looking for his 700th win.
Could Terrier goalie John Curry rise to his biggest challenge to date? Yes, he could. The Eagles dominated the opening minutes, but Curry was solid. Then BU went ahead on a breathtaking shorthanded goal. Freshman Chris Bourque stole the puck on the forecheck and seemed to mull throwing it back to a defenseman in the neutral zone to kill time. Instead, he wheeled and passed to fellow frosh Peter MacArthur, who was well-marked but unleashed a quick-release shot that grazed the post and went in.
BC battled back to take the lead, 2-1, in a feisty second period, only to have David Van der Gulik tie it with 43 seconds left in the period. Then BU got a major break when a BC defenseman fell down at the blue line eight minutes in. Brad Zancanaro walked in and roofed the game-winner, and Parker got his 700th.
8. Boston University 2, Minnesota 1 – January 3, 2005
When closing Walter Brown Arena and opening Agganis Arena, BU got lucky when it drew the then top-ranked Golden Gophers for a historic pair of games: one in the old arena, one in the new. Both games were entertaining and well-played, but the Agganis opener was special. After a long parade of BU former captains filed onto the ice and former Terrier Travis Roy dropped the ceremonial first puck from his wheelchair, the teams settled into a defensive battle.
Brad Zancanaro scored the last goal at the old arena and added the first goal at Agganis, making him the answer to future trivia questions. John Curry played well in net, stopping his old friend Tyler Hirsch twice. Kris Chucko of Minnesota finally tied it, but Peter MacArthur got the game-winner, though BU and Curry had to hold off considerable Gopher pressure up until the final buzzer. Afterwards, Curry said it was so loud he could barely hear himself think on the ice.
7. Michigan 2, Michigan State 2 – February 4, 2005
Playing with the flu, Michigan State goalie Dominic Vicari stops 41 of 43 shots, including several on a third-period five-on-three for a full two minutes. However, Michigan still leads 2-0 with just 2:23 to play. Spartan Drew Miller scores twice — including an extra-attacker goal with just 1.2 seconds left — for the 2-2 tie between archrivals.
6. Alaska-Fairbanks 6, Michigan State 5 (ot) – February 11, 2005
I woke up one Saturday morning to see that no one had entered this box score for USCHO yet, and I decided to do it. What a find! Michigan State leads 2-0 in the second period, only to have Nanook Curtis Fraser record a natural hat trick in a less than five-minute span. When UAF goes up 5-2 in the third — on Fraser's fourth goal of the game — it appears to be over, but the Spartans get an almost-impossible two goals in five seconds to make it 5-4 at 4:41. State then ties it 5-5 at 10:26. After getting outshot 16-7 in the first and 20-8 in the second, the Spartans turn the tide with a 21-10 margin in the third.
The game goes to overtime. The Nanooks recover their poise and win it on Ryan McLeod's goal at 2:56.
5. Notre Dame 3, Boston College 2 – October 22, 2004
This is becoming a great rivalry game in hockey, coinciding with the much-hyped football game between the two universities each season. In the hockey game, BC outshoots Notre Dame by a whopping 52-17 margin, but Fighting Irish goalie Morgan Cey responds with 50 saves. Despite being dominated on the shot charts, Notre Dame appears to have the game well in hand, leading 2-0 with less than eight minutes remaining. All of a sudden the Eagles strike with a vengeance, scoring twice in just 15 seconds.
With just 49 seconds left, it looks bleak for the Irish: Notre Dame's Tim Wallace gets called for a charging penalty in the offensive zone. BC presses to win it with the man advantage. Instead, Irish D-man Wes O'Neill breaks up a pass in front of his own goal and fires a pass to sophomore right wing T.J. Jindra in the neutral zone. Jindra's goes in and beats Matti Kaltiainen with a wrister from the left-wing faceoff circle for the game-winning shorthanded goal with 14.6 seconds left in front of a sellout crowd at the Joyce Center.
Eagle fans get a little revenge when their football team pulls out a 24-23 victory over the Irish the next day on a late field goal.
4. North Dakota 4, Maine 3 (ot) – October 8, 2004
Both teams have had somewhat disappointing seasons, but back on October 8, this matchup pitted No. 2 Maine against No. 5 North Dakota for a pair at Alfond Arena, and did not disappoint. With the referees attempting to make a point about enforcing obstruction, a whopping 19 power plays ensue, including a five-minute major. The game is a topsy-turvy battle: the Sioux lead 1-0, then trail 2-1, then lead 3-2. Maine ties it in on a third-period goal by Derek Damon. Jordan Parise makes some huge saves for the Sioux, including one on a Mike Hamilton breakaway in the waning seconds of the first period.
In overtime, North Dakota must first kill yet another penalty, this one called late in regulation. UND survives that, and then Maine suffers a controversial call — a penalty shot for knocking the net off of its moorings at 2:58. UND's Drew Stafford scores on the penalty shot for a thrilling, if controversial, finish.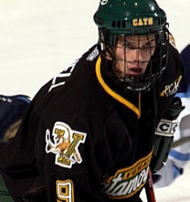 3. Vermont 5, New Hampshire 4
In a true northern New England barnburner, UNH leads 2-0, then trails 3-2, then leads 4-3. Phew! But Vermont pulls the goalie and gets an extra-attacker goal at 19:02. With the game seemingly headed to overtime, Torrey Mitchell — with two goals already — gets a pass from linemate Scott Mifsud. Mitchell looks up and sees six seconds on the clock, makes a move and fires the puck into the top corner for the game winner with one second left on the clock. The fans at Gutterson go wild.
2. Alaska-Anchorage 5, Minnesota 5 (ot) – February 12, 2005
After beating Minnesota the night before, behind the aforementioned heroic effort by backup goalie John DeCaro, everyone knew that Minnesota would come out with something to prove. And they did, managing to put five goals past the netminder this time. However, DeCaro also made another 51 saves for an astounding total of 108 in two nights.
It was a wild one. Despite outshooting the Seawolves 24-10 in period one, the Gophers gave up the first two goals and trailed 2-0 when Chad Anderson scored at 17:28. But 44 seconds later, Minnesota got the first of four straight goals — including two in just 17 seconds at one point in period number two — and appeared to have the game in hand through 40 minutes. Outshooting Alaska-Anchorage 18-3 in the second period, Minnesota looked a team that would win easily.
Instead, the Seawolves struck back with a goal 35 seconds into the third. and then another 56 seconds later to tie it at 4. But with 1:33 remaining, Gopher captain Judd Stevens gets a goal for the game-winner … Oops, not quite! Seconds after missing an empty net, Minnesota watches in amazement as Martin Stuchlik finishes his hat trick on an extra-attacker goal with eight seconds left to give the underdogs a highly-improbable tie.
1. Dartmouth 9, New Hampshire 8 – January 12, 2005
The two teams combine for 27 shots in a wild first period, and UNH emerges with a 4-3 lead. The 'Cats make it 7-3 against the somewhat offensively-challenged Big Green, and it appears to be over. It's a war of attrition in the Dartmouth net: starter Dan Yacey is pulled after giving up two goals on six shots in the first period. Backup goalie Sean Samuel surrenders four goals on 10 shots, and he gets pulled in favor of freshman Mike Devine, who makes his collegiate debut under dire circumstances.
Dartmouth narrows it 7-5 before period two ends, but Justin Aikins makes it 8-5 UNH on a goal just 41 seconds into the final frame. It stays that way through the first 10 minutes of the period, and it's hard not to assume it's over. Instead, Sean Offers makes it 8-6 at 10:45, then Jarrett Sampson completes a hat trick for Dartmouth 75 seconds later, and the Big Green are down just 8-7. Dartmouth finally ties it with 2:48 remaining, then gets the game-winning goal with just 1:27 left off the stick of Nick Johnson.
Devine ends up with the victory in his first collegiate game. He then returns to his third-string role, riding the pine for the rest of the regular season.
At least he can say he won the best regular-season game of 2004-05.
Thanks to Scott Brown, Juan Martinez, Ryan Mattingly, and Tim Costello for nominations. Thanks also to the many USCHO recap writers, whose coverage was influential in making these selections.