As we head to the quarterfinals of the big show, a couple of surprise teams find themselves going head to head. That St. Norbert and St. Thomas are facing each other this weekend in the D-III NCAA tournament isn't all that surprising. However, it's safe to say that the way in which they've won their last games has caught a few people by surprise.
First, there was the 8-3 shellacking the Green Knights put on UW-Superior in the NCHA title game. The two rivals — who had met twice this season and tied both contests — were expected to play yet another heart-stopping affair. Instead, St. Norbert used the end of the first period and beginning of the second to sprint to a 5-1 lead. What was expected to be a close game turned into a rout very quickly.
"We thought [Superior] were a little banged up defensively," said St. Norbert coach Tim Coghlin. "[Defenseman Dale] Lupul was not 100 percent and another of their defensemen was in the stands. Our forwards handled their defensive corps very well and we took advantage of our power plays."
This past Wednesday, St. Thomas and St. John's met in a reprise of their MIAC championship tilt that saw the Tommies prevail 2-1 after losing their previous two games against the Johnnies this season. St. John's hadn't lost two straight all year and were expected to come out strong in the first round matchup. But the Tommies had other plans in mind, playing arguably their best game of the season and prevailing 4-1. In the process, the Tommies fired 46 shots on St. John's goaltender Adam Hanna, who had only faced 40 or more shots in one other contest — against Superior on January 6.
"They're a very good team," said St. Thomas coach Terry Skrypek of the rival Johnnies. "The previous times we played, they beat us on the power play. Before the game we emphasized just staying disciplined and staying out of the box."
The Tommies did just that, and along with taking only two penalties, the game was a practically flawless effort from St. Thomas.
"We played almost a perfect game," Skrypek said. "Usually in a game you can count dozens of mistakes. [Wednesday's game] after two periods I could count only two."
With St. John's in their rearview mirror, the Tommies now go up against the No. 1 team in the country in St. Norbert. The two teams met once early this season and St. Thomas sent the Green Knights home with a 5-3 loss. While that experience was a positive for the Tommies, it represented only one of two losses St. Norbert faced all season. It also marks the last time St. Norbert was defeated. Nevertheless, Coghlin says that despite the success of his club's season after that defeat, the Knights still remember that loss in great detail.
"I remember exactly what that felt like," said Coghlin of the early meeting with St. Thomas. "We walked out of that game in November saying 'That's a very good hockey team.' They had a couple of guys that blew up our [defense]."
Coghlin said the game was seen as a turning point for a St. Norbert team that was still stinging from their overtime championship loss to Middlebury just months before.
"It felt like in the beginning of the year that we should have a run to get back to the tournament," Coghlin said. "Then we opened 2-2-0. That was a big reality check. But this team, more than in past years, has been very good with the mentality of just focus[ing] on your next opponent. Since that game, we've seemed to be getting a little better every week."

For the Tommies, the road hasn't always been smooth, but Skrypek said he has been impressed with how his team has stuck together despite injuries — including losing star forward Dustan Lick — and changes between the pipes. Near midseason, Skrypek moved netminder Kevin Hennessey into a starting role, taking over for fellow senior Zach Sikich. In the following weeks, the move turned out to be a good one for St. Thomas.
"Zach is just an outstanding goaltender. But a lot of times seniors have a lot on their mind and I think Zach lost his focus," Skrypek said. "He had to sit back and watch and correct mistakes."
Though Hennessey helped guide St. Thomas through their MIAC semifinal win against Bethel, Skrypek felt Sikich was ready to return and started him in the past two games with St. John's. Sikich has been outstanding since the change, allowing only two goals on 69 total shots.
The overall depth of the Tommies at forward has helped, said Skrypek, but especially in the case of Matt Kaiser, who has pitched in with five points since the MIAC playoffs began.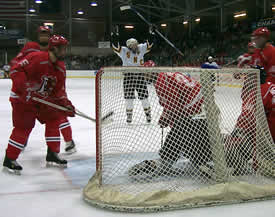 For the Green Knights, there are no glaring weaknesses. From the solid goaltending of Kyle Jones to the offensive production of forwards Jason Deitsch, Connor Hughes and Spencer Carbery, St. Norbert is clearly a favorite to win it all. Coghlin, however, is not willing to take any chances.
"They're a program that knows how to win," Coghlin said of the Tommies. "If you look at what they've done in past years in the playoffs, they've gotten some very big wins. We saw them play St. John's in their regular season and they lost. [But] our assistant coach who saw the game thought [St. Thomas was] the more talented team."
When asked if his team had a hungrier mindset after their championship loss last year, Coghlin said things are still up in the air in that regard.
"I don't know if we'll know that until we get back to the Frozen Four," said Coghlin.
Skrypek said his team will try and take the same disciplined approach against St. Norbert. While the Tommies appear to be relishing the challenge of playing the nation's top-ranked team, they know that another near-flawless game will be needed.
"You can't take penalties against good teams," said Skrypek, who added that such an effort could only be accomplished collectively by St. Thomas. "We always say that we don't have our names on the back, we play for the team name on the front. We'll have to play a team game to win."