The ECAC Hockey League has named Steve Hagwell its commissioner with a three-year deal, and removed the "acting" tag from his title.
Hagwell was named the Acting Commissioner last April after the members of the league decided to break away from the larger structure of the ECAC. At that time, it was said that a national search would be conducted in early 2005 to find a permanent commissioner.
After a discussion amongst a committee put together to evaluate and select a new commissioner, the decision was a quick one.
"We knew that we already had a person which could handle the job," said Ken Ralph, athletic director at Rensselaer and chair of the committee. "Steve has proven himself to us this year in the interim and he is more than just a competent leader, he anticipates moves ahead of time and he is very proactive with any issues that may come up. He has shown a vision for this league, which is something that hasn't been shown in the past.
"We did not need to do a search, we had the right man in our midst."
Hagwell said he was excited, humbled and honored to be named commissioner "of the greatest hockey conference."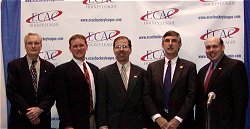 "It's something that I can't put into words quite frankly. When I was named Acting Commissioner I have often thought what this moment would be like.
"I'm not here because of what I've done but because of the support that I have received. Since I have joined this league six years ago I have received nothing but the support of everyone I have come in contact with. I look forward to continuing to work on behalf of the conference, and to make sure that our schools are put in the best possible situation to succeed."
Ohter committee members were quick to add to the praise.
"Steve has been a breath of fresh air," said Clarkson athletic director Sean T. Frazier. "Things that have happened this year have been done due to his energy. Steve has met every challenge and I'm excited about the future."
"Steve is an excellent choice for this league," said Yale head coach Tim Taylor. "He is going to bring everything that he can to help this league."
Hagwell's duties include overseeing the women's hockey side.
"On behalf of the women's coached group, we are delighted to have Steve as our commissioner," said Digit Murphy, head coach at Brown and member of the committee. "As the acting commissioner, Steve was a fabulour communicator and advocate for the ECAC Hockey League. Steve poured his heart and soul into our league this year and we are better as a result of his efforts. He is passionate about the ECACHL, and he believes in the league's academic and athletic mission to insure the best possible experience for our student-athletes."
Hagwell will relocate to the ECAC Hockey League Offices in Albany, N.Y. and the Pepsi Arena, where the ECACHL will hold its championships this weekend.