Think you know your Bracketology? Then take a shot at USCHO.com's "You Are The Committee" contest, which dares you to find unlikely scenarios for the NCAA Division I men's tournament based on the potential results of this weekend's games.
Here's how it works. Using USCHO.com's You Are The Committee feature with the .003 road – .002 neutral – .001 home "quality win" bonus system, try to find combinations of results from this weekend's games to produce the following NCAA tournament bids: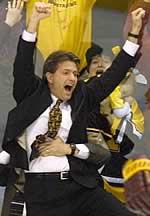 1. Michigan and Minnesota have enjoyed very successful 2004-05 seasons, and both are hopeful of earning top seeds in this year's NCAA tournament. Find a single scenario in which the Gophers and the Wolverines are simultaneously No. 1 seeds.
2. Harvard, under first-year head coach Ted Donato, is a contender for the ECACHL tournament title this weekend. But how strong is the Crimson's NCAA resume? Find one scenario in which Harvard is a No. 1 seed, and another in which the Crimson misses the NCAA tournament altogether.
3. Do you think Hockey East is going to get four teams in the tournament this year? Find one scenario apiece in which each of the following teams misses the NCAAs:
a. Maine
b. Boston University
c. New Hampshire
You must have all parts of a given question right to earn credit for that question.
(Note: you must fill in results for all of the games scheduled to be played Thursday through Saturday to have a valid entry. No fair leaving games unplayed in your scenarios.)
To submit your scenarios, you must use the following format: copy and paste the "User-Specified Results" listing of your picks from the "You Are The Committee" results page, and send the lists as a single email to [email protected]. Only one entry per competitor will be accepted; in case of multiple submissions, the first will be used.
The first competitor to get all three questions will win a prize package that includes the following: a navy blue USCHO golf shirt (size L), a Sergei Federov Detroit Red Wings replica jersey, a set of unused game tickets from the 2002 men's Frozen Four in St. Paul, Minn., and a copy of the last-ever Fairfield hockey media guide.
If no one gets all three questions, all entries with two questions answered correctly will be placed into a hat and the winner of the prize package will be drawn at random. Entries must be submitted via email to [email protected] by 7 p.m. Eastern time on Thursday, March 17, and include a valid return email address.
The selection of the winner is the sole province of USCHO.com's contest officials. USCHO.com staff and contributors, and their immediate families are prohibited from entering. USCHO.com reserves the right to acknowledge the winner by name and hometown on our website.