For two years, Northern Michigan netminder Tuomas Tarkki was stuck behind a wall.
More specifically, he was stuck behind a K-Wall.
Craig Kowalski — K-Wall, for short — the four-year starting goalie for the Wildcats, was unflappable in net from 2000-2004. During his run in Marquette, Kowalski rewrote the NMU record book for goaltending stats.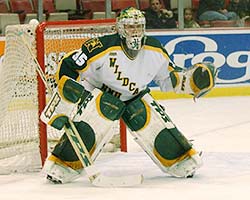 However, at the end of the regular season last year, Kowalski suffered a groin injury and was unable to compete in the playoffs.
That's when junior backup Tarkki stepped in.
The Rauma, Finland, native led his team to an upset of Alaska-Fairbanks in the first round of last year's CCHA playoffs, staged in Fairbanks.
Then Tarkki and his Wildcats upended Michigan State in the quarterfinals of the 2004 Super Six. The playoff run came to an end the next night, as the Wildcats fell to a rested Michigan team, 5-1.
Since that playoff run, the Finn has been the NMU stalwart in net. This season, Tarkki led the CCHA with a 1.97 goals against average and a .933 save percentage in 33 appearances this season.
And when the CCHA awards banquet took place Wednesday night, Tarkki received his due, being named the CCHA Player of the Year. It is the first time in 24 years a Wildcat has received the honor.
"I was surprised," said the 6-foot-4 goaltender. "There were so many good players in the league. My vote would have gone for [Michigan forward] T.J. Hensick. It's a huge honor to get this award. There have been some great players to get this award, so I'm really happy to get the award."
Tarkki's trademark butterfly style frustrated opponents this season. In no game did he allow more than three goals, letting just 23 even-strength goals past him in conference play.
The Finn set a pair of single-season records en route to his POTY award. Both the single-season SV% record, held by Kowalski, and the GAA record, held by Dan Ragusett, are now Tarkki's.
Tarkki led his Wildcats to a 38-point finish in 2004-05, their highest point total ever in the CCHA.
Despite the Player of the Year award, Tarkki remains humble and gives much credit to his teammates.
"At the beginning of the year I just wanted to be the starting goalie. I just tried to stay focused every day. It's all about team effort. Our defense has played great the whole year. I couldn't have won this award without my teammates, that's for sure."