At the beginning of the 2004-05 season both Middlebury College and New England College had to be feeling good about their respective starting goaltending situations. For Middlebury, last season's first-half starter, Yen I-Chen was returning with impressive statistics and an equally impressive record. Despite the loss of senior Marc Scheuer, Chen had played well during his first two seasons and looked to build on that success entering his senior season. For New England College, all-league goaltender Michael Shimek was returning for his senior season with the Pilgrims and expectations revolved around the consistently outstanding play he provided to Tom Carroll's team during his first three seasons as the starter.
And then came the season …
Both goaltenders played well in spurts but inconsistent play both in goal and up front had coaches looking to "jump start" their teams to a higher level of play. A change in goalies for both Middlebury and NEC saw the emergence of two unknown goaltenders to backstop their teams through the second half of the regular season, conference playoffs, NCAA quarterfinals and now, against each other in the second national semifinal on Friday night.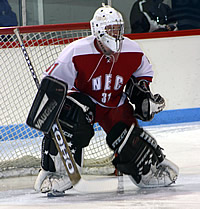 Sophomore Scott Gray has had an outstanding season for the Pilgrims and has been instrumental in their success in the second half the season. Playing in 20 games this season, Gray has posted a solid 2.70 goals against average and .922 save percentage while going 15-4-0 for the Pilgrims. "We have three solid goaltenders," said NEC coach Tom Carroll. "Scott really stepped up and took advantage of his opportunity to play. He has been very solid and consistent for us this season and has taken his game to a new level during the playoff stretch."
Gray's play has also garnered compliments from opposing coaches as well. Babson coach Jamie Rice, whose team lost in the ECAC East championship game to New England College, though Gray's play, was the difference in the outcome of the game. "That probably was the best goaltending performance we had seen all season," said Rice. "He came up with some huge saves to keep us down and didn't give us a chance to get back into the contest."
Playing in any contest other than a B squad game for Middlebury was not exactly what freshman goalie Ross Cherry expected to have happen this season. With Chen returning and junior Mark Spadaccini recovered from recurrent back problems, Cherry expected to tune his game in practice as well as B team games. Then came an awful stretch for the Panthers in mid-January and Cherry was thrust into the starting spotlight to see what he could do. All he has done is go 8-1-2 in his first eleven games with a goals against average of 1.72 and .941 save percentage. Assistant coach Chris LaPerle, who coached Cherry during his six B team games and now has seen him flourish with the defending national champions, notes his strong fundamental play. "Ross absolutely has been a difference maker for this team. The guys have adapted well to playing in front of a new guy and Ross likes playing for the guys out front," LaPerle said. "He probably took a big step in his development in getting through the NESCAC playoffs and was solid in our win over Curry."
While neither Gray nor Cherry probably thought they would be playing in the D-III Frozen Four as the starting goaltender for their team, both have a chance to take their team where everyone dreamed of being back in the fall — the national championship game.