The first-ever weekend of NCAA Regional play in Division I women's hockey concludes with a marquee heavyweight matchup in Hanover, N.H. And just like two pugilistic contenders who have honed their craft for years against the field before finally coming face to face, two of the game's biggest and baddest will square off at long last when Wisconsin and Dartmouth take the ice at Thompson Arena. Only Badger senior defenseman Nicole Uliasz remembers the February 2001 meeting between the two programs, who have both recorded more than 100 victories since then and are set to renew their search for a national championship.
No. 5 Wisconsin (28-8-1, 20-7-1 WCHA)
Top Scorers: Sara Bauer, So., F (25-28-53), Lindsay Macy, So., F (19-23-42), Sharon Cole, Jr., F (10-26-36)
Top Goaltender: Meghan Horras, Jr. (20-6-1, 1.66, .916)
Scoring Offense: 4.51 (3rd)
Scoring Defense: 1.49 (3rd)
Penalty Minutes: 12.9 (18th)
Power Play: 45 of 192, 23.4% (4th)
Penalty Kill: 178 of 199, 89.4% (6th)
When last we saw Wisconsin, the Badgers were watching Minnesota celebrate a second consecutive WCHA Championship. Two weeks off and the euphoria of the program's first NCAA Tournament berth should help soothe the sting of that heartbreaking finish. The time off should also be beneficial to junior netminder Meghan Horras, who has been fending off an illness for the last two months even as her workload increased with the injury to Christine Dufour.

Third-year head coach Mark Johnson knows he has the defense to make a championship run, anchored by two-time WCHA Defensive Player of the Year Molly Engstrom and All-American Carla MacLeod, the team's emotional center. What remains to be seen is whether his Badgers have the discipline and enough offense to let their defensive prowess carry the day. Penalties and resulting power play goals have been one chief culprit in Wisconsin's pedestrian 3-7-1 record against tournament teams. In addition, despite ranking third in the nation in scoring offense, the Badgers have produced just 21 goals in those 11 outings, 6 of which came in one game against Harvard. Also of interest has been the division of scoring: the line of Jackie Friesen, Nikki Burish, and Grace Hutchins has produced 10 goals, just slightly off its pace for the season (39 goals in 37 games). Meanwhile, Wisconsin's most prolific trio overall (Sara Bauer between Lindsay Macy and Sharon Cole) has potted just seven goals, compared to 47 in the team's other 26 contests.
No. 4 Dartmouth (26-6-0, 16-4-0 ECACHL)
Top Scorers: Cherie Piper, Jr., F (21-35-56), Katie Weatherston, Jr., F (36-13-49), Tiffany Hagge, Jr., F (27-20-47)
Top Goaltenders: Kate Lane, Jr. (14-4-0, 2.22, .908), Christine Capuano, So. (12-2-0, 1.93, .903)
Scoring Offense: 4.62 (2nd)
Scoring Defense: 2.12 (9th)
Penalty Minutes: 14.4 (8th)
Power Play: 52 of 212, 24.5% (3rd)
Penalty Kill: 167 of 194, 86.1% (12th)
If the hockey season was a NASCAR race, Dartmouth would be the car that blistered through qualifying and was first or second for the first 120 laps around the oval, only make contact with the wall and have to come in for a pit stop with a damaged chassis. Now back out on the track, the Big Green car is still running near the front of the pack, but may be hard-pressed to lead the final three laps and earn a spot in victory lane.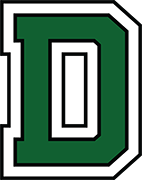 Coach Mark Hudak would not tip his hand regarding who would get the nod in nets this weekend after Christine Capuano received both assignments in the ECAC Championships. Hudak also referred to his power play as being "hot and cold" right now after a 1-16 showing in the conference tournament. Indeed, a lot of Dartmouth's brilliant scorers have fallen silent: Gillian Apps has just one goal in her last 12 games, Cherie Piper two in her last 8, Cheryl Muranko two in her last 15, and even Katie Weatherston's pace has slowed dramatically to seven goals in her last 13 games after 29 in her first 15. Injuries certainly have been a leading cause but one or more of the big guns must reload soon to complement Tiffany Hagge, who has pumped in 23 goals since the winter break.
All that said, counting out a veteran team that has been to three straight national tournaments would be a mistake and two of the stock car analogy's failings should be to Dartmouth's benefit. First, these final "laps" will be run one at a time, which may help the small Big Green roster (and some of its banged up components) maintain its energy level beyond the natural playoff adrenaline rush. Second, the first stage will take place in Dartmouth's back yard, where the Big Green has posted a 16-2-0 record behind strong support from the Hanover community (the students are on spring break).