With all due respect to Horace Greeley and his quote from the early 1800's, two members of the Trinity College Bantams have found their way East, making their mark on D-III hockey in New England.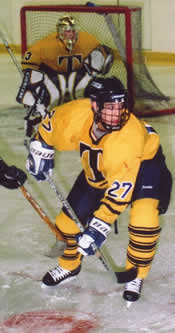 Joseph Ori, senior captain of the Bantams and teammate Doug Kisielius, a senior goaltender, have been two of the most prominent players on their team since arriving four years ago. Both have proven to be amongst the nation's best over the course of their careers. Both Ori (Niles, Ill.) and Kisielius (Park Ridge, Ill.) grew up just outside of Chicago and began playing with and against each other when they were eight years old. "They have known each other for quite a long time," said Trinity associate head coach Dave Caturozolo. "It's almost funny that they have played with each other for about fifteen years and they're just seniors in college."
How they both ended up at Trinity can only be chalked up to one fine recruiting job by head coach John Dunham and Caturozolo. Since their arrival in Hartford, Conn., both Midwest natives have made a lasting impression on the program — starting with winning the NESCAC tournament championship in 2003 and earning their first NCAA bid. This year in their final season, Trinity won the NESCAC regular-season title and earned an at-large berth on the basis of their solid 21-3-2 overall record and season high No. 3 national ranking.
"Joe has been a great captain this year," said Dunham. "It's kind of unusual that this year our best player was also our captain and all of the players look to Joe for his leadership, experience and talent. He has a certain charisma on the ice that you just can't teach. He has had a terrific four years here and made his mark with the Trinity program."
This season Ori leads the Bantams in points with 11 goals and 29 assists for 40 points. For his career, he has 49 goals to go with 75 assists and eclipsed the 120 point mark in just 104 games played.
Kisielius, a former All-American, has been the backbone of the team since his sophomore season. Dunham, a former goaltender at Brown, has a unique recruiting style: he brings in what he believes to be a star-quality goaltender every three years. The first year, they learn and hone their skills to play at the high-level demanded both mentally and physically in the NESCAC conference. Then starting their second season, it's their turn to assume the starting job and make it their own. Kisielius has certainly done that in his three seasons as the starter. This year he has a 16-3-2 record with a 2.60 goals against average and .919 save percentage. For his career, Kisielius has played in 75 games, going 53-18-4 with a solid 2.54 GAA and .912 save percentage.
So two kids from Chicago who grew up playing together find themselves finishing their college careers in grand style with a trip to the Frozen Four. Now that's something they will be talking about out West.