Northern Michigan senior goaltender Tuomas Tarkki became the first Wildcat in 24 years to be named the CCHA Player of the Year. Eight individual honors were awarded Wednesday at Detroit's historic Fox Theatre, including six determined by a vote of the league's 12 coaches.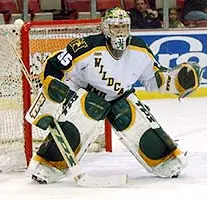 Tarkki, who led the league with a 1.81 goals-against average and a .936 save percentage, backstopped the Wildcats to a team-best 38-point regular season. He is the seventh goaltender, the first European-born player, and the first player from Northern Michigan since Jeff Pyle in 1981, to be named the CCHA Player of the Year.
Nebraska-Omaha forward Bill Thomas was selected as the CCHA Rookie of the Year after leading all league freshmen in points for both overall and conference games. Thomas, who was named CCHA Rookie of the Week three times this season, is also the top freshman point producer in the nation with 19-26-45 in 38 games.
Mike Kemp, in his eighth season guiding the Nebraska-Omaha program that he started in 1997, was recognized as the CCHA Coach of the Year. Under Kemp, the Mavericks improved by eight places and 16 points in the standings from a year ago.
Bowling Green senior goaltender Jordan Sigalet was presented with the Terry Flanagan Memorial Award in recognition of his perseverance, dedication and courage in his battle with multiple sclerosis. Sigalet led Bowling Green to home-ice advantage in the playoffs for the first time in 10 years in a season that also saw him make his illness public.
The fifth annual Mike and [nl]Marian Ilitch Humanitarian award was presented to Lake Superior State senior forward Bo Cheesman. Cheesman was recognized for a wide variety of volunteer services, including three years of work with young cancer patients at Camp Quality in Petoskey, Mich. The Ilitch Humanitarian Award is given to the league's top citizen based on his contributions off the ice as well as on, to his team, his program, his school and his community.
Miami junior defenseman Andy Greene, became the third RedHawk to receive the honor when he was named the CCHA's Best Offensive Defenseman. Greene's seven goals and 26 assists rank among the top five in the nation in scoring by defensemen.
Northern Michigan junior defenseman Nathan Oystrick was honored as the CCHA's Best Defensive Defenseman. Oystrick captained a Wildcats blueline corps that held opponents to a league-low 57 goals in 28 conference games.
Michigan junior forward Eric Nystrom earned the Best Defensive Forward award. Nystrom, a first-round NHL draft pick by Calgary in 2002, finished +17 in conference action. He joins Dwight Helminen and Jed Ortmeyer to become the third consecutive Wolverine to win the award.