One year removed from an All-American performance that earned Jim Slater a spot as a Hobey Baker Finalist, Michigan State's senior sniper couldn't even crack the All-CCHA team.
For many around the league, the numbers just don't add up. Blame it on unrealistic expectations or strong competition, but Slater's 16-28–44 line is only four points off his totals from last season.. Slater's 34 points in league play were good for fifth in the CCHA, especially impressive when you consider that the Spartans' goal production is down to 2.97 per game.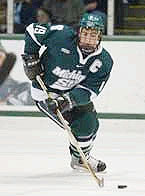 "You tell me a coach that wouldn't take Jimmy as one of their top three forwards. To me, it's an insult," MSU coach Rick Comley said. "I can't imagine him not being on one of those teams."
Don't talk to Slater about getting snubbed. The Lapeer, Mich., native and first-round pick of the Atlanta Thrashers remains focused on taking his team to a CCHA and NCAA championship.
"It's disappointing when you don't make one of those teams, but it's just as disappointing when you don't see any teammates on them," Slater said. "But maybe it'll be good for us. We've have lots of guys on (all-conference teams) and haven't done too well recently. Maybe, we'll just go out play for each other and win a team championship."
Following the announcement of the all-league teams, Slater led the Spartans on a whirlwind five-game winning streak, beating Bowling Green and sweeping Notre Dame to claim the final home-ice slot before an impressive first-round sweep of a resilient Miami squad. He paced the Spartans with a 3-7–10 line good for a two points per game average on the streak that has taken MSU to its 14th straight Super Six, keeping the Spartans in the hunt for the NCAA tournament.
"He's as good as he's ever been and maybe better than he's ever been," Comley said. "Jimmy's making things happen and it's fueled guys like Bryan Lerg, Colton Fretter, Drew Miller and Jim McKenzie. He doesn't care who he's playing with or against. He just gets it done."
After a slow start coming out the blocks, Slater is getting hot at the perfect time of year. Mired in a slump for the first half, the two-year captain only managed 18 points, but Slater has nearly equaled that total with 14 points in his last eight games of MSU's sprint to the finish line.
"Over the last month, he's taken the team and put it on his shoulders. More players are playing better, but Jimmy is the main focus," sophomore defenseman Ethan Graham said. "When your captain is going out and winning faceoffs, blocking shots, diving for pucks, making plays and getting big goals, you just want to follow him."
After only managing 18 points in the first half, Slater is getting hot at the perfect time of year. Heading into Thursday's game with Nebraska-Omaha, the two-year captain had overcome his slow start, tallying 14 points in his last eight contests and registering his best statistical game of the year in a three-point performance in a 5-4 OT win over Miami last weekend.
Some credit Slater with the Spartans' rally down the stretch, but he can point to an unlikely source for his success.
Following a disappointing road sweep at Fairbanks and the possibility of another trip out to Alaska for the first round of the playoffs, Slater purchased a baseball cap with a fuzzy bear head on top. Since bringing it back to East Lansing, both Slater and the Spartans have been on a tear. Some may question the power of the bear, but Slater has faith — in himself, his hat, and his team.
Special thanks to Neil Koepke of the Lansing State Journal.