Battle of All-Americans and Seniors
Elmira and Plattsburgh each had several players selected to the AHCA All-American teams announced at the tournament banquet on Thursday evening. There were three Soaring Eagles selected to the First Team — Edith Racine in goal, defender LeAnne Denman and forward Laura Hurd. Hurd also nabbed the AHCA Player of the Year award.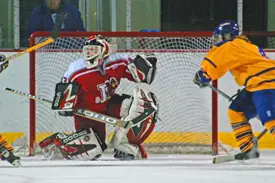 Plattsburgh only had one player selected to the First Team, defender Erin O'Brien. But the Cardinals added two onto the Second Team with goaltender Carolyne Roy and forward Elizabeth Gibson.
Both Plattsburgh and Elmira started their women's hockey teams at the same time, in the fall of 2001, and now have their first class of seniors finishing four-year careers this weekend. The Cardinals count ten seniors on their roster, while a quick glance at the Soaring Eagles roster shows thirteen seniors.
"My seniors are a great bunch of kids," said Plattsburgh coach Kevin Houle. "They are great hockey players, great people, and my heart goes out to every single one of them. This is such a tough game to lose, but the whole team gave it everything they had. We have been runners-up to this team, and that makes it really, really tough. I am so proud of
everything they have done and the effort they gave me over the last few years. They are a classy bunch of kids."
In that short timespan of four seasons, these two teams have developed quite a rivalry as they both play in the ECAC West. Elmira leads the series 9-4-1, but eight of those fourteen games have been decided by one goal or less, including each of the last four contests.
"This group has more heart than any group of women I have known," said Elmira coach Paul Nemetz-Carlson. "They have all found over the past four years what their role is. They have asked each other to be best friends. They have asked each other to be leaders. And the young women on our team have really responded. That group drives the rest of us. They have created a culture here where there is no giving up, there is no second best or second place. Everybody has a role and the only constant is that everybody wants to win the game."
During the regular season, they split the games, each by an identical 2-1 score. That same identical score also occurred when Elmira and Plattsburgh met in the ECAC West Championship game on March 6. This time, it took 1:19 of overtime to decide it when Player of the Year Laura Hurd scored to give Elmira the 2-1 victory.
Road to the Semis
While Elmira was home last weekend enjoying a bye, Plattsburgh had to get by Bowdoin to advance to this weekend. The Cardinals came out with a jump in their step right from the opening faceoff, throwing in four goals in the opening 5:18 of the game.
Bowdoin chipped in a shorthanded goal in the first period and added two even strength goals in the second, but the Cardinals onslaught was just too much for the Polar Bears to overcome.
Plattsburgh cruised to a 9-4 victory, led by Jenn Clarke with a two goal, three assist night.
Streaks and Stats
At 13:39 of the second period, Plattsburgh goaltender Carolyne Roy surpassed the 5,000 minute mark in played minutes during her four year career.
Entering tonight's game, Plattsburgh was 18-0-1 when they score first. They also were 19-1-1 when leading after two periods.
Elmira, on the other hand, was 3-2 when trailing after two periods, and 3-3 when the opponent scores first. These statistics certainly did not predict the outcome of the game on this night.
Plattsburgh had killed off the last 33 consecutive power plays prior to Stefanie McLean's goal 2:20 into the third period to tie the game 2-2.
Three Soaring Eagle players came into tonight's game having scored at least one point in every NCAA tournament game played over the last three seasons. Only one, Jaclyn O'Neil, continued that streak tonight when she scored the game winning goal at 16:37 of the third period. The others who saw their streak come to an end were Lindsay Palmer and Laura Hurd.